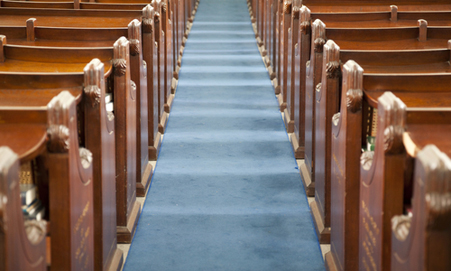 Like Yom Kippur, Valentine's Day is a time to take stock and reflect on one's love life. Both important Jewish holidays encourage you to reconsider your food intake while atoning for the mistakes you've made this year and hoping you don't make the same ones drunkenly in the year to come. Just like the emotions one feels on Kol Nidre night while listening to the cantor's voice as he begs for mercy from God, such is the level of intensity I feel upon hearing Adele's "Someone Like You" on the radio today. Both could bring even the most emotionally stable individual to tears, effective immediately.
I realized this striking resemblance as I was beating my chest last Yom Kippur and reciting uplifting phrases like "I am just a withering flower compared to your greatness" and "I am nothing but a spec of dust," I had this strange déjà vu to how I often feel about myself on Valentine's Day. My mind started to wander about how much time I've spent thinking about this guy … and then that guy … and how many hours I've spent listening to my friends talk about their boy drama. These poor girls feel like their love lives "began as dust and will end as dust," that their proverbial fruit will dry up for all eternity.
I know everyone says this about their own friends, kind of like how every parent thinks they're baby is beautiful even if she has a unibrow, but my friends really are dimes. Tens! They are beautiful inside and out, and shouldn't have to deal with all this heartache! Yes, girls are dramatic, but boys, especially the Jewish boys I'm dealing with, have their own shtick they could use a few therapy sessions to smooth out.
Now don't get me wrong, I love Jewish boys. I wouldn't dream of a marriage to anyone other than a guy with a name starting with a J. Don't worry Jewish Day School teachers of my youth, Jeremy, Joseph, and Jonathan are the only boys I have eyes for. I don't even know who Ryan Gosling is … but I do know who Jesse Eisenberg is.
According to Sex and the City and other well-respected news sources, Jewish men "make the best husbands." After all, "Jewish men love their mothers, so of course they know how to treat a girl!" So what's the problem? That, my friend, IS the problem. They love their mothers too much! What girl can ever compete with how much these boys' mothers love them? Probably only Natalie Portman post Black Swan Oscar, because Jewish sons are like a more prized possession than truffle oil, blood diamonds, and non-freckled red heads combined. These sons have literally been told that they are God's gift to this world since they were eight days old. After being spoiled by the love and cooking of their mothers for twenty-something years, what girl is going to measure up and deserves the honor of being with the prince?
OK, I will admit I am the daughter of two psychologists, so the words "mommy issues" and "daddy issues" roll right off my tongue. As the heiress to the Freudian throne, naturally, I am qualified to say Jewish boys have mommy issues. Listen, I know Italian boys have it too, and I'm sure Ahmed, Jose, and Patrick have all uttered their own version of "no one makes Shabbat dinner like my mom," but Jewish boys might need to kick it down a notch. Obviously, boys are supposed to love their mothers and we girls definitely want to find one that does, but no, your mother cannot be your Valentine. Just stop that. There need to be limits!
It's not all their fault though, I'm realizing. They get it from they mama! Some mothers enable their sons to think they are so smart, so good looking, and so freaking special that obviously the boys are going to have issues separating from them, and then probably have issues committing to a girl in the future. I realized this partially because I sometimes playfully refer to my best friend's mother, who I love more than gefilte fish on a hot summer day, as "The Enabler."
My best friend's brother, aka the son of "The Enabler," is a strapping 27-year-old whose got looks like a young Elijah Wood and game sharper than Obama in the first election, so of course he is getting jiggy with it all over the tri-state area, the continental U.S., and parts of Europe. I get that, I do, but he was talking about some girl who he kind of likes, but she wants a commitment after only six months. I don't know about you, but her desires and "complaints" sounded pretty standard and NORMAL to little old me. His mom walks into the room and chimes in saying he doesn't need to be pinned down if he doesn't want to be, like insinuating that this girl must be so high maintenance. I'm sitting there and thinking to myself "Is this a sick joke? I could be this girl he's talking about. I've been this girl like three or four times. All my friends are this girl. If it were me telling the other side of the story, she would be telling me to dump this guy and get someone who can commit to being exclusive with me!"
I actually once overheard the mom of someone I was dating say to her son that if he walked me all the way home, he would catch a cold and it would be my fault. "It's going to be her fault that you get sick." I see how it is. It would be better that I get mugged on the streets of New York, than your son catch a cold. God forbid. We all know she'd have a field day feeding him chicken soup after he caught that infamous cold, so I'm not sure what she was whining about.
Another good one was when I was making lunch and the guy I was dating at the time said he had to go home to eat because he was really in the mood for what his mom was making that day. Like do you get what I'm dealing with? However my absolute fave was the story my cousin told me about the guy who took her out on a date and he didn't know the address of where he was going, so he called his mom while out on the date so she could give him the address! A) get a smartphone B) do your homework C) don't you have a friend you could call for the address? Don't call your mother for the love of God!
This is all a day in the life. These really high functioning, successful Jewish guys are a bunch of mamas boys, which is good, I guess, because that means they are more sensitive than the average guy, and will probably get you and their mother the same, very thoughtful, Valentine's Day present.
But like Yom Kippur, let's not forget that Valentine's Day is also a day of hope. During Ne'ila, the ending of the Yom Kippur service, the gates of heaven are closing, and on Feb. 14, as the Walgreens Valentine's Day card section empties out, we are left hoping that this year will be better than the previous one. And I do have hope because I recently started dating this nice, Jewish lawya who I like a lot and who I think might not have crippling emotional issues related to his mother. He only talks to her on the phone three or four times a day tops. Phew. Oedipal, shmedipal, right? So that is really all I can ask for on this Valentine's Day, except of course that we celebrate the next one in Jerusalem!
A version of this post originally appeared on Another Day in Paradise.
***
Like this post? Sign up for our weekly newsletter to get new Jewcy stories in your inbox every Thursday.