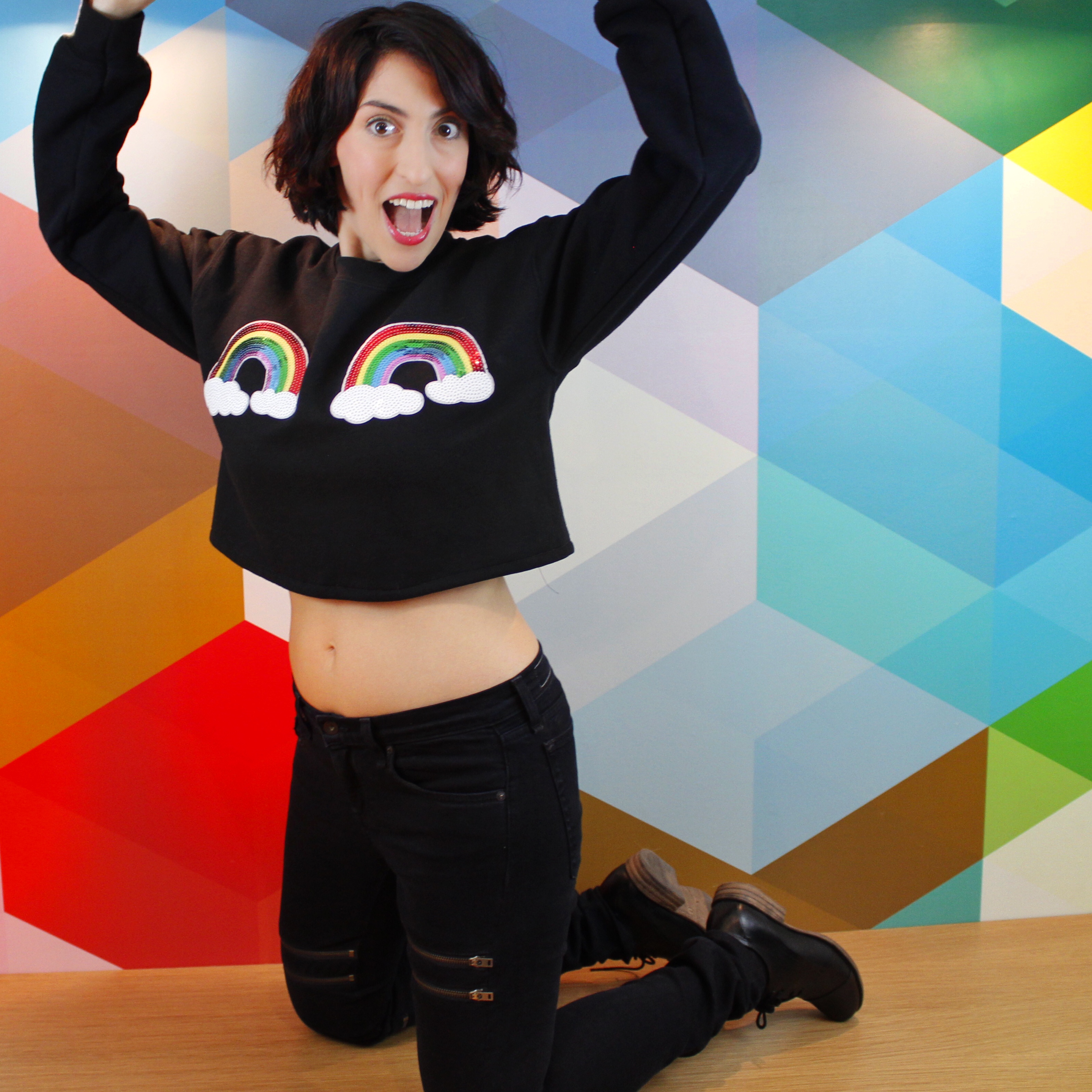 Mindy Raf didn't have enough time to come out to her mother who passed away ten years ago. But Raf's one-woman show, NOT THE ONE: A Love Story creates a stage to keep Raf's dialogue with Kitty Raf alive; a celebration of her mother mixed with an interrogation of how relationship models are evolving in 2018.
NOT THE ONE: A Love Story made its international debut at the 2017 Edinburgh Fringe Festival and the show has continued with monthly NYC performances, including January 25th and 26th at The Tank. Directed by Tara Elliot, the 60 minute show blends stand-up with storytelling and traditional theatre, juxtaposing the more traditional values Raf's Jewish mother taught her about love with her current polyamorous relationships.
Raf, who identifies as pansexual, is interested in expressing fluidity and acceptance when it comes to love, sex, gender, and monogamy.
"You don't have to fully understand something in order to accept it," says Raf. "And when you tell your story you become visible, you represent nuances and this allows other people to see themselves and be seen as well."
Are people shocked by polyamory?
"There are many preconceptions about non-monogamy and polyamory, like assuming you're always going sex parties. Which is fine if that's your thing, but a relationship structure doesn't mean you're love or sex life is just one thing or the other," says Raf.
She also mentions that people come back to see her show multiple times likely searching for answers while delighting in listening to love and sex spoken about in such a frank way: after all it's just one woman standing on the stage, no mic, no bells and whistles.
Raised in a Detroit suburb, Raf went to a Reform synagogue, attended Hebrew school and went through all the usual milestones of a Jewish upbringing from confirmation to a bat mitzvah. "You know there's that Jewish thing we all joke about, calming your anxious Jewish mother down when it comes to your love life. The show deals with the struggle and the celebration of that dichotomy, the parts of your life that are Jewish mother approved and the parts that are tougher to communicate."
Are Jews really that neurotic? "I've met a lot of chill Jews," Raf says, also mentioning that she experiences humor to be very much part of Jewish culture and often functioning as a refuge from anxieties. Her 2013 young adult book, The Symptoms of My Insanity, deals with a hypochondriac teenager and Raf is interested in dismantling stereotypes about native Jewish anxiety.
The world of Raf's childhood was largely heteronormative, and NOT THE ONE: A Love Story explores a way to blend past and present.
"We tend to insert our own point of view into other people's experiences out of fear of the unknown. We think we have to put ourselves and others in these boxes with solid walls. We don't all have to be fluid, but if we come from kindness and allow the space for other people to live their lives and be fluid… it's just better," Raf comments.
Raf, (recently she's been called the female Woody Allen. Does it bother her? Not at all, but she does hope people will start to move away from the cis white male stereotypes of Jewish humor) feels very connected to her Jewish identity and talks about the developing process of executing Judaism in everyday life in a way that feels authentic. She considers herself very spiritual, but much like her path to becoming who she is today, she's working towards balance within organized religion and personal spirituality.
"Specifically in the Jewish family narrative, it's very challenging to be modern and also identify with something that relies on tradition without feeling like you're letting someone down. But I'm trying to take the things that I identify with in Judaism and recreate them in a way that works for me. Sometimes I feel guilty about that process and other times I'm like, this really isn't anybody else's business."
As an afterthought Raf adds,  "And if people do make it their business, I hope they do so with kindness and curiosity. "
For more information about Raf, weed lube, and upcoming performances click here.
Photo credit Christiana Chavez