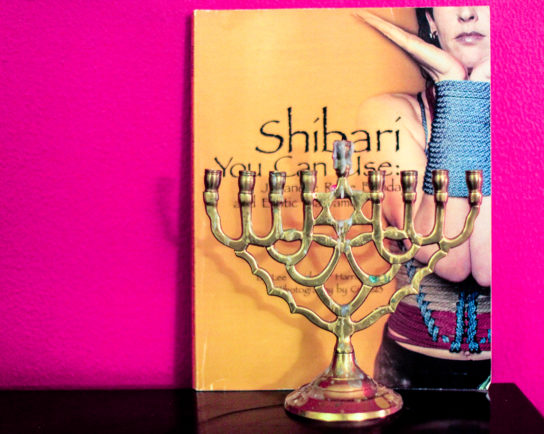 The Jewish people have a long history of unconventional relationships. Early on in the Torah we find Sarah, the wife of Abraham, unable to bear children. In order to provide him with the children they both desire, Sarah convinces Abraham to take a second wife, her handmaiden Hagar. Is it possible this was the first documented case of compersion? Later in the Tanakh we encounter Delilah repeatedly tying up her lover Samson in her chambers in an effort to subdue his strength. You have to wonder what else was happening that he let her do it three times?
While these Biblical stories had less-than-happy resolutions, perhaps they connect in some way to sexual minority Jews today, where the likes of bondage and non-monogamy are increasingly cause for celebration.  Who knows? Maybe open discussion can lead to happier endings.
Jewish individuals in the San Francisco Bay Area who identify as polyamorous, non-monogamous, kinky or who engage in BDSM, tantra, sacred sexuality, sex work, and more are joining together in a newly organized group: Jews United In Celebrating the Erotic, or JUICE. The founders of JUICE, Noam Birnbaum and Jill Nagle, have discovered a surprisingly large, relatively untapped network of overlapping identities. Two months ago they created a secret Facebook group to coordinate discussions and events. While you can only get into JUICE by invitation from a current member or through a screening process at Meetup.com, they have already amassed over 500 members. They have hosted two happy hours that have drawn over 50 people each, as well as a first night Passover Seder that incorporated traditional Passover ritual elements, along with some whimsical sex-positive Jewish humor.
JUICE's mission statement says, in part, that the group provides "a safe and welcoming sex-positive space for Jews and our allies," which Birnbaum and Nagle say is needed because of the historical marginalization of Jews who enjoy non-traditional sexual identities and practices. This marginalization was underscored when the group's inaugural press release was rejected by the local Jewish newspaper, The J Weekly.
Birnbaum further explained, "JUICE seeks to create venues where sex-positive Jews can be completely honest about who they are, and be accepted and celebrated by others of like kind. Oh, and it would be fun if we get a couple good shidduchs out of it!"
A voluntary new member survey produced interesting results of identities and practices including that: 86 percent are into BDSM, kink, and fetish practices; 76 percent are in some way non-monogamous; 23 percent are involved with or curious about sex work; and 67 percent are into or curious about tantra and sacred sexuality. It reads a bit like the oft-cited Pew Study from 2013; in JUICE the Jewish identities are as ranging as the sexual identities: 84 percent of survey participants are self-identified as Jewish, 6 percent are not Jewish, and 10 percent say "it's complicated," which is the pretty much the most Jewish answer possible.
While some members of JUICE have expressed a desire to find romantic matches, and others combine their Judaism in practicing sacred sexuality and tantra, most are just excited to have found a network of like-minded Jews.
Take Catherine Rose, who is an alternative relationship counselor, has a polyamorous family, and an interest in kink. She has found her desire to connect with the Jewish community reignited by JUICE. Her Jewish background growing up largely consisted of family holidays and attending Jewish summer camp, but she mostly disengaged as an adult. When she discovered JUICE she thought, "Wow! These are my people, I have to go meet them! I didn't even realize I would be excited by the prospect of this, it actually took me by surprise."
One kinkster who was raised in a Conservative household in the midwest and who continues to be active in the Bay Area Jewish community (and who didn't want to be named for this article) describes himself as living a double life to some extent. He said, "my connection with the kink community and kink play is something I've pursued on an individual basis, but everybody want to be understood. If you can find a way to connect with people of a similar background, it makes it that much easier to understand each other. JUICE is the icing on the cake for me."
Several older members of JUICE, including a 30-year practitioner of polyamory, kink, and tantra who also wished to remain anonymous, have expressed anecdotal evidence that the number of Jews active in alternative sexual communities in the Bay Area is higher than expected given the size of the Jewish population here. There is much speculation as to the reasons why, but Rabbi Jeremy Sher, who is familiar with JUICE and its mission, told me:
"I think Judaism is a sex-positive religion. Judaism is pro-sex, not anti-sex. From a modern perspective we ought to make room to celebrate and encourage people's fulfillment, and moving beyond the idea that sex can only occur within marriage. I think consensual sex between adults is a wonderful part of life and ought to be celebrated. That's just an authentically Jewish idea, so I'm happy to see Jews who agree with that."  
Despite the successful events, JUICE is a young group experiencing some growing pains. With a relatively small Jewish community and the rapid expansion in membership, confidentiality and how to approach it quickly became a topic of energetic debate. Unlike other online communities specific to sexual identities that allow for anonymity, utilizing Facebook to coordinate (even as a secret group) ensured that everyone would be identifiable by their real names and photos. There have been instant revelations of fellow synagogue congregants, co-workers, and neighbors, not to mention romantic entanglements. While these occasions haven't led to crisis, they understandably make members nervous.
While some members see JUICE as a step towards being more open with their identities in Jewish communities, others are still fiercely protective of their privacy. After seeking input from members Birnbaum and Nagle settled on a simple statement of "Think of this group as a kind of Sexy Jews ANONYMOUS. Keep people's membership in the group, attendance at events, and attribution of things you've heard said in the group, STRICTLY CONFIDENTIAL unless you have explicit permission to do otherwise. If in doubt, err on the side of confidentiality!"
The fact that Jews active in sex-positive communities are engaging in these conversations could be a sign of a growing movement toward greater acceptance in the Jewish community.
Rabbi Sher believes, "We are pretty far [from being ready as a community]. That said, people are less bigoted when they have information and I wish that everyone could have a rabbi they could call up and say 'talk to my mom about poly[amory].'"
As our bubbies would say – from his mouth to God's ears.
JUICE's next event is a happy hour in San Francisco on Monday June 6th. If you are interested in joining JUICE or attending the happy hour, you can request to join through the Meetup group.
Amiee Kushner is an active leader in the San Francisco Jewish community, COO and contributing writer at BrokeAssStuart.com, and the founder of the super-not-kosher Jewish food blog JewishHeathens.com.
Image Credit: Amiee Kushner