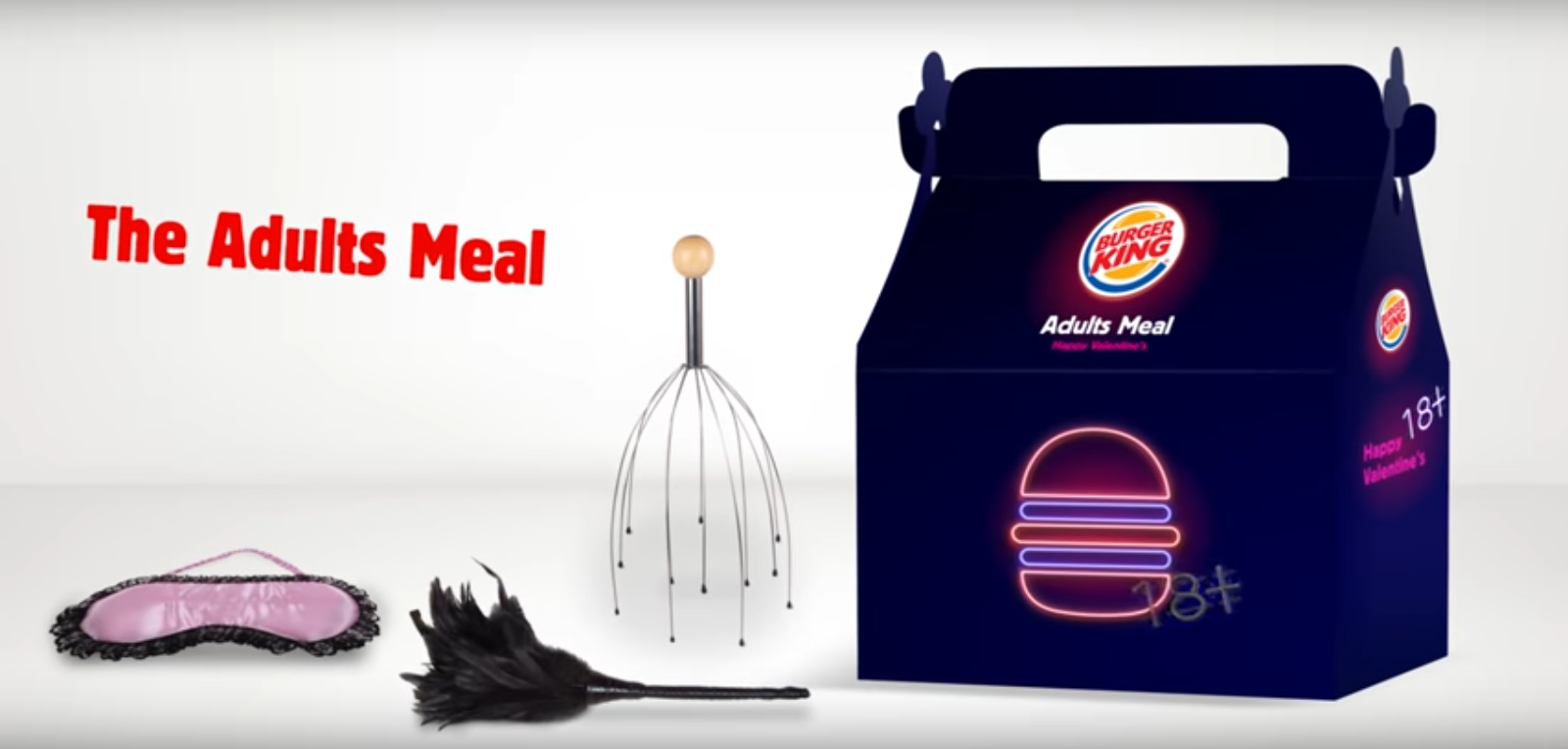 How do Israelis celebrate Valentine's Day? Well in Tel Aviv this year, it's with fast food and a novelty "adult" toy.
Burger King Israel has announced that this evening they will be selling special meals for grownups only. You and your special someone get a box with two Whoppers, two orders of fries, two beers, and a toy that is most certainly not based on a cartoon character.
If you'll excuse the franchise-crossing reference, this makes for a very happy meal.
And yet, the possible toys are— get ready— an eye-mask, a feather tickler or a tingler head-massager. So you know, something you can get almost anywhere that you don't even need to act embarrassed about at checkout. Kinky it is not, though the dark with neon design of the special box for the promotion is pretty neat.
No word yet on the sequel currently out in theaters, but the first Fifty Shades of Grey movie did well in the Holy Land in 2015. Apparently Israel is just as susceptible to milquetoast romantic white heterosexual sex pretending it's BDSM as any other country. This isn't an official tie-in, but it's obviously inspired by the fake kink craze.
You have to be 18 to make the purchase, but that's because of the alcohol— you don't have to be 18 to buy a blindfold, for HaShem's sake.
The offer is only available tonight, so if any readers are in Tel Aviv today (Rabin Square location), please, try this out for us and let us know how it goes.
Also, if you don't have someone to share this magical Burger King experience with, that's OK. Treat yourself; the extra burger, fries, and beer honestly sounds like the best part.
And if you're not in Israel, you can watch the super edgy ad for the meal below.
Image via YouTube