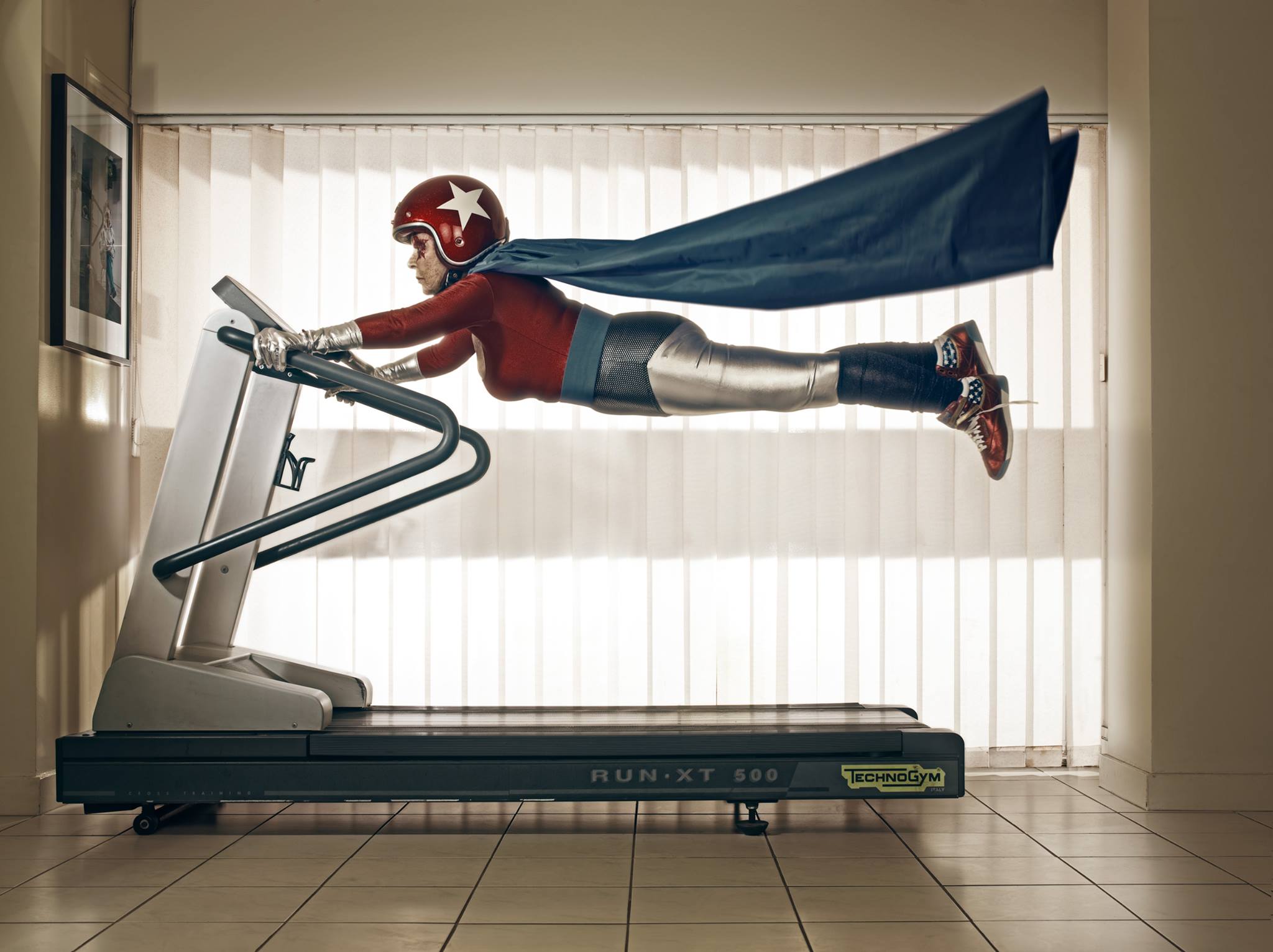 Apparently, if you go to Paris and ask around for French Bubbes to interview, you get one response: MAMIKA.
Frederika, also known as Mamika (Hungarian for "my little grandmother"), is a Jewish grandmother celebrity. Born in Budapest, she moved to France after the war after surviving both the Holocaust and Communism. She now lives in Paris and is very close with her photographer grandson, Sacha.
Her fame began when Sacha asked her to model for some photographs, hoping to cheer her up during a bout of post-retirement depression. He soon realized his grandmother had star potential. A very popular Facebook page and several books later, Mamika, now 97, is an internet sensation and inspiration to many. Their collaborative photoshoots, which have now been going on for years, feature Mamika, usually in costume and always in absurdist situations. The photos are charming and wonderfully bizarre.
Armed with sub-par French and too much American enthusiasm, I met Mamika and Sacha in Mamika's apartment in Paris. It was just a few months after the November 2015 terrorist attacks, and I noticed the heavily armed guards patrolling the synagogue down the street.
I didn't conduct the interview as much as play third wheel to Sacha and Mamika, whose close bond is equal parts loving and hilarious. It reads like a Beckett play. Hope you enjoy it as much as I did.
Interview translated from French by Kelsey Westphal. Edited and condensed by moi.
The players:
Sacha: The cool French photographer
Mamika:  His grandmother, the superstar
Sarah:  The bumbling American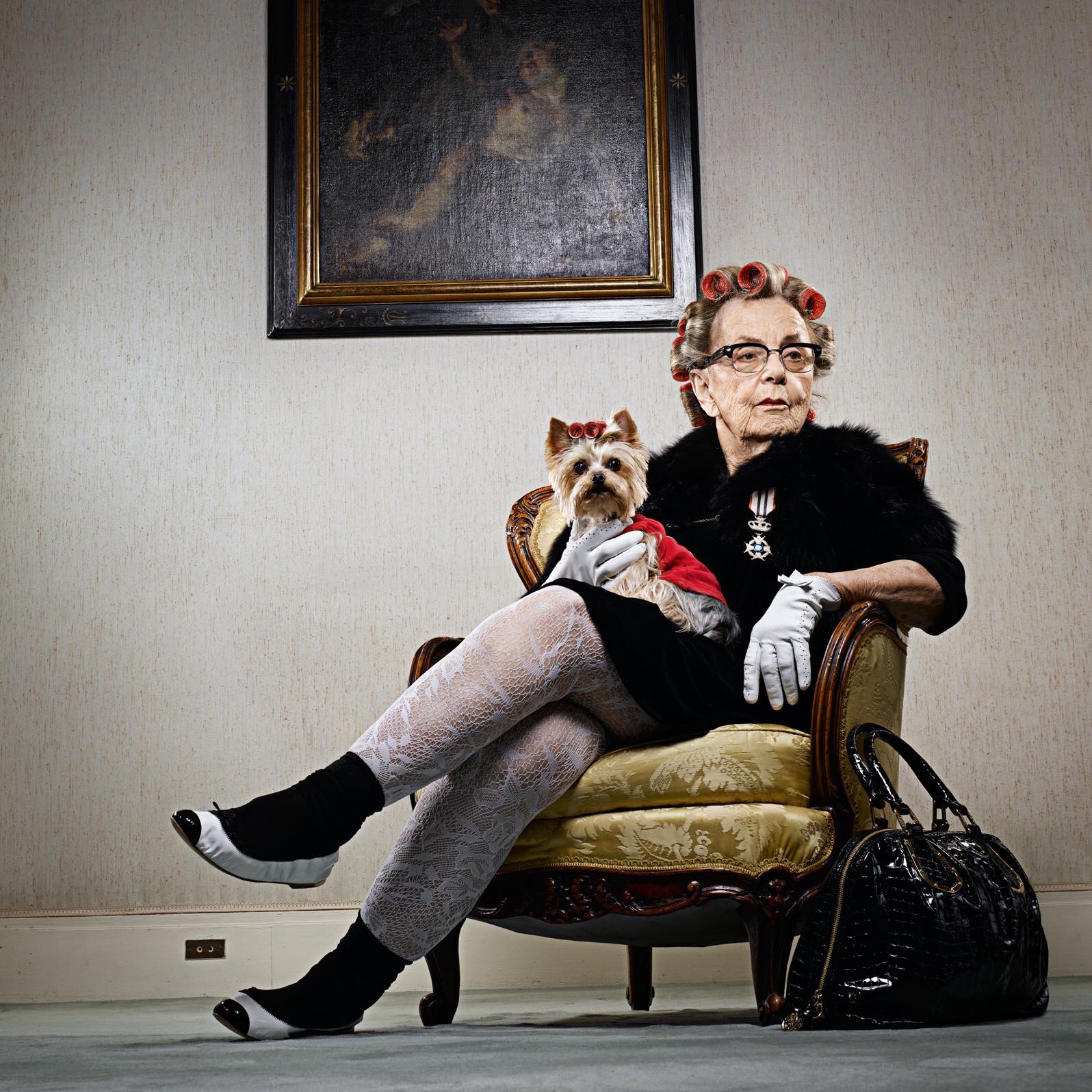 We start our discussion the French way — that is to say, with kissing:
Sacha: So, Sarah has a blog of grandmas giving advice about life. She wants to ask you some questions — because you aren't only an international star, you're also a grandma.
Mamika: I'm not a star. I'm a grandma.
Sacha: Can she ask you some questions? Like, for example: how does one make-out?
Mamika: What?
Sacha: Kiss with the tongue.
Sarah (finally getting it — remember, this was in French): French kissing!
Sacha: Yes, French kissing.
Mamika: I don't know.
Sacha: You were married four times.
Mamika: Three times.
Sacha: Four times. And you have two children. You must have kissed your husbands at some point.
Mamika: Yes… But they didn't kiss like Frenchmen.
Sacha: For example, which direction should the tongue go?
Mamika: You don't notice the tongue.
Sacha: You don't know which way it goes?
Mamika: Non.
Sacha: So, if you start to notice which way it goes, it means he's a bad kisser?
Mamika: Yes… Or that I'm a bad kisser.
Sacha: But if you don't notice, it means the kiss was good.
Mamika: Yeah. I never noticed.
Sacha (to Sarah): So, we don't know which way the tongue goes.
Sarah: But we know that it was used!
Sacha: Yeah well, in the U.S. there's no tongue.
Sarah There is! We call it a French kiss.
Sacha: In the U.S. you have to kiss French people to learn how to use tongue!
Sarah: Oui oui.
Mamika: You're such jokers!
Sacha: Us?
Mamika: You two.
Sacha: Not at all.
Mamika: You are!
Sacha: Sarah, what's your first question?
My first question:
Sarah: Since we're talking about kissing, I'll start by asking if you have any advice about love or marriage, seeing as you have been married several times. Do you have any tips? Your grandson said you had four husbands — or was it three?
Mamika: Three!
Sacha: Four. [He then listed four French (slash maybe Hungarian?) names, including Georges and Louis, which should be French enough to satisfy you.]
Mamika: I don't know.
Sacha: So that makes four! Plus all the marriages we don't know about!
Mamika: That's true.
Sacha: And we'll never know.
Mamika: You'll never know.
Sacha: I don't want to know. Four is enough.
Mamika: Yes, it's quite a lot…
Sacha: So, do you have any marriage advice? For example, how do you choose a good spouse?
Mamika: You have to consider whether they are good or bad. Good or evil.
Sarah: What do you mean by good? Friendly? Kind?
Mamika: Yes, kind.
Sacha: You said to me, "Your grandfather was short and fat but he was funny, he was very considerate, he always made sure I was happy, he always made me laugh, and he was a bon coup — very good in bed." Is that important to you?
Mamika: I never said that!
Sacha: You said you learned a lot from him. And you always gave me this advice: you told me [he puts on a Hungarian accent in French] "In life, love is 70% sexuality and 30% intellect." And you said it's better if he's really good in bed and less good intellectually, because over time it flips. You said that!
Mamika: And I stand by it.
Sacha: And you told me that the first time I was with a girl, you asked, "How was she in bed?" and I said it was okay. And you said, "Remember 70-30! Because later it switches!" Meaning that the more time passes living with someone, the less important sex becomes, and the more the intellect becomes central — jokes, humor, getting along — until sex takes up 30% and the intellectual relationship 70%.
Mamika: Yes. I stand by it.
Sacha: It's good advice. You gave me so much advice. Like you always said to be with someone you can have fun with.
Mamika: So you don't get bored, it's terrible to be bored by your partner.
Sarah: And if you get bored after awhile, what do you do?
Mamika: You suffer.
Sacha: And then bounce, right?
Mamika: No. For a few years you stay.
Sarah: What is the Jewish grandmother stereotype?
Mamika: Trying to understand her grandson!
Sacha: That's not it. The problem is that Mamika is so different from others, she doesn't fit the cliché.
Sarah: How?
Sacha: Do you know a lot of grandmas who have modeled in a whole book of photography, who have been married four times, who have survived the Nazis, Communism?
Mamika: I was married three times.
Sacha: Maybe three and a half. Her last husband was ten years younger. She's a cougar!
Mamika: First of all, he was only five years younger than me.
Sacha: He was a playboy! A BIG playboy.
Sarah: Really?
Sacha: Oo la la, remember the story, Mamika? You were at the beach with your husband at the time, Georges. I love this story, I learned it not long ago. So there you were with your husband and your two daughters, who must have been around 18 at the time. The playboy comes around and starts chatting up your daughters, and everyone thinks he's flirting with them… But actually he's doing it to impress you. He came to flirt with you, and you ended up having an affair for a few months. One day you noticed there was a private detective following you. So, since you don't let people push you around, you managed to corner him and ask him what he wanted. He said, your husband hired me to follow you, what can I do? And you went off and divorced Georges.
Mamika: I divorced him?
Sacha: You did. And then you went off with Louis, even though he was broke at the time, and you went boating and had picnics next to rivers all over the world. Do you remember that?
Mamika: I do.
Mamika survived the war and helped others survive as well:
Sacha: Her little brother was put in a concentration camp and left behind his wife and a son. So she and my grandpa saved them by hiding them in different places.
Sarah: How did you escape the war?
Mamika: Sacha, you tell her.
Sacha: She hid a lot. In Budapest, where she was born, she had to wear the armband — but she took it off. Then they started hiding, moving from one place to another, and helped hide other people too. There was an explosion and she was wounded — she still has the scar. They were in a cave for weeks without anything to eat or drink. I think it was the Levy family's cave? There was wine, and Grandpa wanted to drink some just to have something in his stomach, and Mamika said, "Don't touch it. We have to leave it in case the Levy's come back, they might need it to survive."
Mamika: I didn't let him touch it.
Sacha: But finally, you didn't have a choice, and you drank it.
On a Jewish sense of humor:
Mamika: There is a Jewish humor.
Sacha: Where does it come from?
Mamika: I think from the ghettos.
Sacha: You think when people were bored out of their minds in the ghettos, they told each other stories to escape the situation? The more funny you are, the better you are able to survive and get past pain and hardship. If you laugh when the worst possible things happen, that's a way to survive.
Mamika: Yes… Except you don't laugh.
Sacha: That's not exactly true. The worst things have happened to you and you were always able to laugh at it.
Mamika: I used humor to move onto other things.
Sarah: Do you practice Judaism now?
Sacha: I do but she doesn't.
Sarah: How come?
Mamika: We don't have time.
Sacha: Oh, as if! For many reasons. First of all, because you're angry with the consistory of Budapest because they deported your father and his brothers to the concentration camp.
Mamika: Yes.
Sacha: And after that, you said, "I want nothing to do with Judaism." And you felt that you always wanted to hide being Jewish, because there had been enough problems associated with it and it was time to just stop.
Mamika: I said that?
Sacha: Yes, but you also said the opposite. When I was a teenager, I came over wearing a Star of David, and you told me to take it off right away. Then five years later you told me that you had never told me this, but you're very proud that I would wear a Star of David. So there's a certain contradiction there.
Mamika: Yes, I see the contradiction.
On being young at heart:
Sacha: What age do you feel like?
Mamika: Forty.
---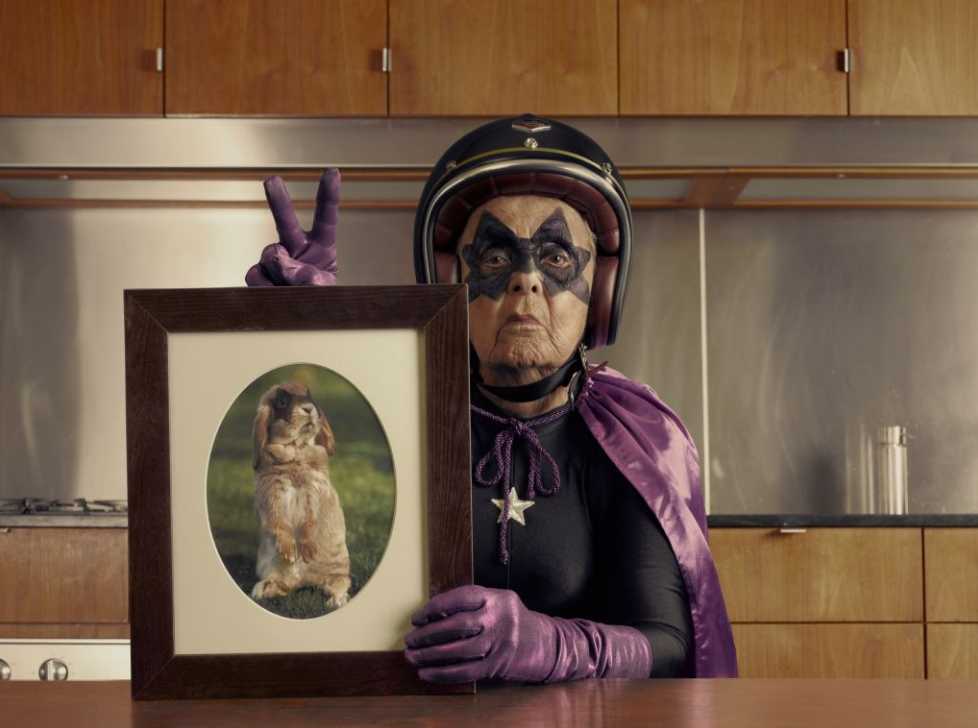 Merci beaucoup, Mamika et Sacha!
Sarah Rosen is a writer and actress living in Brooklyn. You can read more amazing interviews with with bubbes at bubbeknowsbest.com.
Photos courtesy of Sacha Goldberger.