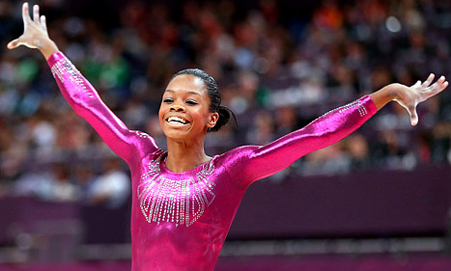 This summer, the gold medal winning, Hava Nagila prancing Aly Raisman was the most famous Jewish Olympian at the London Games. After a few offhand comments about the 40th anniversary of the Munich massacre and support for a moment of silence during the Opening Ceremonies (mind you, Raisman wouldn't have been in attendance at that event—the gymnastics competition begins the day after the Opening Ceremonies and the gymnasts never attend since it entails standing for hours on end), she was heralded as some sort of tumbling Jewish ambassador who would win over the Semitic masses on the strength of her acrobatics. Or something like that.
But it turns out that Raisman wasn't the only gymnast on the team with a Jewish affiliation. Gabby Douglas, if not a Jew, seems to be a serious philo-Semite. In Grace, Gold, and Glory: My Leap of Faith, her just-released memoir (co-written by O founding editor Michelle Burford), the 16-year-old gold medalist spends four digital pages (I read it on a Kindle and have no idea how many "real" pages that amounts to) delving into her family's semi-serious flirtation with Judaism.
That religion was a major theme throughout this short memoir (as it should be, given the age of the subject) is hardly surprising. It was published by Harper Collins' Christian imprint, Zondervan. And it is certainly not at all shocking to read an exploration of faith from Douglas, who, upon winning the gold in the all-around, sweetly said this to an NBC reporter: "I give all the glory to God. It's kind of a win-win situation. The glory goes up to Him and the blessings fall down on me." Douglas and her mother have spoken of their faith in interviews and it's one of the things that bonded the gymnast to her host family in Iowa.
But the appearance of Judaism comes seemingly out of left field. (Actually, left field is perhaps not far enough. That's still part of the same stadium, right? I know so little about baseball or any sport involving projectiles.) After an earnest discussion of learning how to press from the floor up into a handstand, a move that becomes significantly more difficult once you develop hips, and with no attempt at transition, Douglas writes, "I used to be Jewish." The connection between Judaism and handstands eludes even me.
Douglas, however, immediately backs down from that bold claim and states, "Well not exactly Jewish—but my family practiced some of the Jewish traditions." One can imagine her giggling and flashing that trademark grin as she told this to her biographer. In fact, to suggest both Douglas' mirth and youth, Burford punctuates several sentences throughout the book with "LOL," an incongruous fit with the rest of the prose, which suggests a more mature writing style—i.e. the co-author's.
But teenage-speak aside, what follows is a fully sincere account of Douglas' family's practice of Judaism, which began with her mother, Natalie Hawkins, and maternal grandmother, who were both drawn to the religion. Douglas' grandmother occasionally prepared kosher meals for the family and Hawkins studied Hebrew.
Unlike a New York Times trend story about faux mitzvahs, Douglas' participation in Judaism does not seem to have been rooted in materialism and consumption. Nor was it just about Jewish culture and matzoh ball soup, though that is certainly part of the appeal. Like a lot of Jewish kids, Douglas rhapsodizes about her mother's version of Jewish penicillin, stating that it was doled out as a prize for good grades—and, in her case, good scores in competition. However, she also recounts the year she spent going to synagogue, at Temple Israel in Norfolk, VA, and observing the Sabbath, if not strictly because she had gymnastics practice on Saturdays. (Gyms tend to be closed on Sundays.)
The Jewish exploration, however earnest, ends as abruptly as it begins and never resurfaces again. But the discussion of faith ramps up thereafter, especially as the Olympics near and the young gymnast faces competitive pressure and homesickness while training far from her family. Hawkins, Douglas' siblings, and her host mother dispense with New Testament quotes that inspire the athlete as she trains for the biggest contest in gymnastics.
In the short section about Judaism there is far less discussion of belief, which is due, at least in part, to the fact that she remains Christian and never expresses any desire to convert. And perhaps it's because Jews don't speak about God and beliefs in the same way that some Christians do. (Jews often don't know what other Jews believe. During college, a frum friend of mine told me that you didn't have to believe in God to be Orthodox, though it certainly helps make all of the rules seem less onerous if you do.) Though Maimonides' Thirteen Principles of Faith appear in most Jewish siddurim at the end of shacharit, they are often treated as an afterthought, not the main event, after the long slog of davening. Unlike her spiritual expression of her Christianity, Douglas' exploration of Judaism is mostly ritual and action-based.
It's notably different from our Jewish gymnastics ambassador, Raisman (still sad that this title doesn't apply to me), whose religion is expressed in political, cultural and ethnic terms, but not ritual ones. (Though maybe it's because she's never been asked. I have no way of knowing about the particular Jewish practices of the Raisman family.)
In fact, when interviewed during Hanukkah in 2010 by International Gymnast Magazine, Raisman admitted that she couldn't embrace all Jewish traditions and rituals as a result of her gymnastics practice:
Raisman said her training schedule means she is unable to share in the traditional family dinner together each night to celebrate Hanukkah…Raisman said she has been sticking to her own healthy meal after evening practice, forgoing any traditional holiday food like potato latkes.
I sincerely hope that she is able to partake this year since she is not currently training for any competitions and because latkes are delicious.
As for Douglas—I wish her many more bowls of her beloved matzo ball soup and hope that she dabbles in Judaism again with the same sincerity she expressed in the book. And as her celebrity increases, perhaps she will. After all, that's what all the famous folks do.
Previously: Leave Aly Raisman Alone
Olympic Gold Medalist Gabby Douglas' Favorite Meal is Matzoh Ball Soup
Gold Medalist Aly Raisman Commemorates 1972 Munich Games