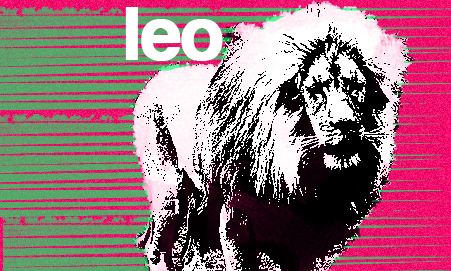 Leo (July 21 – August 20): Az a leyb shloft, loz im shlofn: When a lion is sleeping, let him sleep.
Like your ruling planet, the sun, you believe everything revolves around you. Self-righteous and entitled, you won't rest until everyone feels the fiery blaze of your tempestuous, regal influence. You may define the fire sign, but come on: have you ever heard the king of the jungle kvetching? For you, bliss lies in instinct and reaction, not cold scheming.
Leo rules the heart. You are among the most loyal, generous, openhearted, and warm signs of the Zodiac, so you make for a great friend. However, the energy you put into friendships can also cause you heartache when you don't get as much back in return.
It's like Ru Paul says: "Big hair, big heart," and you lions have no shortage of either. Although your brutality reaches its peak when you become impatient with others, it is important to maintain perspective: The sun will set without your help, so stop torturing everyone—including yourself!
Famous Leo Jews: David Duchovny, Dustin Hoffman, Roman Polanski, Stanley Kubrick, Richard Belzer, Monica Lewinsky, Samuel Goldwyn, William Goldman, Sydney Omarr, Jonathan Silverman, Sean Penn (half-Jewish), David Steinberg.
Virgo (Aug. 21 – Sept. 20): Don't worry bubbelahs, it's not as bleak as it looks. Big changes for the better are on the horizon, and the whirlwind of the past several months is finally settling down. Look around: if there is anything you can live without, let it go.
Libra (Sept. 21 – Oct. 20): Your natural charm has made it easy for you to avoid the tough realities, but sooner or later you'll have to face the truth. The longer you put it off, the bigger the eventual explosion will be. Looking into the past for clues may be helpful.
Scorpio (Oct. 21 – Nov. 20): Uranus squares your ruling planet, Pluto, several times in the next few years—something that hasn't happened since the 1930s. Take this cosmic renaissance to heart, it doesn't help anyone if you suppress the change boiling inside. Accept the inevitability of this breakthrough and make it work for you.
Sagittarius (Nov. 21 – Dec. 20): While you are level-headed when it comes to your career, socially you can be a bit of a creeper. You are channeling your energies in the wrong directions. Owning up to it is the first step: you can't take the high road without knowing where you're going.
Capricorn (Dec. 21 – Jan 20): Lighten up! You may be stuck in a rut, but you should know by now that you're a star. There will always be obstacles, but don't forget that we make our own realities. Dearest Capricorn, your future's so bright you gotta wear shades!
Aquarius (Jan 21 – Feb. 20): Everything that's been happening around you has left you fermisht. Take a moment to breathe. With your ruling planet Uranus in retrograde for the remainder of the year, you have an opportunity to see what's working for you—and what's not.
Pisces (Feb. 21 – March 20): It's all too easy for you to go along with what others want for you. You have so much to offer—and there's only so much of yourself that you can spare. Seek and you will find, super freak.
Aries (March 21 – April 20): Following your heart and instincts is admirable, but without a little planning and soul-searching, you may find yourself stuck in old patterns. You have all the tools you need to make things work for you. Otherwise, just fake it 'till you make it.
Taurus (April 21 – May 20): It's like bubbe always told you: a watched pot never boils. Maybe your romantic prospects have been less than fantastic. But once you learn to love yourself, others will follow. They should be so lucky!
Gemini (May 21 – June 20): It's better for you Geminis to let loose with both of your twins—the good and the bad, the buttoned up and the reckless. But if you can reconcile the two sides of yourself, you'll find it much easier to relate to others.
Cancer (June 21 – July 20): You're finally feeling like you're ready to open your heart to love, but you crabs often come on too strong romantically. The important lesson is to balance your energies, so that you can be passionate but not overwhelming.
What's Your Sign?
Introducing Jewcy Horoscopes: Cancer (June 21-July 20)
(Art by Margarita Korol)