Remember Thanksgivukkah, back in 2013 when Chanukah coincided with Thanksgiving, and you realized that sweet potato latkes were overrated and tried to think of more creative recipes?
You ain't seen nothin' yet:
In 2016, Chanukah will begin on sunset December 24th, and we will light the final candle on the evening of December 31st, officially ending the holiday at sunset the next day, January 1st.
That's right; this year, Chanukah falls exactly from Christmas to New Year's.  The same week that your gentile colleagues will be in full celebration mode, so will you. "Christmas for the Jews" is now an actual Jewish holiday (if you don't count Nittel Nacht), that will continue all the way until the next Federal holiday.
We look forward to seeing the hipster Jewish recipes and all, but there's a bigger question we need to resolve now, months in advance: What remains is what the portmanteau will be.
Chrismukkah (not endorsed by Jewcy) is already the fusion of the two holidays in interfaith homes, not Chanukah that happens to fall at a certain time. So… Chanukas? ChaNewYearkah? Perfect-Winter-Break-for-Jewish-Kids-Blessathon?
Of course, New Year's is also a celebration of Jesus's circumcision, so… Chanubrismas? Yeah, we're going to go with Chanubrismas until we get something better.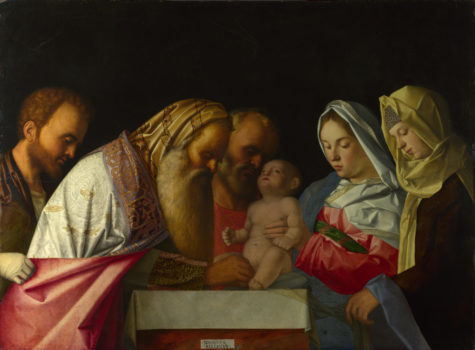 Please tweet us your ideas so that #Chanubrismas doesn't have to go viral. And remember: you heard it here first. And only 152 shopping days left till, well, whatever this is.
Image credit: Circumcision of Jesus by the workshop of Giovanni Bellini. Via Wikimedia.