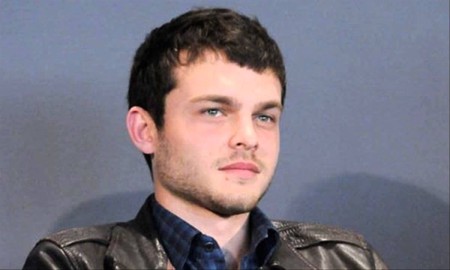 The shortlist has leaked for casting the lead of the new Star Wars spin-off about a young Han Solo, and one of the three young men is Alden Ehrenreich. Even if he doesn't land the role, you should know (and have an intense crush on) him.
Ehrenreich, 26, was raised in a Reconstructionist Jewish family in Los Angeles, and he has maybe the most Jewish big break since Paul Muni left Yiddish theatre. Young Alden was in a video sketch for a friend's Bat Mitzvah, and as fate would have it, Steven Spielberg was at the party and liked Ehrenreich's performance. Soon, an agent, TV appearances, and eventually, film roles.
Ehrenreich's roles include a lead in the aptly-named Beautiful Creatures, but he's been in the spotlight lately for his phenomenal turn in the Coen Brothers' newest film, Hail, Caesar!  Ehrenreich plays cowboy actor Hobie Doyle, known for singing and doing his own stunts. The studio arranges for Hobie to take the lead in a highbrow romantic drama, and he is adorably out of his league.
Enough talk.  Want to fall in love? Just watch this clip:

Final notes to make you melt: When the Hollywood Reporter asked Ehrenreich who his dates would be for the Hail, Caesar! premiere, he responded, "My mom and my nana." Aw!
Besides, Harrison Ford is of Jewish descent, so it only makes for a young Member of the Tribe to take on the mantle of the scruffiest rogue in the galaxy.
We hope that the force is with young Alden, and that we can see him hanging with a young Chewbacca in 2018.