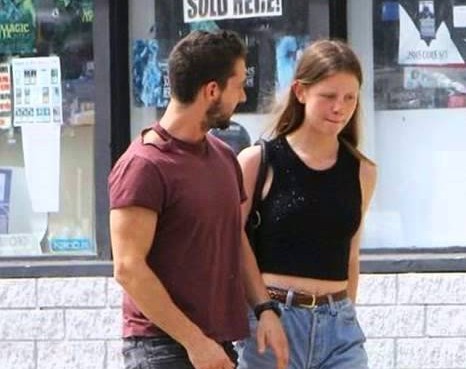 Shia LaBeouf is engaged to his longtime girlfriend, actor and model Mia Goth, reports say.
Actor and performance artist LaBeouf, 29, first met Goth in 2012 when they performed together in the film Nymphomaniac: Vol. II. Though their relationship has been on and off, engagement rumors have been percolating for awhile.
Will the wedding be Jewish? Not likely. Goth isn't Jewish, and while LaBeouf was raised Jewish in an interfaith family, in 2014 he told Interview Magazine that he "found God" and "became a Christian man" while filming the movie Fury.
Then again, anything LaBeouf does in the public eye should be taken with a grain of salt. His recent projects have included spending 24 hours in an elevator and chatting with whoever came in, inviting fans to sit with him Marina Abromović style where they could flatter or insult him, and sitting in a movie theater open to the public while all the films of his career played in a marathon. So he gets a kick out of blending his role as celebrity and weirdness, and there are no signs that professed religion or romantic relationships are off limits.
In any case, any Shia LeBeouf news should be an excuse to watch the greatest Shia media of all time, which he did not even create: