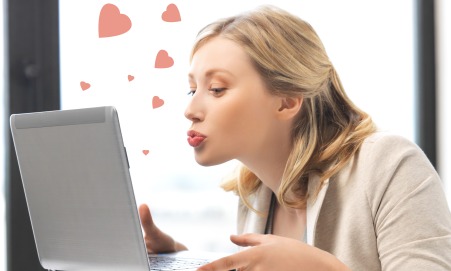 Online dating is all the rage. Men swiping through pictures of girls, based on their hotness, within proximity on Tinder, and women making kissy faces in their OKCupid profile pictures, describing themselves as "adventurous" and other fun-loving adjectives.
In Islam, however, online dating is purely for marriage, decided the Supreme Council of Religious Ruling in Palestine on Tuesday. Given the success of sites like JDate, the council could not ignore the pervasiveness of couples meeting online, but it included numerous ground rules, reports the Times of Israel.
Women, continues the religious opinion, may not describe themselves in detail to men and may not share photos of themselves, nor may they meet the potential groom alone without a male family escort.

"These permissions do not substitute for the formalized, traditional methods of encounter for the purpose of marriage," the council underscored. "It is better for those wishing to marry to enter the house through the front door."

For the man, that would entail meeting the prospective bride at her family home in the presence of her custodians.
Eek, meeting the parents on the first date. Hopefully the people on the Islamic dating sites are better adjusted than some of the ones we've got stateside.
(Photo by Shutterstock)