(WE FINISHED THE COMPETITION AND ANNOUNCED OUR WINNER. YOU CAN LEARN WHO IT WAS HERE.)
Well, that was exhausting.
Round One of our Jewish Celebrity March Madness had some predictable results (did anyone really think Jake Tapper could take the Notorious RBG?), but also some upsets, and some really close races.  Here's a recap of just a few showdowns:
Neither member of Broad City is making it past the first round! Abbi and Ilana won't have to go head to head.
Winona Ryder held a lead on Rachel Weisz until the last few hours of the competition, and then BOOM! Ditto a last-minute reversal taking the round from Paul Rudd and giving it to ScarJo.
Bette vs. Babs? Dylan vs. Joel? Bette, and Joel, it turns out.
In a stunning turn of events, Drake is out in the first round! Let's hear it for Daveed Diggs!
Bernie loses, yet again, though this was much closer than the 2016 primaries.
And so, we present to you, the Round 2 bracket: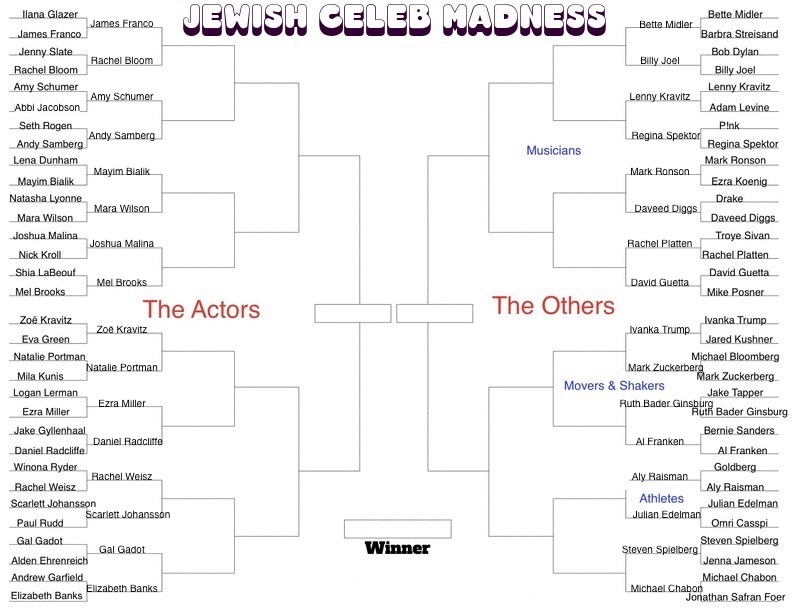 Go ahead and vote below; you have until Friday morning the 24th, 9 a.m. Eastern Time. Also, keep tweeting us angrily (new hashtag— #JewishCelebs); you had the moral high-ground for Round 1, but now, these are your picks.
And is the anticipation killing you? Well, if you sign up for emails below, you'll have the results of Round 2 emailed to you, before Round 3 is live:
[mc4wp_form id="160321″]
THE ACTORS:
[yop_poll id="35″] [yop_poll id="36″] [yop_poll id="38″] [yop_poll id="37″] [yop_poll id="39″] [yop_poll id="40″] [yop_poll id="41″] [yop_poll id="42″]
THE MUSICIANS:
[yop_poll id="43″] [yop_poll id="44″] [yop_poll id="45″] [yop_poll id="46″]
MOVERS AND SHAKERS:
[yop_poll id="47″] [yop_poll id="48″]
OTHER:
[yop_poll id="49″] [yop_poll id="50″]