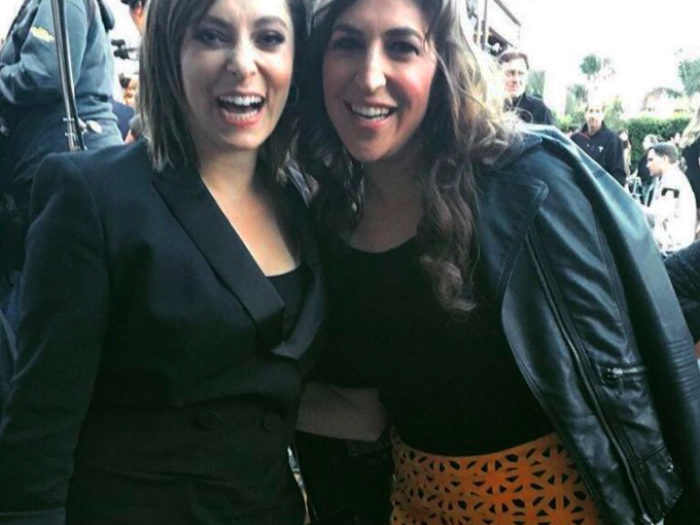 If you, like me, enjoy learning about how Jewish geography extends to cool Jewish lady celebrities, you'll enjoy the following tidbit: Mayim Bialik, of The Big Bang Theory (and this great video), and Rachel Bloom, better known as Rebecca Bunch on Crazy Ex-Girlfriend, are apparently buddies. Watered by some mayim, their friendship began to bloom last April, when Bialik interviewed Bloom for her website. A couple weeks ago, they had a coffee date, but it was interrupted by a fan who seemed more interested in Rachel than in Mayim. Personally, I'd like to tag along with both of them. What a squad.
Speaking of funny, outspoken Jewish feminist actresses, remember how Rachel Bloom used to be roommates with Broad City's Ilana Glazer? Naturally, they take amazing selfies. Looking at them, I was reminded of the episode from last season of Girls when Hannah Horvath (Lena Dunham's character) gets a visit from a college friend, played amazingly by Jenny Slate. What if the four of them were all friends?!
And in case you forgot, Ilana is (distantly) related to Abbi Jacobson in real life. Which makes the sexual nature of Abbi and Ilana's friendship (mostly on Ilana's side) on the show a little awkward.
But most Ashkenazi Jews are basically related to each other anyway (though unlike most Ashkenazi Jews, all six of these ladies competed in Jewcy's ongoing "Jewish Celebrity March Madness"). So I'm sure it's only a matter of time before all these yiddishe mavens of comedy discover that I am their long-lost cousin and want to be best friends with me too.
Image via Instagram.