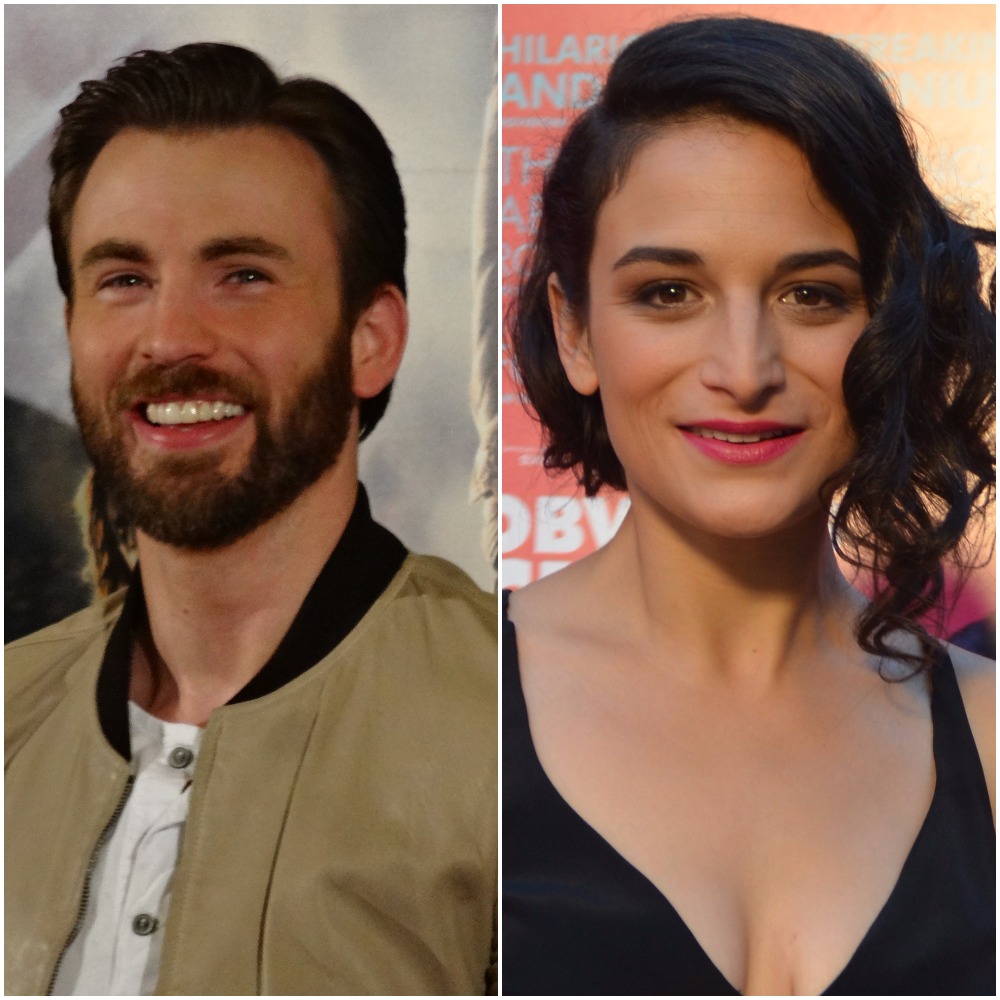 Here's an early Chanukah present: Jenny Slate and Chris Evans are officially back together! Slate Magazine reported that Slate (how fun is that to say?) is resuming her relationship with Captain America, after the pair met on the set of Gifted and dated for 10 months last year.
Jenny Slate is possibly the nicest and funniest Jewish comedian on the scene, known for her starring role in the "abortion comedy" Obvious Child and her stint on Parks and Recreation as the insufferable Mona Lisa Saperstein. She and Chris Evans, an Avengers actor with superhero abs and a shortage of upper lip, have been flirting over Twitter since early November, sparking rumors that the two were dating again.
Aside from the obvious thrill of having one of the "Four Hot Chrisses" potentially join the Tribe, there are several reasons to cheer on this couple. For starters, Slate makes Evans sound like a real mensch in this Vulture interview:
"Chris is truly one of the kindest people I've ever met, to the point where sometimes I would look at him and it would kind of break my heart," she says. "He's really vulnerable, and he's really straightforward. He's like primary colors. He has beautiful, big, strong emotions, and he's really sure of them. It's just wonderful to be around. His heart is probably golden-colored, if you could paint it."
If anyone deserves the company of the multitalented, kickass feminist Jenny Slate, it's an earnest 36 year-old who organizes board game nights, owns a singing dog, and appreciates her taste in turtlenecks.
Evans is also helping Slate move on from her ex-husband Dean Fleischer-Camp, an editor-director whose main accomplishment is co-creating "Marcel the Shell" with Slate. In my (potentially unpopular) opinion, it's time for the talking clam to retire, and Evans may prove distraction enough for Slate and Fleischer-Camp's collaborative energy to ebb.
Either way, if you have even a shred of support for the "Slevans" romance, please devote yourself to the cause of coming up with a new moniker for the couple. The nickname for these delightful people sounds like a sewer creature or a nose-picking bully, and I'm confident the Jewish community can improve on it. Captain Obvious, perhaps?
Photos via Wikimedia