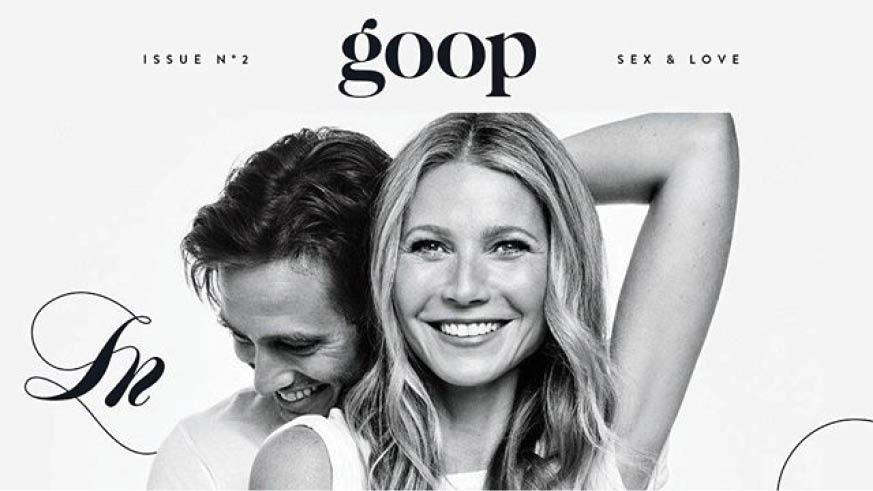 The holiday season is rife with engagements, and Gwyneth Paltrow, actress, vegan, writer, blogger, mother and recent ex-wife of Coldplay's frontman Chris Martin is next down the aisle (or headed towards the chuppah) with a winter engagement. Settling the rumors, the announcement of the couple's union comes by way of a black and white cover on the latest cover of Goop, and shows a radiant Paltrow with TV writer and producer Brad Falchuk of Glee and American Horror Story nestled behind her. The newly engaged couple wears jeans and white t-shirts.
The couple met during Paltrow's tenure as a guest star on Glee and have been dating for three years. Although both bring two children (How could anyone forget Apple?) from their prior marriages to the equation, Paltrow posted a photo of Martin and Falchuk brunching together in November with the hashtag "modernfamily," so perhaps the fence has been mended. Anyways, Paltrow and Martin didn't actually get divorced, it was a "conscious uncoupling." (Don't worry, everyone is trying to decipher what that term means.)
A sharp eye caught the appearance of Israeli chocolate product (pesek zman anyone?) on the table between Martin and Falchuk either as a physical barrier between the two men or the proverbial olive branch of friendship. Does this mean our Gwyneth is thinking of converting? Will Goop soon expand to include best practice for fish pickling? The lifestyle blogger seems nothing if not vigilant about what she does and does not eat, so only time will tell if kugel and chocolate babka start making appearances at the family table.
Falchuck, who has an impressive head of hair and seems totally smitten, is the son of of former national Hadassah President Nancy Falchuk. Paltrow, a reported follower of Kabbalah, is the daughter of Bruce Paltrow and actress Blythe Danner. Although Paltrow's father is Jewish, it's unclear how strongly Gwyneth identifies as Jewish, and the internet shows no consistency in reports about an alleged conversion prior to her relationship with Falchuk.
No doubt if Paltrow does make the move, her conversion will easily eclipse Charlotte's famed act of love on Sex In The City. Poor Charlotte. Always second fiddle to a more glamorous blonde.  
We wish the new couple all the joy and sufganiyot they can eat.
Image from Instagram