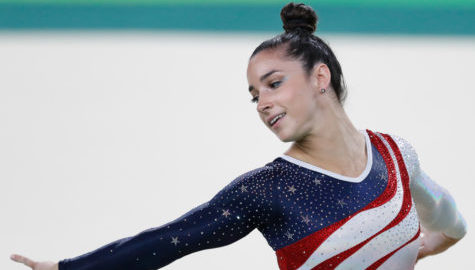 Remember back in August? We know, it feels so very, very far away given the world we're in now. But if you concentrate really hard, you may recall that Aly Raisman kicked butt in the Olympics, including winning the silver medal for all-around female gymnastics. You may also remember that one Colton Underwood, a professional football player (formerly of the Oakland Raiders, but he's currently a free agent, whatever that means), asked her out via video that she watched for the first time during an on-camera interview.
Well, it turns out that the meet-cute worked, and she and Underwood have been an item since shortly after the video. They happened to be in the same city, and went on a date. For dates two and three, Underwood (who's 24) drove over an hour to see Raisman (22).
As the two grew more seriously involved, they kept their relationship from the media, but they finally went public yesterday at the Sports Illustrated Sportsperson of the Year event in New York. (Raisman looked amazing by the way, in a red scaly dress that made her look like some sort of gymnastics dragon.) Raisman also mentioned that she would be spending the holidays with the Underwoods. Well, if she's there for Christmas, that still gives her most of Chanukah to bring the boyfriend back to Massachusetts for time with everyone's favorite Jewish athlete parents (hers, of course).
Can we say that we're NF-Kvelling? No, OK, sorry. Chag Sameach, Aly and Colton.
Image via Wikipedia