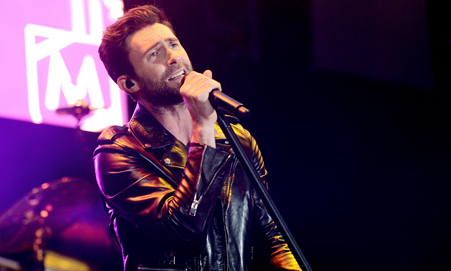 Though I was hoping that my teen crushes, Jack Black and Ethan Embry, would finally get their deserved attention and give People's "Sexiest Man Alive" arbiters a tough choice this year, it seems that the title is going to Maroon 5 frontman Adam Levine. The ladies and gents go wild for this tattooed, high-pitched singer/judge of other singers. His music is OK, his face is pretty good—is it Ethan Embry good? Let's not make jokes. This is serious sexy business. The Hollywood Reporter reports:
He was asked about the rumors on Friday's Today show but seemed reluctant to say anything and squirmed as he was being questioned. After initially telling host Savannah Guthrie he didn't believe her, he remarked, "It would be an interesting idea … I know nothing."
Well, he's probably about to know something. People is supposed to make the announcement this week—so obviously stop everything you're doing until the press release is out and about the interwebs.
Good luck with the photo shoot, Levine. You should remember to flex— flexing is important. And, for the rest of you, if you can't wait until the sexy issue, watch Maroon 5's music video for "Payphone" and see Levine dressed in different looks: prim and proper for business or dirty from fire.
(Photo by Kevin Winter/Getty)