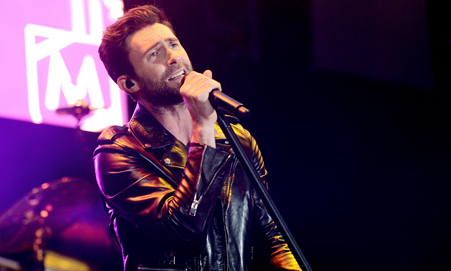 The Maroon 5 frontman, Voice judge, and Jewish heartthrob is now at age 37 also officially a Hot Dad. This week, on September 21st, his wife of two years, Behati Prinsloo, 27, gave birth to a baby girl. The little girl is named Dusty Rose Levine, which sounds like a great lipstick color, but is also a pretty good way to describe being born on the last official day of summer. Or, is it perhaps a lighter version of MAROON??
Levine was so ready. "You're born to be a parent, that's what we're here for, really,"he told Entertainment Tonight in April. "All the other shit is great, but it's not what we're here for."
Will young Dusty be raised Jewish? Likely not, given her father's rejection of formal religious practice and her mother not being Jewish at all. Will her father sing her to sleep at night with "She Will Be Loved?" We can only assume so.
Mazel tov to the whole Levine clan on the bundle of joy.
Photo by Kevin Winter/Getty Images