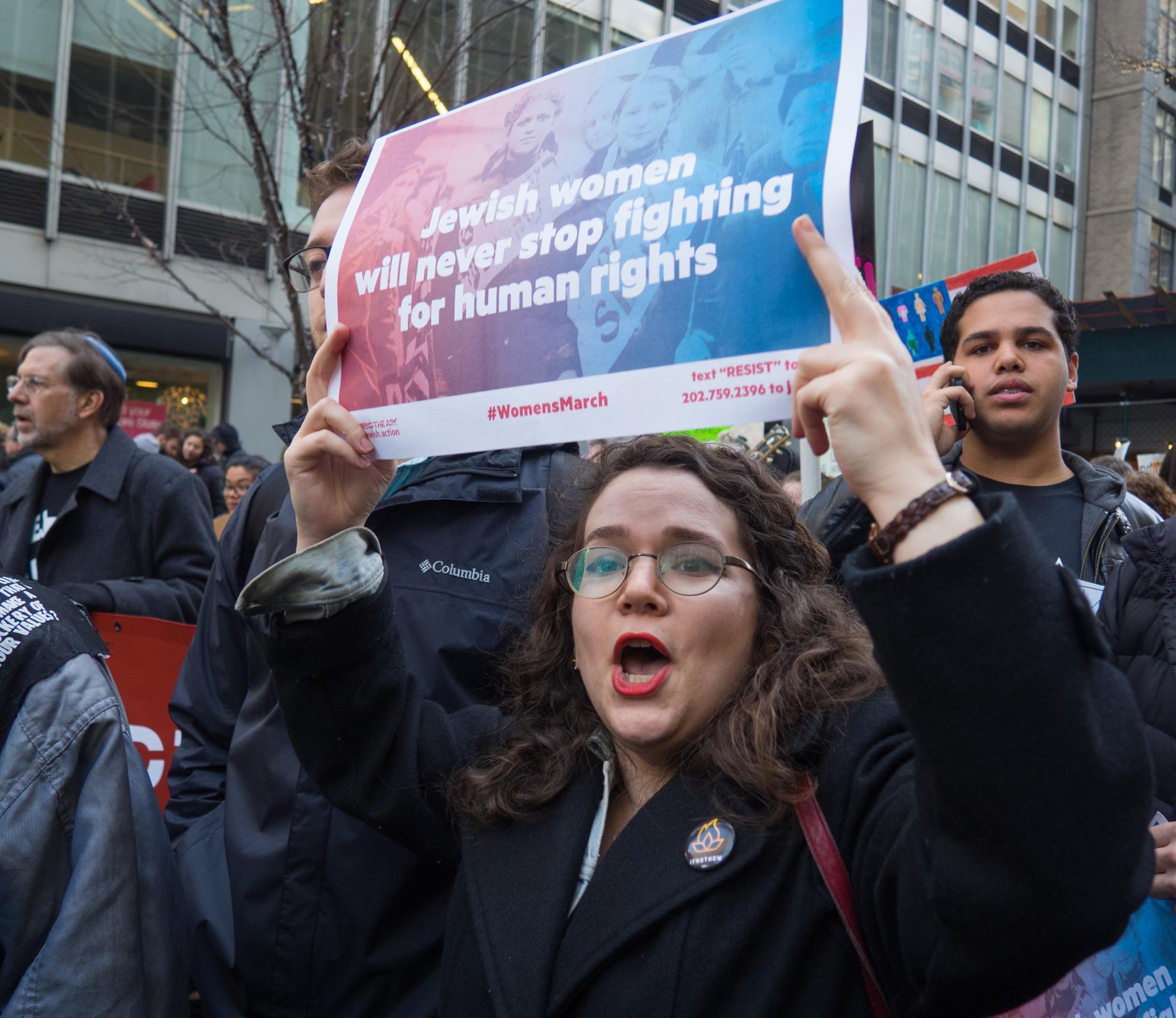 Editors Note: This is part 2 of our 2 essays on Jewish experience in the post-Inauguration Women's March. Part 1 can be found here.
In the weeks leading up to the Women's March on Washington this past Saturday, an online community of Jewish women formed and pooled resources for participating in a demonstration over Shabbat, organizing ride shares to D.C., arranging Friday night meals through friends and local synagogues, and posting updates on Jewish groups and institutions offering services and/or swag in support of the March. On the morning of January 21, 2017, they met outside Sixth & I Historic Synagogue and marched toward the National Mall with fellow Israelites of every age, gender, and affiliation, claiming the pavement of the United States capital like the chasm of the Red Sea out of Egypt toward Independence Avenue, where over the course of the next few hours Michael Moore taught America to memorize the number to call the office of any member of Congress, Cecile Richards pledged to keep Planned Parenthood's doors open, the Mothers of the Movement rallied the audience in the names of their murdered children, Sophie Cruz led hundreds of thousands of voices chanting "¡Sí se puede!" in unison, Van Jones called for a movement based on love—"that mama-bear love"—and the ground shook with Angelique Kidjo singing Sam Cooke's "A Change Is Gonna Come."
"This makes me proud to be a Jew," my father—who insisted on wearing his own hot pink pussy hat the whole day—said quietly as we set out from the Chinatown Park rendezvous point, beaming at the signs quoting the Talmud, Deuteronomy, Abraham Joshua Heschel, Emma Goldman, Hillel, and other seminal Jewish texts and voices. As Orthodox Jews, my family had rushed to make our own posters Friday afternoon, before Shabbat began, checking the city's eruv map to make sure we could carry them without violating our traditional observance, and coordinated with friends in advance to find one another at or after the march without our phones. "I haven't come to Washington to protest since… Vietnam!" my parents' friend Miriam, who had come on her own from the Bay Area, declared proudly as we neared the Mall, quickly making friends with the Jewish mothers and bubbes flanking our party who echoed her realization.
The skies were grey but the streets were vibrant: like a foal recognizes its mother by her stripes among a zeal of zebras, members of the assembly tracked their marching companions by the specific hue and texture of one another's pussy hats amid a sea of pink wool, felt, and fleece. Cheers rippled through the crowd in call-and-response; strangers shared snacks from regulation clear plastic backpacks and introduced themselves by asking each other from where they had come. Volunteers handed out stickers and posters from Planned Parenthood, NARAL Pro-Choice America, and Emily's List, and flash mobs and faith groups burst into song inspired by the movement and its historical moment.
It was a day that inadvertently celebrated the legacy of Jewish women, among others, who emblemized or at least symbolized femme empowerment and activism. The bespectacled visage of Supreme Court Justice Ruth Bader Ginsburg, shlita, floated among a cluster of the faces of great women painted on large cardboard cutouts and held aloft by a group who happily chirped, "This is what happens when women puts their heads together!" when asked about the project. Another group claimed a street corner with a large banner quoting Emma Lazarus: "Until we are all free, we are none of us free." Everywhere you looked, there were enough A Woman's Place Is in the Resistance posters to summon the Second Coming of Carrie Fisher.
Modern Jewish heroes were well represented on the stage, as well. Senator Debbie Wasserman-Schultz was a vision in pink—two different shades of it, in fact—standing by her colleagues Kamala Harris, Tammy Duckworth, and Kirsten Gillibrand as they each took the mic to define what "women's issues" are. IKAR founder and senior rabbi Sharon Brous wished the crowd a Shabbat Shalom at the end of an impassioned speech delivered with Linda Sarsour's white hijab in view over her shoulder throughout:
Sometimes it happens—maybe once in a generation—that a spirit of resistance is awakened at the intersection of love, faith, and holy outrage. And in those moments, we are reminded what we're fighting for, what this country was built for, what our armed forces are willing to die for, what our flag flies for, and that is liberty and justice, for all. This is one of those moments.
And let us not forget Our Lady, Gloria Steinem smiling benevolently from her seat upon the stage, thanking the audience "for understanding that sometimes we must put our bodies where our beliefs are," and commanding, "Make sure you introduce yourselves to each other, and decide what we're going to do tomorrow and tomorrow and tomorrow."
But most of the crowd only witnessed these appearances later, from or on their way home, streaming the footage on laptops and smartphones long after the events had concluded. About five times the number of people expected by the Women's March organizers crammed into streets and spaces parallel and perpendicular to the stage; visibility to even the jumbotrons was limited, and the sound was inadequately amplified to reach the ears of over half a million listeners. So great was the turnout that the march itself was all but disbanded, the planned route eschewed for the spontaneous directive to "go North," toward Pennsylvania Avenue, nearly an hour after the scheduled departure—and the final speakers still had yet to take the stage.
Rivulets of the assembly headed for the Mall in hand-holding human chains, gathering force until the current turned with them, leaving islands of die-hards standing their ground to watch Angela Davis's projection and hear the echoes of her voice bounce off the National Museum of the American Indian. An African American family squeezing past a rooted cluster of Jews stopped to look back, bringing me—an Orthodox Ashkenazi 20-something sporting a sweatshirt reading THE FUTURE IS FEMALE and a vivid pink pussy hat bedecked with a wreath of flowers—face-to-face with a birdlike grandmother held at either elbow by her offspring as they waited to continue passing.
"I like your hat," the black woman grinned shyly. "I've been looking at it. It makes me smile."
"It's a day for smiling!" I answered, thanking my tiny stranger for the compliment.
"It sure is," the grandmother's face crinkled into a full smile as she looked at the crowd around us. "It sure is."
Nat Bernstein is the contributing editor at Jewish Book Council, managing the organization's digital content, media, and special projects. Nat is a 2011 Ingenuity Award recipient and an F'07 graduate of Hampshire College with a Division II in pedagogical content knowledge for English education and a Division III on the representation of modern genocide in American culture and education.  
Photo by Dan Rosen