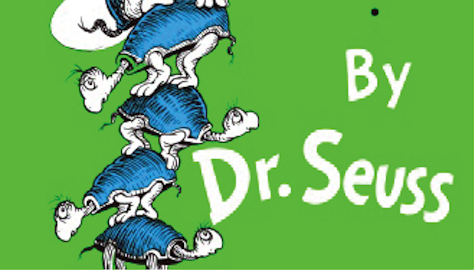 Melania Trump made her first public appearance as First Lady without her husband yesterday, reading to hospitalized children in New York. Her choice of literature? Oh, the Places You'll Go! The choice was no coincidence— it was the anniversary of the birth of its author, Dr. Seuss (happy 113th!).
Articles have been quick to point out that the book, which Ms. Trump claims as a favorite, contains the rather apt passage: "You'll be as famous as famous can be,/With the whole wide world watching you win on TV." But that doesn't touch the tip of the ironic iceberg that was that literary choice.
First— we'll say it— Oh, the Places You'll Go!  is the most over-read of all of Dr. Seuss's works (though not the most misappropriated— that honor would likely go to anti-abortion advocates using Horton Hears a Who). The rhymes are as clever as always, and the illustrations of course are great, but the message comes down to platitudes that your kid graduating high school has already heard a million times, thanks. Melania's choice decidedly lacked imagination; it's like a male teenager saying his favorite movie is Fight Club.
But that's not the real issue here. As many people (though likely not Ms. Trump) know, in addition to writing for children, Dr. Seuss (the pen name of Theodore Geisel) was a political cartoonist, seriously leftist in bent. He was hypercritical of fascism long before it was the social norm, for example urging the United States to resist Nazism overseas and to decry Nazi-sympathizers at home.
For example, remember when President Trump invoked "America first" in his inauguration speech, a phrase with an explicitly fascist background? Let's look at what Mr. Geisel had to say about that back in 1941: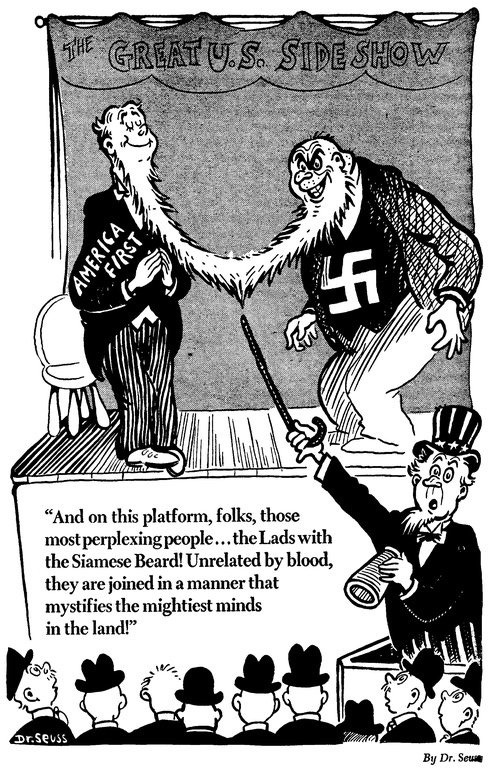 Yikes. No one tell Melania.
Beyond broad anti-Nazi sentiment, Seuss was also a staunch advocate for protecting Jews against anti-Semitism, something the current administration is currently facing criticism for not rising to the occasion amidst a surge in anti-Semitic incidents.
And when it comes to his children's books, Dr. Seuss's often revealed his politics, like in the Battle Butter Book, decrying the folly of conflict during the Cold War. And so, for Ms. Trump's next public reading appointment, there's lots of good options— like The Lorax, the environmentalist's bible. But if we here at Jewcy could pick just one, might we suggest… Yertle the Turtle? If Ms. Trump is too busy to read the whole thing, we've boiled it down to the relevant essentials:
Yertle, the king of them all/Decided the kingdom he ruled was too small./"I'm ruler," said Yertle, "of all that I see./But I don't see enough. That's the trouble with me./With this stone for a throne, I look down on my pond/But I cannot look down on the places beyond./This throne that I sit on is too, too low down./It ought to be higher!" he said with a frown./"If I could sit high, how much greater I'd be!/What a king! I'd be ruler of all that I see."

…

"Turtles! More turtles!" he bellowed and brayed. And the turtles 'way down in the pond were afraid. They trembled. They shook. But they came. They obeyed.

…

Yertle, the King of all Sala-ma-Sond/Fell off his high throne and fell Plunk! in the pond!/And tosay the great Yertle, that Marvelous he,/Is King of the Mud. That is all he can see./And the turtles, of course… all the turtles are free/As turtles and, maybe, all creatures should be.
Happy birthday, Dr. Seuss.
Images via Wikipedia and Artsy.