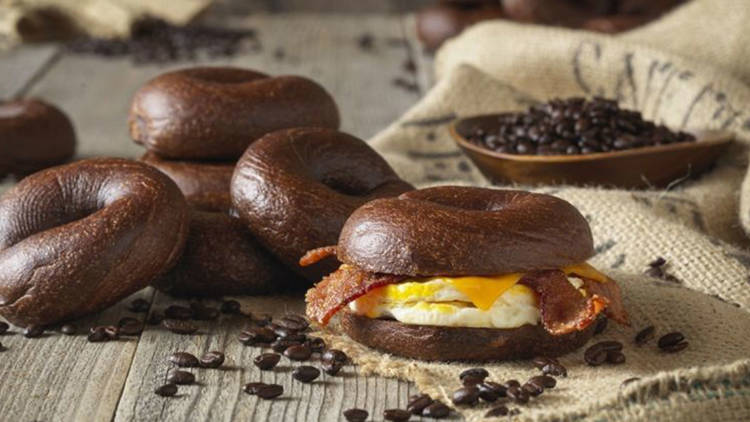 What more indignities can the poor bagel possibly suffer? Over the last several decades it has had to manage ubiquity, and like many aging celebrities, despite its persistent charm, has taken on a peculiar appearance; a bit too well-preserved, lacking some of the original authenticity. And the last few years in particular have been especially unkind. The rainbow bagel is like a poodle that has been died pink for the amusement of others, at expense of its dignity. And you can get it with funfetti-infused cream cheese.
So, sure, go ahead. make a bagel with caffeine in it. Save a step in the morning, and combine your food and your coffee into one, as the Einstein brothers of Colorado have done.
Yes, the espresso bagel has about a third of a cup of joe's worth of caffeine baked right into the dough. (They have also released the Cherry-Chia bagel, but I can only handle one bagel crisis at a time, here.) Is the bagel sacred? Certainly not anymore; the Einstein Brothers are promoting this new bagel with a photo that features it has a bacon, egg, and cheese sandwich, after all. And in a day and age where meals are drunk as that paint-like mixture that is Soylent, perhaps it's natural to eat your morning beverage.
But the bagel and coffee are a delightful duo, enjoyed together like peanut butter and jelly. Yes, you can buy a jar of a PB&J swirl, but this is more like injecting sugar into peanut butter to give it that jelly sweetness. Don't be gross.
Bagels are a convenience food, but one that makes the world slow down ever so slightly when you take a bite, even on the go, the yin to your sip of coffee's yang. An artificially injected stimulant is counter-intuitive.
Image via the Einstein Brothers