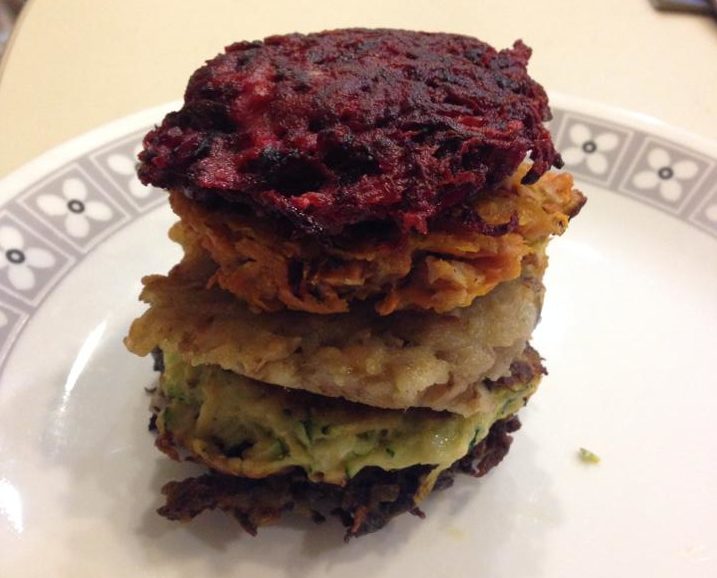 Who's up for some Jewish-queer intersectionality? And how about if that intersection is the form of a Chanukah treat? That's right, you can make latkes all colors of the rainbow, without getting too far away from traditional potato pancakes, and no, there's no food coloring involved.
These are really easy, really pretty, and really flavorful. The base recipe (regardless of color) is:
Ingredients:
(1) egg
(1/4) onion
(1) grated vegetable
Instructions:
Mix all in a bowl and form into patties before frying 'em up nice and crispy.
There's no one way to get the color palette you want, but here are some tips on how to get started:
Red: Beets
Orange: Carrots, Sweet Potatoes, orange cauliflower
Yellow: Potatoes, parsnip, jicima, sunchoke
Green: Zucchini, broccoli, or if you really want to use kale, go ahead, but mix it with potato for structure
Blue: If you're a rainbow completist, my best suggestion is blue potatoes
Purple: Purple carrot, purple cauliflower
And then tada! A stack of rainbowy, pridey potato pancakes! Allies are also welcome to enjoy!
Now, while they all taste delicious, some flavors mesh together better than others. I tasted the rainbow, if you will, the first time I made these and the beets and carrots didn't really taste so great together. But taste is subjective, so maybe you like the combination. Feel free to experiment. Don't be limited by certain latkes identities; it's the 21st century.
Anyway, go forth and enjoy! And feel free to share your results with us on Twitter!
Image by Rachel Jacobs