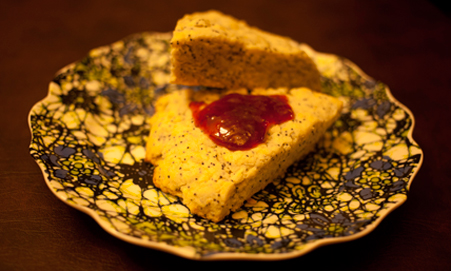 I'm just going to come right out and say it: There's nothing worse than Haman—the Purim villain who tried to kill the Jews—except maybe the cookies named after him.
Hamantaschen—the Purim pastry that got its name, and its ingredients, from the similar-sounding German maultasche, or mouth pocket—have become basically synonymous with the holiday. Whether it's in mishloach manot or your local bakery, they're everywhere this time of year.
Gil Marks explains the Purim connection to the triangular treat in the Encyclopedia of Jewish Food. The German word for poppy seed, "mohn," sounded similar to Hamohn and sometime in the 16th century, the cookie was given its name. After the fact, symbolic meaning was given to the shape: If you went to Jewish day school you've likely sung a song about Haman's three-cornered hat or heard that the taschen, or pockets, represented all the bribes Haman took and put in his own pockets. Marks mentions other traditions, like the hidden filling representing God's hidden presence in the Megillah or the three corners representing the patriarchs whose merit saved their descendants from Haman's evil plan. But the true evil is continuing this tradition of eating subpar pastries.
Now, before you accuse me of blasphemy, hear me out. Some of my favorite early baking memories are before Purim, when my mom would roll out the dough and my sister and I would take the rims of glasses to cut out perfect circles. We'd then drop a dallop of jelly or jam in the center and then pinch up the dough to create three perfect corners. It was great fun! Too bad biting into one of them was as much fun as a piece of pie.
My family has always been partial to the poppy seed variety, and at some point they began to appear in my house almost weekly—what can I say, we like to eat Haman all year round. But this year I decided to fight back. I kept the "mohn," or the poppy seeds, and just got rid of the taschen, creating the much tastier, and still triangular, hamounscones.
So, this year, why not try something new? Purim is all about venahafoch hu, flipping things on their head. Instead of pretending you like hamantaschen, grab a scone.
Not Your Bubbe's Purim Scones
Makes 12 large scones or 18 small scones
Ingredients:
3 cups flour
1 cup sugar
1 tbs baking powder
pinch of kosher salt
¾ cup earth balance or any other nondairy butter
2 tbs poppy seeds
1 large lemon, zested and juiced
½ cup coconut milk
Directions:
1. Preheat the oven to 375 degrees.
2. Mix together the flour, sugar, baking powder, salt, and lemon zest in a large bowl.
3. Add in the nondairy butter ¼ cup at a time. The mixture should become crumbly.
4. Pour in the lemon juice and then the coconut milk ¼ cup at a time, mixing the dough as you go along. It should hold together, but not get sticky. If it's still too crumbly you can add in a bit more coconut milk. Mix in the poppy seeds.
5. Divide the dough into two or three balls, depending on how large you want your scones to be. Press the balls till they're about ½-1 inch thick discs and then place on a baking sheet. Cut each disc into six separate triangles and separate a bit on the so they can properly bake.
6. Bake for 20 minutes or until golden. You can eat the scones immediately, but they're best after being left out to cool for an hour. (If you really miss the jam, you can spread some on your scones.)
Also try:
Not Your Bubbe's Caribbean Matzoh Ball Soup
Not Your Bubbe's Tu B'Shevat Seder
Not Your Bubbe's Downton Abbey Viewing Party
(Photo by Jackson Krule)
***
Like this post? Sign up for our weekly newsletter to get new Jewcy stories in your inbox every Thursday.