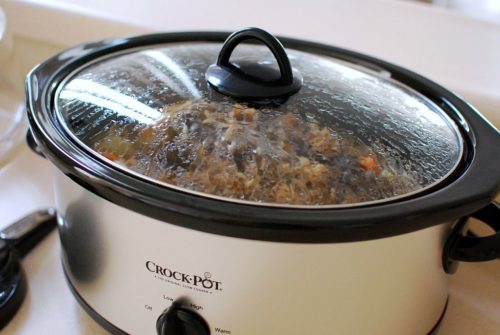 Want to indulge in a meaty Jewish staple, but, well, without the meat? Have a vegetarian or vegan friend coming to your Rosh HaShanah meal? Fear not! You can have this tasty brisket-substitute with no animal products.
This recipe is adopted from the Meet the Shannons food blog.
You will need:
3 Small Leeks, sliced
6-8 Red Potatoes, quartered
1 Cup Baby Carrots
2 Packages Gardein Beef-less Tips (defrosted)
1/4 Cup Olive Oil, plus an extra 2 tablespoons to brush over your "beef"
1/4 Cup Kosher Red Wine (Manischewitz or similar)
1/4 Cup Soy Sauce
1 Can Tomato Paste (6oz)
1/2 Cup Strong Brewed Black Coffee
3 Tablespoons Light Brown Sugar
2 Tablespoons Vegan Worcestershire Sauce (optional)
Kosher Salt and Black Pepper (to taste)
Directions:
In your slow cooker, mix leeks, potatoes, carrots, 1/4 cup olive oil, red wine, and soy sauce and cook on high for 2 hours.
In a small bowl, mix coffee, tomato paste, Worcestershire sauce, and brown sugar with a whisk until sugar has dissolved.
Brush the defrosted gardein with 2 Tablespoons of olive oil. Put the gardein in your slow cooker on top of the vegetables (don't mix them in).
Pour the coffee sauce over the top and cook for another hour.
Pre-heat oven to 400.
With a ladle, move your gardein and vegetables from your slow cooker into a glass baking dish. Bake for 30 to 40 minutes or until the top begins to brown. Turn your oven down to 200 and cook for another 20 to 30 minutes.
Remove from the oven once your sauce has reduced to saucy gravy. Let cool for 5 minutes before serving.
Go forth, and enjoy!
Molly Moses is a music therapist practicing in Central Florida, working primarily with children with special needs. She enjoys cooking and discovering new vegetarian recipes, especially for the holidays, and sharing them with family and friends.
Image via Wikimedia