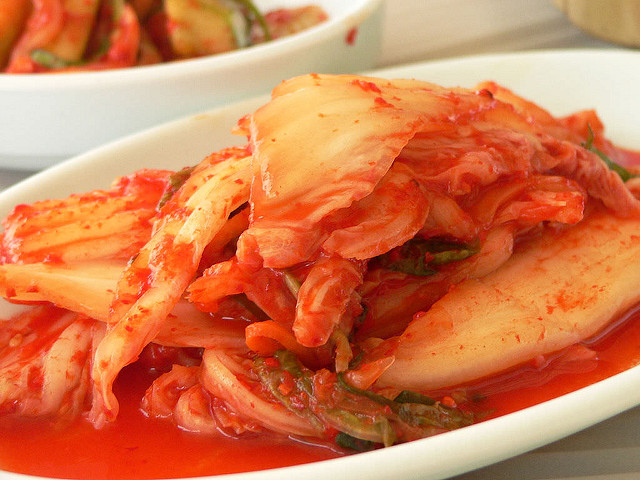 Kimchi latkes— exactly what they sound like. And they sound delicious.
I first got the idea years ago when I was living in Tel-Aviv. Word got around that a Korean restaurant had opened in town, albeit in some far-flung industrial area towards South Tel-Aviv.
One day while I happened to be in the area I went to check it out and ordered a scallion pancake as an appetizer. A lightbulb went off in my head: This is basically a latke! Why don't I try and make these for Chanukah?
The problem was that in Tel-Aviv the Asian food stores (they do exist, particularly a notable on in the Shuk HaCarmel) didn't carry kimchi so I attempted to make it myself. It sufficed in Israel because neither I nor my friends knew any better. Once I got back to New York and I was able to buy real kimchi, I got somewhat better at making latkes and a new Jewish tradition was born!
These amounts are an estimation, and I tend to make the recipe in an intuitive way. Trust your gut— it's what's about to receive the finished product here. If you insist on more exact proportions, Anh's Food Blog has a similar, more scientific recipe.
Ingredients:
1lb of potatoes
2 eggs
2 tbsp. of flour
Approximately 2 – 3 cups of (vegan!) Kimchi from an Asian food store
NOTE: Kimchi often comes with shrimp paste in it. Look carefully at the ingredients to be sure it does NOT have this. One can find kimchi without shrimp paste but it will be harder to find and possibly more expensive.
Oil for frying
Directions: 
Boil the potatoes and mash them (or grate them, if you have the patience) as if one is making mashed potatoes. Take the skins off after the potato is cooked.
Add the eggs, flour and kimchi. What you want is to put in enough kimchi that it tastes like a Korean pancake and not spicy fries or hash browns. That said, given the heavy potatoes plus the eggs and flour I'd put in more kimchi than less as long as the latkes aren't too red or runny.
Form the potato – kimchi mixture into patties as if making hamburgers – not too think but maybe not super thin – and fry. Or, you could bake them if you want to be extra healthy, but these are latkes, after all.
Dip in soy sauce! Forget the sour cream or applesauce here; it completely changes the attitude.
I hope you find these as delicious as I do! Enjoy!
Malaika Martin is a New York area Real Estate consultant who likes to add her own twist to Jewish tradition.
Image by Craig Nagy via Flickr.