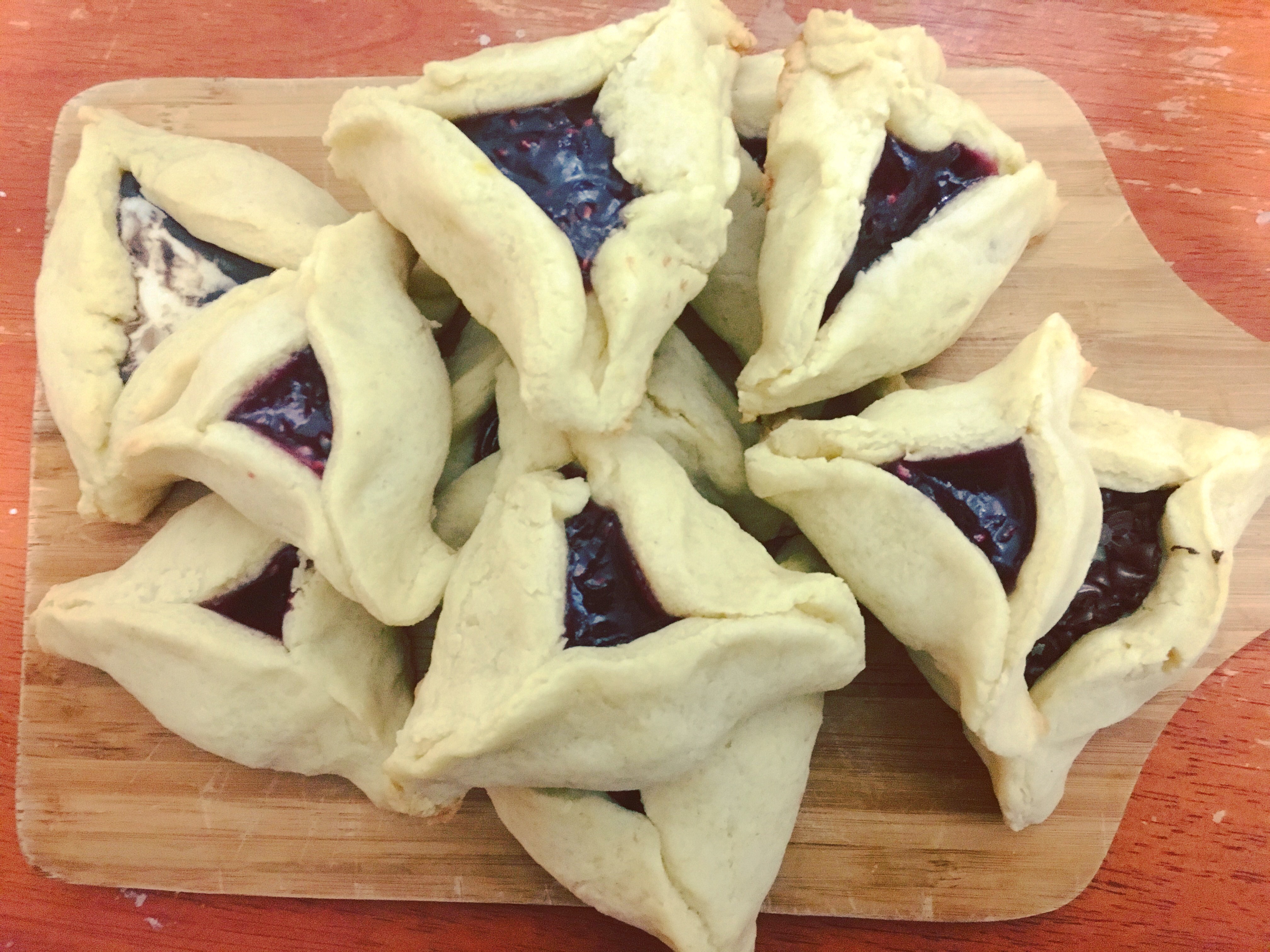 Jews tend to have strong opinions when it comes to hamantaschen filling. Is poppyseed weird, or is it the only authentic kind of filling out there? Is even something as popular as chocolate hamantaschen a complete abomination before God? If that's true, after this cookie-butter filling experiment, I'm more than doomed.
My mother, who used to be a professional baker, makes only three flavors of hamantashen: poppyseed, cherry, and "pinecot" (her mother's special pineapple apricot jam recipe). Only she and one of my siblings like the poppyseed kind; all too aware that we were not fully respecting our heritage, the rest of us opted for the fruit flavors.
I have a distinct memory of making and eating peanut butter chocolate chip hamantaschen at my Jewish preschool, and always wished my mother would make that. She never obliged. Or maybe I never even asked. That was one Jewish food battle I was sure to lose. Even as a young child, I think I knew I should feel guilty about the fact that I liked peanut butter chocolate chip hamantaschen more than prune or poppyseed. A shande.
But now that I am an adult with my own kitchen, I can make any kind of hamantashen that I want. I didn't want to go out of my way to buy fillings, though, so I decided to make do with what I already had: some raspberry jam that was too sweet for the purpose for which I bought it (adding to Greek yogurt), and… what was that in the pantry?
Thus it is with a strange mix of guilt and triumphant defiance that I present to you: Cookies and Creme Cookie Butter Hamantaschen.
If you like Oreos, you must try this cookie butter, which tastes like the delicious sandwich cookie but in creamy form sort of the consistency of Nutella, plus crunchy cookie crumb bits. It's sickeningly delicious. I have extolled its virtues to many a slightly horrified friend, forced my boyfriend to eat it on pancakes, and tried and failed to steer clear of its siren call during many trips to the basement of the Upper West Side Trader Joe's.
The thing with Cookies and Creme Cookie Butter, though, is that there's no real good way to eat it besides with a spoon, straight out of the jar, which tends to come with a heaping side of self-loathing. Its advertising even seems to acknowledge that it's delicious but has no real use, offering what feels like half-hearted serving suggestions and then relenting: "Spread on pancakes or waffles. Serve on ice cream. Dip pretzels. Or eat right out of the jar. What don't you do with something this delicious?"
The best "use" I've discovered for the tasty treat is spreading it on Oreos to make a double Oreo sandwich. But given that I want to live past the ripe old age of twenty-three, I don't plan to make a habit of that, and I had just a couple spoonfuls of a jar left. So what did I do?
I decided to use it as a hamantaschen filling. Here is the verdict: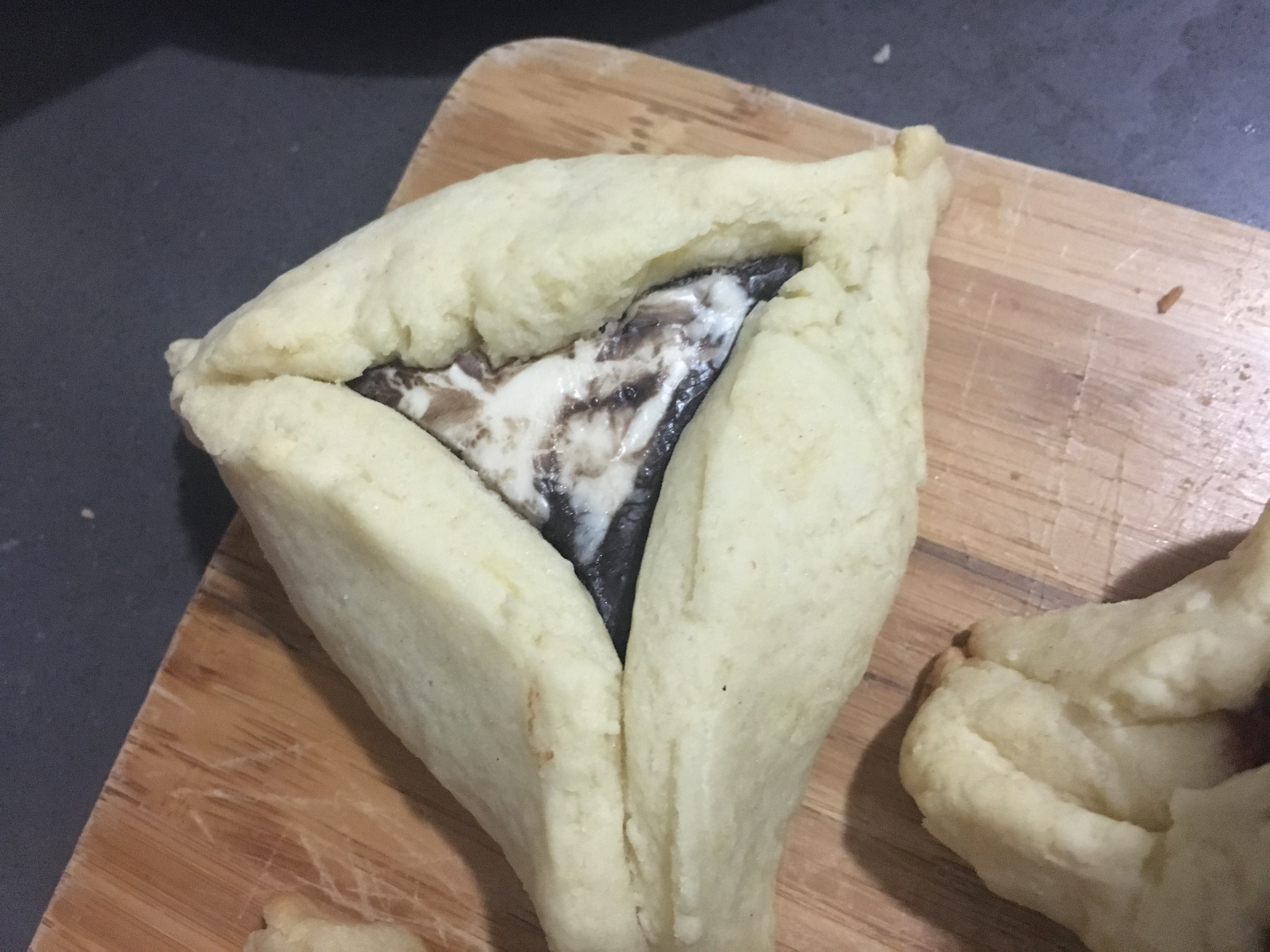 It held together better than the hamantaschen filled with jam, which tends to ooze a bit if you don't thicken it with cornstarch, which I did not have on hand. I wasn't sure what would happen to the gooey consistency of the cookie butter upon baking, but it pretty much stayed the same. The crunchy chocolate cookie bits burned a little bit, but it still tasted good. Overall, 10/10 would recommend if you enjoy Oreos, have a Trader Joe's nearby, and are okay with making some of your ancestors roll over in their graves.
I'm sorry, Mom. I'm sorry, HaShem. But it was pretty tasty.
Miranda Cooper is an editorial intern at Tablet. Follow her on Twitter here.
Photos by Miranda Cooper