Looking to bring a dash of authenticity to your next Jewish Steampunk party? Want to know if you're being insulted for your heritage if you travel back in time to Victorian England?
You're in luck! An authentic 1909 slang dictionary is available for free online, and its many delights include words and phrases about and of the Jewish community of London's East End. These Jews, many of them immigrants from other European countries and their descendants, were largely working class, often operating in trade when intersecting with mainstream society, but also having a world unto themselves. With this combination of insularity and mingling with a racist culture in cursory ways, what could possibly go wrong?
Routledge books published Passing English of the Victorian Era: A Dictionary of Heterodox English Slang and Phrase in 1909 (a few years after the era formally ended). James Redding Ware, the pseudonym of English writer Andrew Forrester, is the author. You can read the whole book online, and it's quite a work. The dictionary is full of gems you should absolutely incorporate into your vocabulary ASAP: A "mutton shunter" is a police officer, and "batty-fang" is "to thrash thoroughly." You can use enough of these words to make yourself completely incomprehensible, if you like. Instead of going for a walk to look at the sky, "Do a stamp" to "cast an optic" at the "blue blanket."
The introduction to the book mentions that it contains several entries for "Anglo-Yiddish," part of a specifically East London vernacular rich in language "outgrown from the Hebrew stem." Jews were a growing minority, so they're well-represented in this work.
In contemporary America, especially cities like New York, words like "schlep" and "chutzpah" have made it to the mainstream, so how did Jews factor into the common language in the epicenter of one of the world's most powerful empires? Let's go through a Magical Mystery Tour.
To get it over with, the first category isn't words borrowed from Jews so much as… slurs. But get excited— you've never seen anti-Semitic slurs as nuanced and colorful as this! There are variations for any occasion: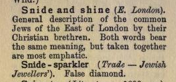 I do wonder why did army veterans in particular tended to use that slur, but other slurs are so bizarre they're almost delightful: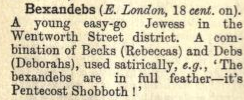 Wow, the more things change, the more they stay the same! I too get in full feather when it's Pentecost Shobboth! But what about my male counterparts? This only applies to Jewesses, like me!
As someone who bristles at the term "J.A.P," it's nice to know that Jewish women have always been shamed for attempting to make themselves look nice as though it were a sign of unearned entitlement.

Ah, thank you. I have no idea what the difference is between a "young Joseph" and "young old David."
Next, we have words as advertised, lifted out of Yiddish, Hebrew, and Jewish culture. It seems something might have been lost in translation, and at times, transliteration: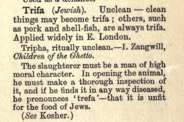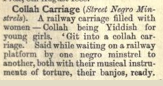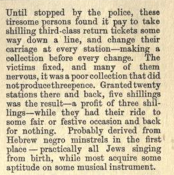 …What?
Er… points for sort of including Jews of Color, I suppose. And yes, it's true. Most Jews can proficiently sing before we can hold our heads up on our own.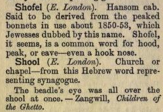 The thought of English Christians calling their church "shool" is somehow hilarious. As for "shofel," thanks for tying it into hooked noses at the last second there. That was almost a missed opportunity!
This dictionary seems to have used Israel Zangwill's novel Children of the Ghetto as the ultimate source for Judaism. Zangwill was an authentic source, but it's also clear that Ware didn't bother to find a real Jewish person with whom to talk, as becomes increasingly clear: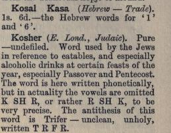 Oh, honey. You tried.
First of all, the words for 1 and 6 in Hebrew, transliterated respectively, are Echad and Shesh.
Next, the explanation for how Hebrew works (backwards with no vowels) doesn't make sense in the Latin alphabet. Let's have a secret message writing the same way:
THSLLB S SHT.

So close again! But did you know Jews immigrated to the U.K. from more than two European countries?
Finally, there is actually some slang in the book that seems to be used within the Jewish community (though I somehow doubt it's comprehensive, or even fully accurate):



Fun fact- this was the motto of Moses Montefiore. Really.
File that one under "Ideas for Names for Jewish Punk Bands."

OK, Jews do like olives. You get that one.

OK, I admit that I was so excited to learn about a Jewish pastry I had never heard of that I tracked down the recipe and made it. But that is a story for another day.
Reading through these can be a bit exhausting if you don't have a sense of humor. Ultimately, Ware was adorably misguided. He was trying to depict authentic London street language and culture, but was still looking through the lens of good-old-fashioned Victorian racism and imperialism. These are the Jews that Dickens and du Maurier caricatured, where gross stereotype is taken as sociological study.
At least it's also a peek into a great chapter in Jewish history, and some great ideas for the names of the lineup at a neo-klezmer festival.
To part, here are a few other selections from the dictionary, ranging from the innocuous to the nigh incomprehensible:


Or, you can spell it with a "K":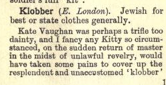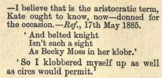 It's been real.  BEXANDEB OUT!