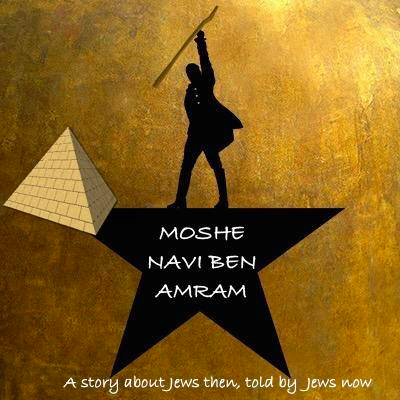 Do you know every lyric to Hamilton by heart? Are you looking to spice up your seder? You are in a venn diagram of fortune, friend, thanks to two rabbinical students.
Emily Cohen and Jake Best Adler have published "The Hamilton Haggadah," a series of songs about the story of the Exodus set to tunes from the Broadway mega-hit.
Featuring such songs as "Get Them Back" ("You'll Be Back") and "The Ten Plagues of Egypt" ("The Ten Duel Commandments"), you've never sung the story of Passover quite like this.
Cohen and Best Adler are frequent carpool buddies to the Reconstructionist Rabbinical College in Philadelphia, and after Cohen introduced her friend to Hamilton, Best Adler heard a suggestion that someone combine the musical and holiday. He returned to Cohen, and the two set to work, creating eleven parody numbers of the show about founding father Alexander Hamilton.
"As Reconstructionists, we are always seeking new and innovative approaches to engaging with tradition," they said.
They were excited about the zeitgeist of the musical to engage with the holiday, but also observed that it's "still serious enough to transmit the story [of Passover] without getting too cutesy or kitschy, as can happen with many pop song parodies."
Still, the Haggadah is pretty cute, with such bits as "The Schuyler Sisters" rewritten about the four sons (children):
"Listen up, listen up- time to pour a new splash of wine into your cup!/History is happ'ning in the Haggadah and we just happen to be/In the greatest story in the world!"
Seriously, this thing has gone viral, so you don't want to miss out.  Read it here, and print out as many copies as you have guests at the seder this year!
The Haggadah also includes vocal demos prepared by Cohen, and the two are following up on the project by creating their own annotated edition. Now that's thorough!
Image courtesy of Emily Cohen and Jake Best Adler.