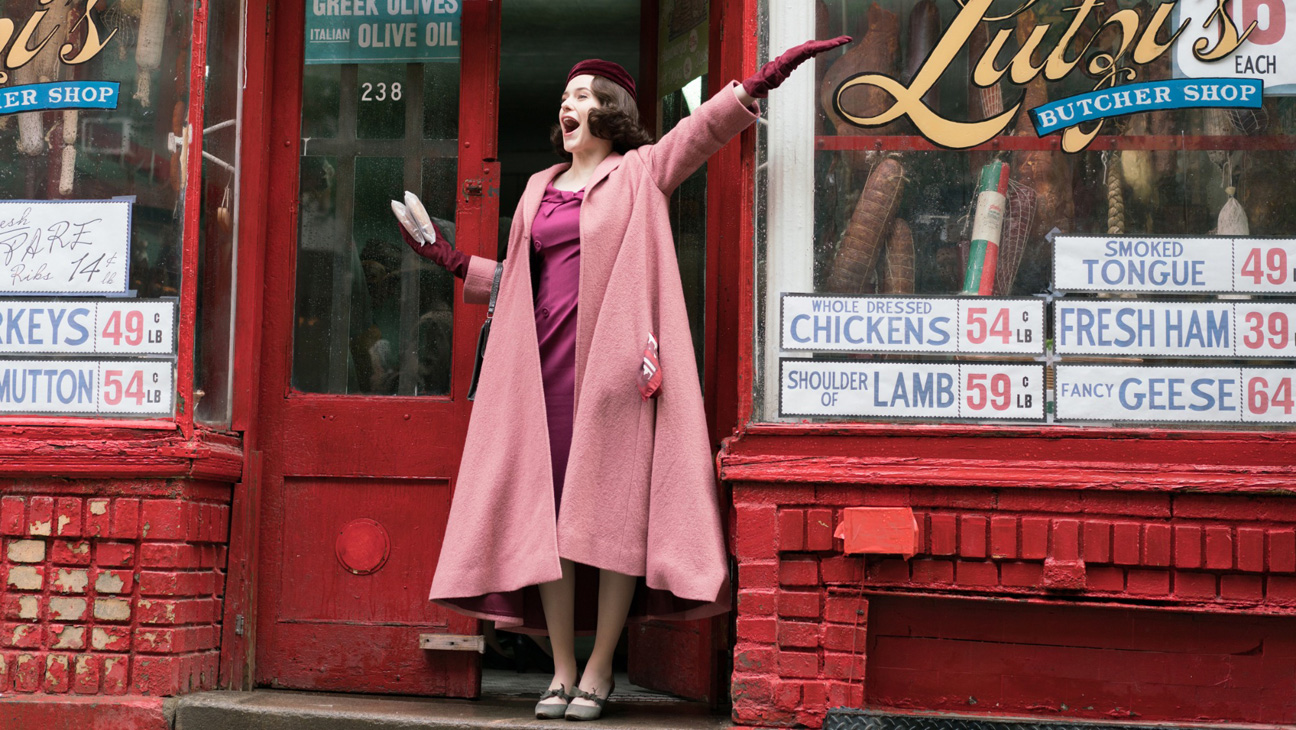 A superhero in Biblical rags. A comedienne rubbing shoulders with Lenny Bruce in 1950s New York. Ben Feldman's hair on Superstore. You didn't have to search very hard to find Jews making a splash in television this year. Even Stranger Things got in on the action, introducing a pinch of Yiddishkeit into white bread Hawkins, Indiana. (Okay, they didn't explicitly spell out that the ambiguous but the ultimately good-intentioned Dr. Owens was a card-carrying Member of the Tribe— why else would you cast Paul Reiser?)
Stranger Things was far from the only genre show to tap a Jewish inspiration this year. Comic book shows across networks honored their creators with both Jewish characters (Gert Yorkes on Hulu's Runaways) and Jewish metaphors (Supergirl's ongoing debates of cultural displacement, lost history, and feeling trapped between two worlds). And though DCTV shed a few of its Jewish characters this past year, each got to go out with a bang. Martin Stein, played by the always charming Victor Garber, took his final bow in the Crisis on Earth X crossover, saving both the life of his partner and worlds entire with his actions. Still, the character popped up an episode later in a flashback, sporting a Chanukah sweater to die for and contesting for Furby-wannabe in a department store as a roided-up version of "Chanukah, Oh Chanukah" accompanies.
But the year's standout moment belonged to Ragman, the gematria-identifying, schnapps-brewing, ancient rag-possessing superhero on Arrow. As his final act of heroism on the show, he wraps a detonating nuclear bomb in his rags and recites the Shema yes, this aired on the CW. When he survives, another character surveys the scene with an "Oh my god!," to which Ragman groans in reply, "How come He always get the credit?"
Ragman wasn't alone in exploring the spiritual aspects of Judaism on the small screen this year. To nearly everyone's surprise, ABC's new dramedy Kevin (Probably) Saves the World actually features as its underlying plot a mission to track down the Lamedvavniks who are lost this generation. Meanwhile, as Tom Hardy was reprising his role as real-life London gangster Alfie Solomons on Peaky Blinders across the pond, closer to home, Fargo embarked on its most divinely influenced season yet.
Fargo has always been a morality tale—there are shades of gray, sure, but ostensibly it is a story of good people striving to do good and bad people striving to do bad. The good people struggle but are ultimately vindicated; the bad people thrive but ultimately fail. The first season borrowed the movie's essential conceit and expanded upon it—as Fargo the movie mused on the incomprehensibility of everyday evil by everyday people, Fargo the TV show enacts the debate on a Biblical scale.
The show has always been littered with Jewish allusion (parables of the Chofetz Chaim, a Chabad Rabbi and his Mrs. Robinson of a wife, repeated uses of 613, a plague of fish), but this season embraced a plot that barely papers over current events in order to craft a nesting doll of Russo-Jewish history in these American wastes. You have small-time crook Yuri, obsessed with identifying as a Cossack, shedding blood and spreading violence (and casual anti-Semitism), but go up the chain of command and you have his boss Varga, with his consumption and waste, and his false words, and his little portrait of Stalin (and more casual anti-Semitism). No wonder Michael Stuhlbarg's Sy has such a rough go. But then we meet God in a bowling alley, and the world of Fargo is turned on its head— Rebbe Nachman and the slain people of Uman reemerge from their graves to enact eye-for-an-eye (or, an ear-for-an-ear, as it were) justice on Cossack Yuri. (This is the most Jewish scene on television this year, by the way.)
The influence of the past and the relationship between generations was a popular theme this year, whether it was Steven Spielberg's joyous narration of director William Wyler in the Netflix war propaganda documentary, Five Came Back, or in the many different faces of Jewish family presented on screen. On Transparent, for instance, the Pfeffermans' first bus ride to Jerusalem on their pilgrimage to Israel is immediately dragged into a familiar argument on Middle East relations. On The Goldbergs' recent Chanukah special, Beverly Goldberg, "smother" extraordinaire, wearing another Chanukah sweater to die for, schemes to ensure her daughter and her daughter's boyfriend will choose her house for all future holidays. And on Crazy Ex-Girlfriend, another mother-daughter relationship leads to a staggering moment of defeat and redemption when Rebecca reaches out for help through the screaming wash of her depression on an ill-fated plane ride.
And then of course, there's The Marvelous Mrs. Maisel, a miraculous and mellifluous mile-a-minute gabber from Gilmore Girls genius, Amy Sherman-Palladino. From the first scene, where newlywed Midge Maisel finishes her toast by confessing that they served shrimp at the reception, the show is a veritable smorgasbord of Jewish comedy (my favorite: "You're jealous of the rabbi? He was in Buchenwald, throw him a bone.") and Jewish experience, whether it's the sister-in-law who returns from Israel with larger and larger mezuzahs to prove her conversion, or the father-in-law who won't stop telling stories about how he rescued Jews from Europe during the war. And in a year when Curb Your Enthusiasm returned, The Marvelous Mrs. Maisel outdid Larry David by featuring Lenny Bruce as Midge's disheveled sage. Yet no one shone brighter than Midge herself, who was vivacious and hilarious, introspective and yearning, vulgar and well-spoken, a baker of briskets and a breaker of convention. Season 2 can't come soon enough.
Image by Sarah Shatz/Amazon Video