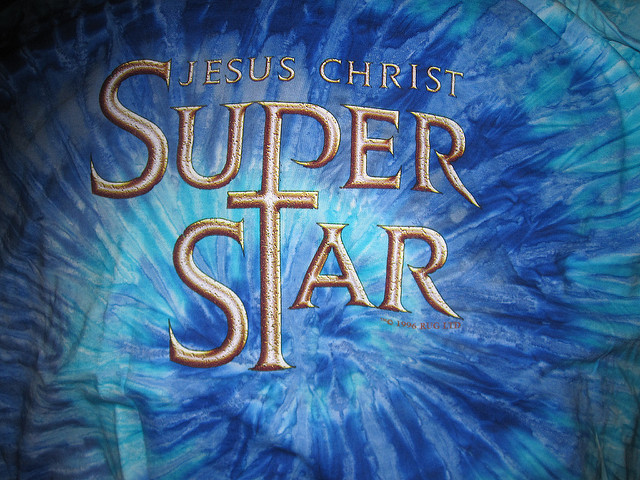 As they often do, Passover and Easter coincide this year; Easter Sunday is the second full day of Pesach (which is also April Fools' Day this year— beware). Normally this wouldn't be much cause for concern; you stay in your lane and I'll stay in mine. But this year, to celebrate the (alleged) resurrection of one Jesus of Nazareth, NBC is airing Jesus Christ Superstar Live in Concert!
I am on the record as thinking that Jesus Christ Superstar is dated, and straight-up anti-Semitic— a crowd of Jews chanting "Crucify him," really? I have publicly decried this telecast's existence as a modern passion play.
Call me a hypocrite. I love this musical so much I don't care. This year, I'm celebrating Pesach by watching Jesus Christ Superstar.
If you think about it, it's still seasonal. The Last Supper was a seder, after all (the body of Jesus? Matzo). And it is a piece of media full of Jewish characters (if not actors this time around—the musical's only substantial female role is played by Sara Bareilles, whom people often think she's Jewish but she isn't, which is probably the best type of person to portray Mary Magdalene). So what if the Pharisees, the progenitors of rabbinic Judaism, are seen as conspiratorial murderers? The Beit HaMikdash makes an appearance! "Hosanna" comes from Hoshana! The show is full of Jewish references!
And for what it's worth, one of the main producers of this telecast is Marc Platt, father of Broadway star Ben and a member of the family that is extremely, super-duper Jewishly involved. As in, his wife Julie is on the Board of Directors of the Foundation for Jewish Camp. I'm not saying this undoes problematic elements in the show (though it may help avoid some that are the result of direction rather than text), but I'm saying I would rather it come from friends.
I'm traditionally observant, which means I can't use electricity till 8:02 pm on Sunday night. The show starts at 8 pm. I'm trying to find a calendar that's about 3 minutes more liberal. So I can watch Jesus Christ Superstar. This seems like an unusual problem to have.
Chag Sameach. And zanna zanna, ho!
Photo by Tony Alter, via Flickr.