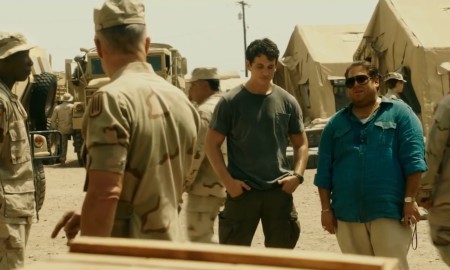 The trailer for War Dogs is out, the new film where Miles Teller and Jonah Hill play, respectively, David Packouz and Efraim Diveroli, two twenty-somethings from Miami who became arms dealers during the U.S. war in Afghanistan.
The story is a true one (or Hollywood version of "true"), and Packouz and Diveroli, known as the "stoner arms dealers," actually met in Yeshiva as kids, and Packouz is the son of a prominent rabbi.
This film is clearly in the new sub-genre of American Hustle or The Wolf of Wall Street of white guys making tons of money in a reprehensible manner and living hedonistic lifestyles, as some kind of post-recession message about the men we love to hate for near-sociopathically exploiting others for their own material gain. And when these men are Jewish, it just makes it that much more embarrassing.
While the trailer makes no mention of the characters' ethnic identities, the casting speaks for itself. Plus, Hill and Teller replaced original intended stars Jesse Eisenberg and Shia LaBeouf. So, there you go.
War Dogs is out in August, but in the meantime you can watch the new trailer below:
Image Credit: YouTube.com