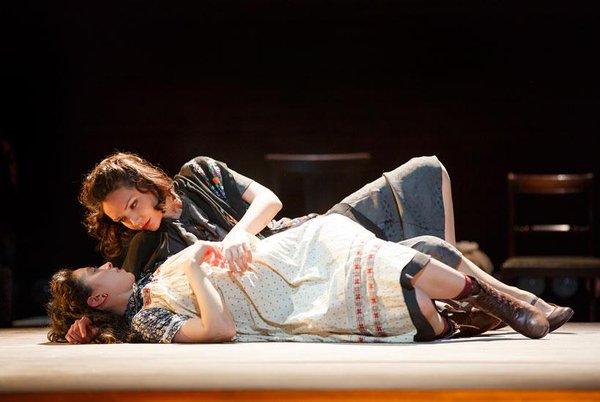 Good news! After a relatively gentile 2016 scene, This Broadway season is looking to be mighty Jewish. Here are the Semitic-seeming shows scheduled for spring:
First of all, Sondheim. Second of all, Sondheim where Jake Gyllenhaal is taking on a role made famous by Mandy Patinkin. That's right, the Jewish actor stars in a revival of Sunday in the Park with George, opening next month.
Onto March! What a gift— it moves The Price from previews to opening; it's a revival of the Arthur Miller play that actually has some overt Jewishness, unlike many of his more coded shows. March gives us the Broadway transfer of Oslo— as in, the Accords; the play tells the story of the little-known key players behind the scenes of the 1990s Israeli-Palestinian peace process. And, perhaps best of all, March brings us War Paint, the musical that stars Patti LuPone as Helena Rubinstein (focusing on her lifelong rivalry with Elizabeth Arden).
April showers bring Bette Midler back to Broadway! That's when the revival of Hello, Dolly! opens, and everyone is rightfully freaking out. April also brings Indecent to the Great White Way, the new play with music about the controversy of Sholem Asch's God of Vengeance playing Broadway in the 1920s (women kissing each other!? How scandalous!).
Also, hey, did you know off-Broadway (or even, God forbid, off-off-Broadway) is a thing? One such promising play is If I Forget, opening February. It's a family drama about a liberal Jewish studies professor, set a few months before 9/11. Also, a new David Mamet play about a psychiatrist, The Penitent, opens around the same time (it may not be particularly Jewish; it remains to be seen. But Mamet sure is).
So the pickings are ripe! Whether you want a new family drama, or an old musical favorite, there's something for you.