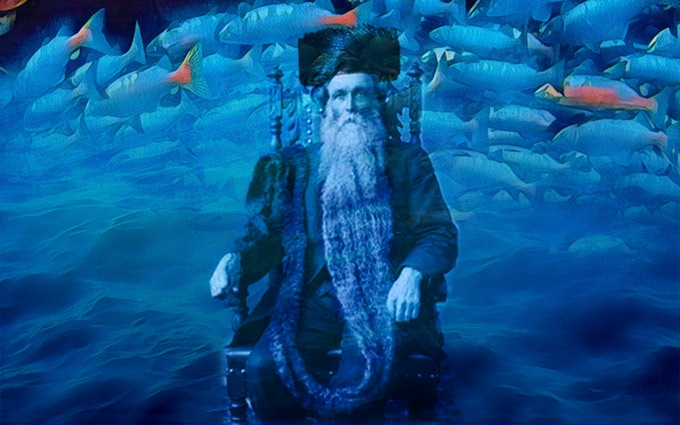 Tzadeikis, or "Holy Woman" is a short film set in Boro Park's Hasidic community. "A magical realist dark comedy about mortality, mysticism, and the metaphysics of facial hair" Tzadeikis is written and directed by NYU film student Emily Cheeger as her thesis project.
After eating the same fish that kills a rebbe when he chokes on a bone, Neshama, the film's protagonist, becomes possessed by the rebbe's spirit. Tzadeikis traces Neshama's journey and changing views of her community as her body and mind transform under a supernatural influence. This Yiddish-language film is largely driven by an intensity in representing the Hasidic community with affection and dignity with fastidious attention to detail and accuracy.
Cheeger, who was raised in a secular Jewish environment, has always felt an emotional response and curiosity about Hasidic culture. A resident of Boro Park since 2013, Cheeger felt many Hasidim films didn't bother to do their research to fully represent the intricacies of the culture with authenticity. "You'll see men wearing floppy hats!" she explains.
Hyperaware of her status as an outsider, and the Hasidic communities' hesitancy in dealing with media, Cheeger tells Jewcy, "I want to tell stories that reach across boundaries. Stories that are accessible and would resonate with the people in these communities."
A self described polyglot, who spent her childhood between Finland and New York, Cheeger draws inspiration from Russian modernism, mentioning the melancholic quality and dark humor of writers like Nabokov as much in line with her own sensibilities. Her creative pursuits are often based in an interrogation of boundaries. Although Cheeger isn't Ultra-Orthodox, Tzadeikis is influenced by her own experiences. For example, in a particular scene, Neshama looks through the partition to the men's side, which is a personal memory of Cheeger from years ago.
As a musician as well, Cheeger was particularly interested in exploring the Halachic law of kol isha, prohibiting men from hearing women sing. "For me, self-expression is such a huge part of spirituality and creativity and how I engage with the divine, so this law was something I had to grapple with. Why is the burden of potential arousal placed on women?" She's also fascinated by the many binaries she sees in Hasidic culture, be it meat and milk, the sacred and the profane, or shabbos and the rest of the week.
Shooting for Tzadeikis is scheduled to start at the end of February with 15 people in the crew, 13 cast members and multiple location changes. The film will be approximately twenty-five minutes.   
The film's Kickstarter, which has reached its initial $35,000 goal is a great starting point, but Cheeger is hopeful funding will continue to rise (the campaign ends February 5) as she has big plans for the future of Tzakeikis. The film will have a running time of approximately 25 minutes.  
Although firmly set in this world, Tzadeikis takes place in a magical landscape which Cheeger says is more native to her imagination, a type of dream reality where magic and reality meet.
To donate or for more information visit Tzadeikis here.
Concept Illustration of The Rebbe of Kolnitz, digital collage by Emily Cheeger