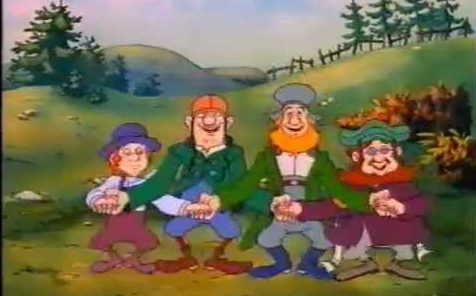 Broadway actors and composers. The stories of Isaac Bashevis Singer. A computer-animated Golem sent on a path of destruction. No, it turns out I didn't imagine this entire thing. Aaron's Magic Village, also released as The Real Shlemiel, is, well, real.
The 1990s French-made children's film is a pastiche of Yiddish folk tales, particularly ones written or popularized by Singer. It takes place in Chelm, the legendary shtetl where everyone is a fool (an angel made a mistake). It focuses on an orphan, Aaron, sent to live with his uncle's family (his best friend is Zlateh the goat). Over the course of the film, Aaron adjusts to the town's antics, meets a magical imp, and ultimately must face an evil sorcerer who decides to create the Golem and use him for nefarious purposes.
Aaron's Magic Village, also released in German, actually had a limited theatrical release— extremely limited. I remember being about 7 years old and going to see it with my family; a larger, Orthodox family were the only other people in the theater. (Heck yeah did we later purchase it on VHS for our ongoing viewing pleasure!)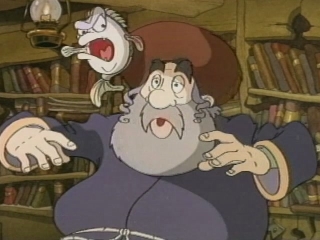 The songs are composed by Michel Legrand with lyrics by Sheldon Harnick. That's right; the former is the Oscar-winning composer of the likes of The Umbrellas of Cherbourg, and the latter is the lyricist of Fiddler on the Roof, who over the course of his career has not only garnered Tonys and a Pulitzer Prize, but is the recipient of a lifetime achievement Tony this year.
And the English voice cast?  If you like theatre, it's star-studded, from Tovah Feldshuh to Chip Zien, to a young Julia Murney; I counted at least 5 Tony nominations among the group. The narrator is even Yiddish theatre legend Fyuvish Finkel.
So with such an amazing amount of talent behind this film, why did it get buried? Maybe it's too niche; not only Jewish, but full of deep cuts into specific chapters of Yiddish culture (the story about the Chelm man who gets turned around, ends up at home, and lives there convinced he's in a parallel of his old town? Classic).
Is the quality great? Well, no, but it's not terrible (The New York Times gave it a mixed review, though the LA Times was less kind). The animation, songs, story, and characters, are at least decent, and Lord knows that children today subject their parents to worse DVD purchases.
And you can purchase the DVD, for only $4 on Amazon. YouTube has the entire film up in German, so if you don't speak it, consider dropping the price of a kosher slice of pizza for a weird, charming chapter in Jewish cultural history.
In the meantime, you can watch the English-language trailer below:
Image credit: OVGuide.com