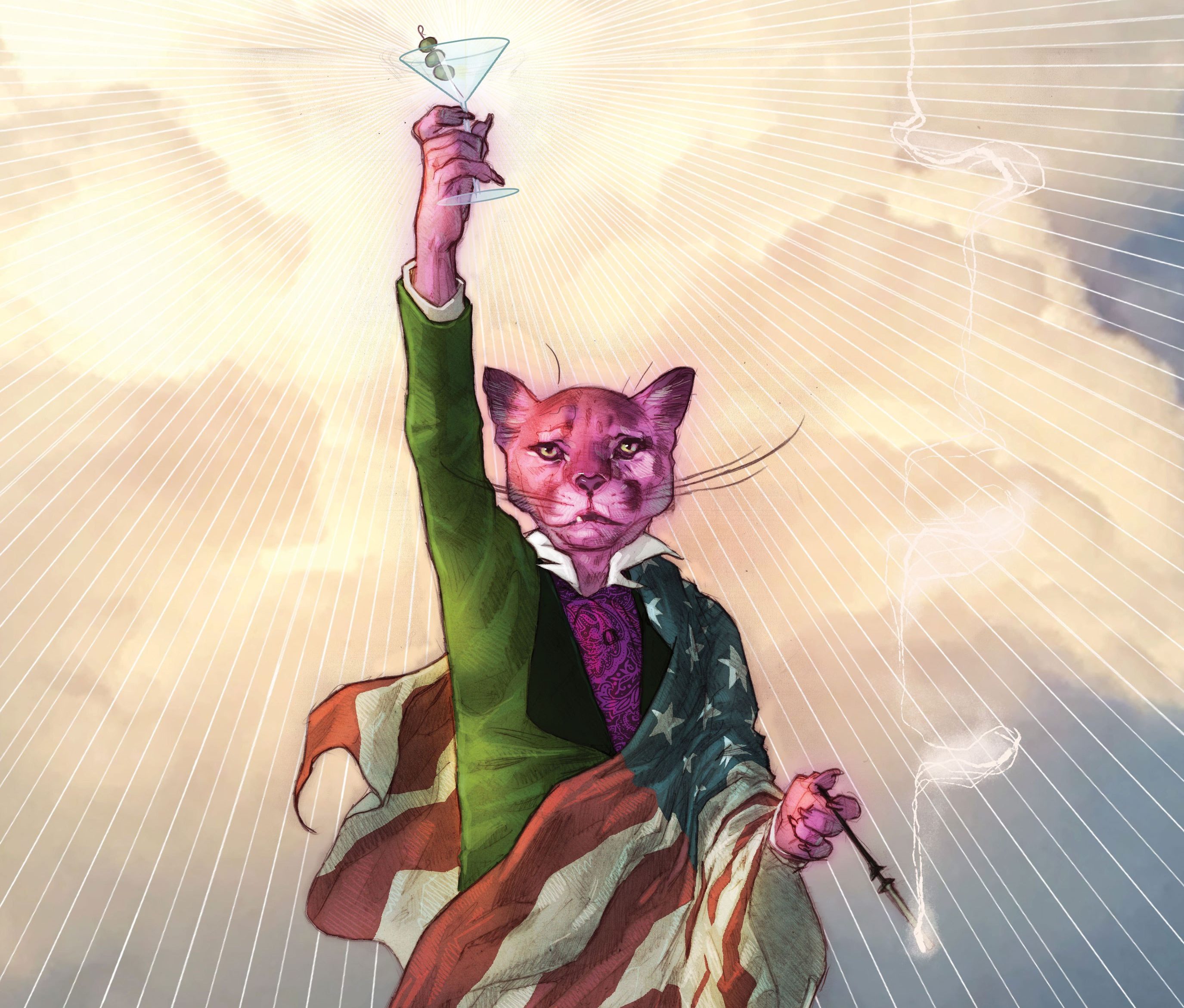 DC Comics has a new star of his own comic, and instead of going the superhero route, they've launched a historical fiction title, exploring homosexuality, art, and political oppression in 1950s America. But the lead character may be familiar to you: It's Snagglepuss.
That's right, Snagglepuss, the pepto-bismol colored Hanna-Barbera property most known for exclaiming, "Heavens to Murgatroyd!" now features (following a one-off special last year) in Exit Stage Left: The Snagglepuss Chronicles. Here, he's a star playwright, the darling of the theatre scene and an adoring public. But Snagglepuss has a secret— he's gay (he's clearly based off of Tennessee Williams), and in 1953, being outed would mark the end of his career and respectability. With so much at stake, how is he supposed to weather the increasingly stormy political climate? The renowned wit is used to keeping his head down when it counts, but McCarthyism may be moving in…
Because of the artsy New York milieu, Snagglepuss (his close friends call him S.P.) constantly rubs shoulders with Jewish intelligentsia— in the first issue alone, he comforts Lillian Hellman after a harrowing testimony before HUAC, he drinks with Dorothy Parker at the Algonquin Hotel (did you know she had Jewish ancestry?), and he introduces his friends to Peggy Guggenheim. (For the record, these characters aren't rendered as animals; it's a world of many species. For example, Snagglepuss's wife is a lion like him, but his lover is a Cuban human emigre who fled his country when police violence against homosexuals worsened.)
Plus, another running thread throughout the issue is the execution of Julius and Ethel Rosenberg. As in, you even see them strapped to the electric chair, raising the stakes for raising the ire of the government. This may legally be a Hanna-Barbera story, but there's a reason it's rated T for Teen.
The writer of this series is Mark Russell, whose other works include comic retellings of the Bible, and a Flintstones comic similar in subversive concept to The Snagglepuss Chronicles. And what's remarkable about the comic is how earnest it is— the reader is immediately told to accept that 1953 New York has both capital punishment and Huckleberry Hound (yes, the blue dog makes an appearance). In fact, the more absurd elements of the anthropomorphic animals balance out the grim subject matter— if Snagglepuss were human, the comic might be heavy-handed (and the realistic, if slightly uncanny valley art-style helps).
Half-nostalgia, half-critique, Snagglepuss functions in an important locale for American Jewish history. That may not be the point of the comic, but it's certainly present, intended or no. We can only hope Arthur Miller shows up next.
Issue 2 of Exit Stage Left: The Snagglepuss Chronicles hits stands early February, so catch up, and get ready.
Cover art by Ben Caldwell