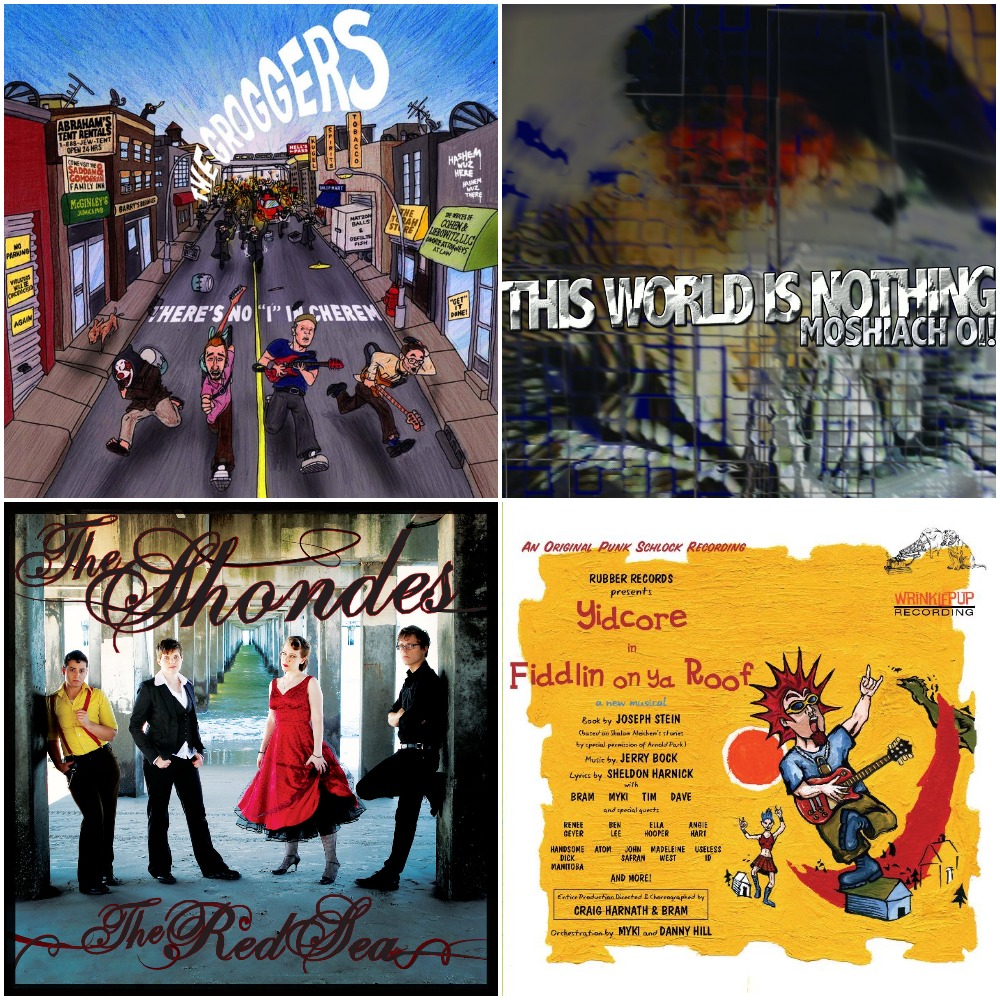 Some stretches in the Jewish calendar are filled with widely observed holidays. The summer months of Tammuz and Av might not be as popular as, say, Tishrei. But the holidays and occasions in Tammuz and Av still warrant a Jewish punk playlist!
Today is the first day of Tammuz, which means Gimel Tammuz is tomorrow night. Here is a playlist to prepare you for Gimel Tammuz, the 17th of Tammuz, Tisha B'Av, and Tu B'Av.
While all four are not typically discussed together, there are connections. They all use the date as a name. The first two descriptions below focus on deceased rabbis who maintain myriad Orthodox followers. The 17th of Tammuz and Tisha B'Av bookend the Three Weeks, a period of mourning for historic tragedies. Tu B'Av is sometimes seen in contrast to Tisha B'Av, given that the two have different focuses and moods and occur six days apart.
Gimel Tammuz
The 3rd of Tammuz is the yahrzeit (death anniversary) of Rabbi Menachem Mendel Schneerson. To celebrate the Lubavitcher Rebbe, Chabad encourages learning, prayer, and charity. It is common to have a farbrengen, a joyous gathering that includes alcohol.
The Groggers' "Farbrengiton" combines farbrengen and "Bring it on!" It's a fun pop-punk song about drinking and partying—at a Gimel Tammuz farbrengen. "Break out the bottles 'cause it's the Rebbe's yahrzeit," sings Groggers front man L.E. Doug Staiman. He explained, "[Farbrengen] is so innocuous and it is part of Chabad tradition, but at the same time, you just go and you get shit-faced."
17th of Tammuz
This fast day commences the Three Weeks mourning period, which ends with Tisha B'Av. In 1922, Rabbi Yisroel Dov Ber Odesser felt weak and broke his 17th of Tammuz fast. Days later, he found a note (petek) acknowledging that he had done so. Rabbi Odesser understood that the petek was sent by Rebbe Nachman of Breslov, more than a century after his death, and followers of Rebbe Nachman believe this as well.
In "The Petek," Moshiach Oi! recite the petek verbatim in Hebrew and English. The lyrics conclude with "The sign will be that the Seventeenth of Tammuz/They will say that you were not fasting." Moshiach Oi! singer Yishai Romanoff explained this part was a "sign to [Rabbi Odesser] that this was indeed a miracle, as nobody else knew that he had broken his fast."
Tisha B'Av
Tisha B'Av concludes the Three Weeks with another fast day. It's the saddest day of the Jewish calendar, commemorating the destruction of the First and Second Temples and other tragedies. The Book of Lamentations (Eikhah) is chanted in synagogue.
While walking home from Tisha B'Av services in the band's early days, Shondes singer Louisa Solomon and drummer Temim Fruchter were singing Eikhah. Solomon explained that they were inspired to "take this melody from Eikhah—it's so beautiful and all about loss and destruction and mourning." She recalled thinking, "We have to take the Jewish liturgy about destruction and loss… and apply it to this great irony and horror that's being done in our name." The Shondes used the melody and message of Tisha B'Av for "I Watched the Temple Fall," a controversial song about Israel/Palestine that says, "No heart could really beat love for this state."
Tu B'Av
Traditionally, Tu B'Av was a time for women wearing white to dance in vineyards and attract suitors. In modern times, it's a Jewish love holiday. For the last couple years, Jewcy has put a new spin on Tu B'Av with "Love Bites" parties!
Yidcore masterfully modernized an old bastion of romance with Fiddlin on Ya Roof, their punk rock rendition of Fiddler on the Roof. "Matchmaker (An Ode to Natalie Portman)" captures a longing for love like never before. Romance abounds when Tevye screams "Do you love me?" to his wife, Golda. Matters of the heart reach their zenith with Motel in "Miracle of Miracles."
For more information about these Jewish punk bands, read Oy Oy Oy Gevalt! Jews and Punk by Michael Croland.
Album covers courtesy their respective artists.