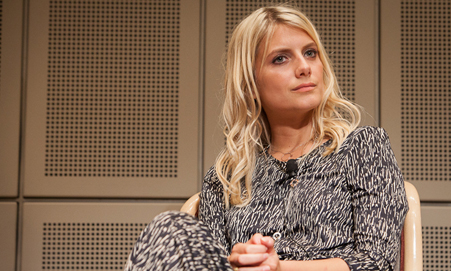 If revenge is a dish best served cold, resistance is a bit more complicated. Fresh off playing the scene-stealing Jewish movie theater owner Shosanna Dreyfus in Quentin Tarantino's 2009 Nazi revenge fantasy Inglourious Basterds, Melanie Laurent shifted gears for her next role, playing real-life nurse Annette Monod in the French World War II film, La Rafle.
The film, which came out in France in 2010, just opened in New York and Los Angeles, offering American audiences a chance to see a different side of Laurent. Telling the story of the long unspoken about Vel d'Hiv round-up of French Jews in 1942 (also depicted in the 2011 film adaptation of Sarah's Key), La Rafle ('The Roundup') follows Monod, a Protestant, from the Velodrome nursing station to a labor camp infirmary where she continuously defies Nazi orders in order to keep her young charges healthy and alive.
At a screening of La Rafle at the JCC Manhattan this summer, Laurent joined Rose Bosch and Ilan Goldman, the film's husband-and-wife writer and producer team, to discuss the film. The poised Parisian was serious and articulate as she described working with Bosch, but refused to answer audience questions about her own family heritage or connection to the Holocaust. As Jewcy contributor Abe Fried-Tanzer points out, the 29-year old is perhaps France's most well-known Jewish actress, most familiar to American audiences as the ass-kicking, justice seeking Shosanna—a French Jew. "Casting what may be the most well-known French-Jewish actress working today as a non-Jew in a film about Jews is an intriguing move," Fried-Tanzer points out about La Rafle, though it perhaps reveals more about Laurent than the film's producers.
While Annette is not Jewish, it's hard not to draw parallels between the roles—Laurent plays two strong, principled women not deterred by institutionalized intimidation or even outright danger. When I spoke to Laurent over the phone after the JCC screening, however, she downplayed any similarities between Shosanna and Annette. "Because it's a fantasy, she [Shosanna] can kill Hitler," Laurent explained. "Annette, the only thing she can do is stop being a nurse" 
She's right: Inglourious Basterds is a Hollywood-style high-octane revenge film while La Rafle depicts the heartbreaking true story of French Jews during the Holocaust. Yet just as Laurent's Shosanna was a beacon of gritty determination—however revisionist and problematically appealing that may have been—Annette is the grounding moral force of La Rafle, the thread that keeps those around her, particularly the children she cares for, afloat in the orderly chaos of Nazi-occupied France. What makes Annette so consistently compelling throughout La Rafle is her defiant resistance and the quiet determination that guides her strategic actions throughout the film.
When I spoke with Laurent, she had recently participated in an emotional three-hour long screening and Q&A session with Holocaust survivors at the United States Holocaust Memorial Museum in Washington, D.C. "I cried all day long after that visit," she said. "It's a special audience." The JCC screening—the film's New York premiere—left most of the audience in tears as well. "I don't feel like I'm at a premiere," she explained. "I'm tense, I'm afraid of those reactions"
 
While Laurent said the film was one of the most difficult movies she's ever made, she knew she had to stay upbeat and lively for the young children on set. But it seems as though there was even more of a sense of purpose that she brought to the role, evident on screen and in conversation. The Vel d'Hiv round-up, which the French government only took responsibility for in 1995, marks a dark moment in French history. "In the school books, there are, I don't know, two lines about it," Laurent explained. "That's why it was so important to make a film like this for French people." And for a French Jewish actress, the significance of being in such a film is even greater. "It's important for them to see that," she said passionately. "It's important to be part of that sort of movie."