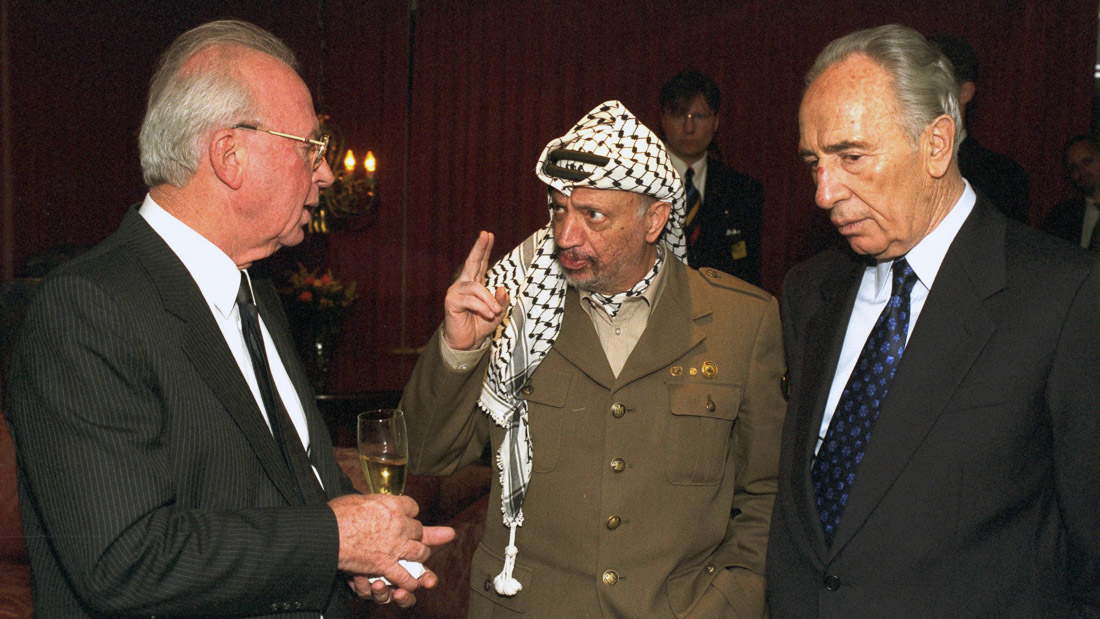 Nonfiction filmmaking comes in many forms. Among the hottest documentaries each year are films that expose a hidden story about a cover-up or other wrongdoing, seeking to inspire change by gaining publicity and exposure. They are important and worthwhile, and very often controversial. Equally valid are documentaries that dramatize events in a way meant purely to tell a story rather than to achieve an objective, presenting as clear-cut and straightforward examination using archive footage and interviews. This is one genre that comes closer to being objective than any other.
The Oslo Diaries, which competes in the World Cinema Documentary Competition at the 2018 Sundance Film Festival, covers the beginnings of the talks that would lead to the historic Oslo Accords. It starts out as a sort of thriller like Man on Wire, in which two Israeli professors and three members of the Palestine Liberation Front meet in secret in Norway to discuss a possibility road towards peace. Initial confrontations are expectedly tense, but common ground soon emerges as they speak to each other as people without the burden of government involvement, preparing a template to bring back to those in power.
This is a popular subject right now, on the heels of the Tony-winning play Oslo, which focuses heavily on the Norwegian diplomats responsible for starting the process, something the film does not, and an announced feature film adaptation produced by Marc Platt. The Oslo Diaries is fittingly named, since much of its dialogue comes from the diaries of those involved in the talks, used as a framework for the film's chronology. Those who are still alive – or have recently passed away, such as Shimon Peres – are interviewed, and speak openly and honestly about their preconceptions and the difficulties they had seeing eye-to-eye with those considered either occupiers or terrorists.
The magnitude of this start to the peace process is significant: this was the first time that the Palestine Liberation Front and the government of Israel acknowledged each other in an official capacity. On television, Yasser Arafat eagerly reached out his hand while Yitzhak Rabin hesitated before shaking it. For the two of them to stand next to each other, with Bill Clinton serving as a unifying force, was momentous, and the road to that moment is explored in great detail beginning with those whose names and faces aren't known to the world.
What this film shows, more than anything, is that the people in power on both sides of this long-running Israeli-Palestinian conflict were able to come together to reach an agreement despite many obstacles. When the initial documents are signed, protests erupt, and it becomes clear that the battle is not between Israelis and Palestinians but rather between those who want peace and those who don't, regardless of their national or religious identity. Watching Palestinians place olive branches on Israeli tanks to indicate their desire for peace is inspiring. Learning of the organization of a protest for peace is reminiscent of much of what we see today in American society: people marching for rights rather than against them. In his final interview for the film, Shimon Peres puts its best: "No war is ever finished unless it's being replaced by peace."
This film, sadly, is far from the end of the story. Watching Yitzhak Rabin sing the words to "Shir LaShalom" — "Song for Peace"— along with Peres just moments before he was assassinated is especially heartbreaking. Knowing that these events took place more than two decades ago and little has changed is disheartening, and this film serves more as a chronicle of history than any call to action since those involved know that there is no easy solution.
The Oslo Diaries is certainly less controversial than the last documentary filmmakers Mor Loushy and Daniel Sivan brought to Sundance. Censored Voices featured recorded testimonies of Israeli soldiers lamenting their misdeeds during the Six Day War, something that, while seemingly true, was seen as easy fodder for critics of Israel to use to denounce it is an imperialist state with an illegal military. Loushy and Sivan seem determined to continue presenting stories that might not always be warmly received, like Sivan's recent editing of the disturbing documentary Death in the Terminal, which explores the beating and killing of an innocent Eritrean refugee mistaken for a terrorist after an explosion at a bus station. Extensively featuring Bibi Netanyahu in archive footage in The Oslo Diaries railing against Rabin and then being elected prime minister after his death is far from a subtle message that they believe his government isn't helping the peace process.
There are many stories to tell about Israel and the conflict in which it remains eternally engulfed, and this spotlight on an unlikely early step forward is an optimistic and detailed one, presented as a meeting of two sides in a middle that for so long couldn't have existed. It's informative, affirming, and positive while things are going well, and a reminder that there is a way to see the other side.
The Oslo Diaries has three more showings in Park City and Salt Lake City later this week.
Photo by Saar Yaacov, courtesy of Sundance Institute