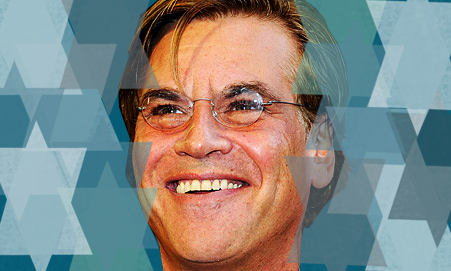 As the finale of Aaron Sorkin's The Newsroom approaches, questions abound. Can lovebirds Maggie and Jim overcome the obstacles in their way and convert their furtive glances and hallway shouting into some good old-fashioned smooching? Will we learn more about Charlie's mysterious contact at the NSA? Does Will finally succeed in haranguing the world into civility? On Sunday night at 10PM, All Will Be Revealed.
Until then, though, we offer Newsroom watchers another question to ponder: Where the Jews at? The show has many signature Sorkin-isms: lots of walking-and-talking, lots of messy workplace romance that spills into the hallways, lots of impassioned monologues about Big Ideas. But, alas, none of his classic mensches to speak of.
In Sports Night and The West Wing, Sorkin weaved issues of Jewish identity into his narratives in ways large and small. Just recall the tension between Josh and Toby—arising from their shared faith but drastically different upbringings—with Brooklyn-meets-Connecticut smackdowns of a distinctly Jewish flavor. And who could forget the religious and cultural exchanges on Sports Night that come with Jeremy and Natalie's romance? Starting his foray into WASPdom, Jeremy takes his first sip of Eggnog at his girlfriend's behest. Once she's left, he spits it out all over the control room floor. Alas, a valiant attempt.
Let's revisit some of the most beloved Jewish characters from Sorkin's earlier series.
Dan Rydell (Josh Charles, Sports Night):
From Sorkin's perennially over-cited and under-watched debut series, Sports Night, meet Dan. He's co-anchor of a cable sports show, an alum of Dartmouth (where, did I mention, he threw some ball…), and, oh yeah, the first Jewish character introduced on a Sorkin series. Dan is less obviously Jewish than his junior colleague, Jeremy (more to come!), but there are some indicators that he read Torah at one point or another. Hearing news of the birth of Isaac's grandson, he shouts not "Congratulations" or "Dude, that's frickin' awesome," but "Mazel tov!" And after he screws over his partner on the air and falls under a spell of discernibly Jewish guilt, how does he seek to come to terms with his deeds and find a more authentic self? By hosting a seder. What were the alternatives, really?
Jeremy Goodwin (Joshua Malina, Sports Night):
Jeremy, Jeremy, Jeremy. As an associate producer on the sports show that Dan anchors, Jeremy has many responsibilities—identifying Greek Gods and ghosts, preparing the control center for Y2K (remember that? Sorkin's been doing TV for a while now…), and "decreeing" fights with his girlfriend, Natalie, officially over. What more can I tell you about him, having already penned a 600-word ode to him on this very website last month. Suffice it to say, he's quite the mensch. With an ego the size of Montana, it's true that Jeremy can be exasperating at times, offering his two cents when begrudging silence might have served his colleagues better. But his unwavering loyalty and biting wit—and, oh yeah, those super-cute, pre-nerd-chic hipster glasses—endear him to colleagues and ensure his spot on the Jewcy-approved bachelor list.
Toby Ziegler (Richard Schiff, The West Wing):
A proper analysis of Toby, arguably Sorkin's most psychologically complex character, is the stuff of monographs, not blog posts. But for now, the basics: The communications director and Bartlet's chief speechwriter, Toby grew up in Brooklyn with a father who worked for "Murder Incorporated" and politically radical sisters who took him to labor rallies. The most liberal of Bartlet's staffers, hyperarticulate, a master of high and low tongues, Toby is not one to suffer fools lightly. He'll start a shouting match with just about anyone, including the President. And he is undoubtedly the most Jewish Jew to grace a Sorkin show—which is to say, he can identify not just Yom Kippur but also Erev Yom Kippur. In one episode, he even goes to temple!
Joshua Lyman (Bradley Whitford, The West Wing):
Josh is one of those Jews who comes to us by way of Connecticut. In one memorable episode, Toby says to Josh, "You know, the Ancient Hebrews had a word for Jews from Westport. They pronounced it Presbyterian." Zing! Josh may lack Toby's storied Jewish pedigree, but he has other things to boast of: the ear of the president; a legion of adoring followers who confess their lust on a tribute site called LemonLyman.com (which, shockingly, does not exist on the real World Wide Web); and, most importantly, the pure and eternal love of his assistant, Donna. That last dynamic makes for the most tantalizing of Sorkin's will-they-wont-they workplace romances (Jim and Maggie of Newsroom could learn a thing or two). Oh, yeah, and he went to Harvard. What more do you want?
These are just our four favorites; there are others, too. We wanted to include West Wing's Will Bailey, the speech writer who joins Toby in the communications office after Sam leaves the White House to "run for Congress." (In Sorkinian terms, Congress is that farm in Florida where all of your childhood pets live.) Setting aside the crassness of counting two characters played by Joshua Malina on the same list, we realized that the show never tells us whether Will is Jewish. That said, Malina certainly is. The actor once recalled during an interview that he missed the first day of shooting for West Wing because it fell on Rosh Hashanah. (Allison Janney reportedly quipped, "Oh, so today is not a Jewish holiday? You can actually do some work?")
Also entitled to consideration are Will and Eliot of Sports Night, who, Dan tells us, were planning to attend the seder even before it became a multi-denominational affair. And if we're looking at minor characters, why not count Toby's rabbi? From his brief appearance, he seemed like a pretty cool guy—rewriting an entire sermon to persuade one congregant that "vengeance is not Jewish," on the heels of a death row verdict in which he hopes Toby will intervene. Of course, Toby does not—nearly all Sorkin characters who are religious are also avowed secularists when it comes to matters of state. Even so, it is undeniable that Sorkin has frequently used the subtleties of religious identity to add nuance and texture to his characters. It makes the absence of any Jewish characters on Newsroom all the more conspicuous.
But perhaps I speak too soon. There is, after all, one episode left.
The finale of The Newsroom airs at 10PM on Sunday, August 26, on HBO
Writer's Note: A commenter and astute viewer of The Newsroom has drawn our attention to a potential oversight. Might Don Keefer—bad-bad boyfriend to Maggie and executive producer for another anchor on Will's network—be Jewish?
We're undecided. If you want to make the case, turn to Episode 7, when Don asks the anchor, "What is this compulsion you have to look on the bright side? I can never count on you to be Jewish." It seems likely that the anchor is Jewish. Might Don be, too? Let us know what you think below.
Previously: Jeremy Goodwin, the Wide-Eyed Wunderkind on Sorkin's Sports Night
(Art by Margarita Korol)