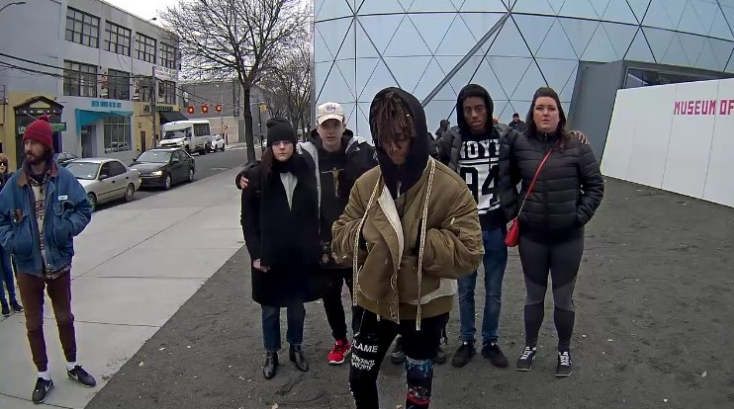 In case you were eagerly awaiting Shia LaBeouf's next durational art installation, know that the wait is over! The actor, recent husband, potential Christian convert, and Louis Stevens, has released perhaps his most political work yet: HE WILL NOT DIVIDE US.
HE WILL NOT DIVIDE US is fairly straightforward; there's a camera outside of the Museum of the Moving Image in Queens. You walk up to the camera, and say the words "He will not divide us." If you like you can say it again— and again, and again, until you feel you have done your part and you let someone else take a turn. Lather, rinse, repeat until Donald Trump is no longer president.
No, really, the camera is streaming 24/7, for as long as Trump is in office. That's the "he" in question, here.
According to LaBeouf and his collaborators Luke Turner and Nastja Säde Rönkkö, "the mantra 'he will not divide us' acts as a show of resistance or insistence, opposition or optimism, guided by the spirit of each individual participant and the community."
Actually, so far it's rather compelling.The first performer, on Inauguration Day, was Jaden Smith (because of course he was), so there's always that Marina Abramović-esque "Who'll show up next?" factor. And in only a few short days, and lots of interest, several tiny dramas have played out, from singing the mantra as a duet to the stream freezing up (OK, less dramatic, and more the way of all technology).
Most notably, considering that the point of the project is to not divide us, multiple fights have already ensued, when white supremacists, having gotten wind of the thing, have shown up to be trolls. Shia used the mantra to shout one of them down himself (rock on, Shia!), and one woman left her bed in Brooklyn in the middle of the night to come support a man holding vigil despite harassment. Aw!
Can't make it to New York to participate yourself? You can still view the project; the camera live stream is on HEWILLNOTDIVIDE.US.
Image via Twitter.