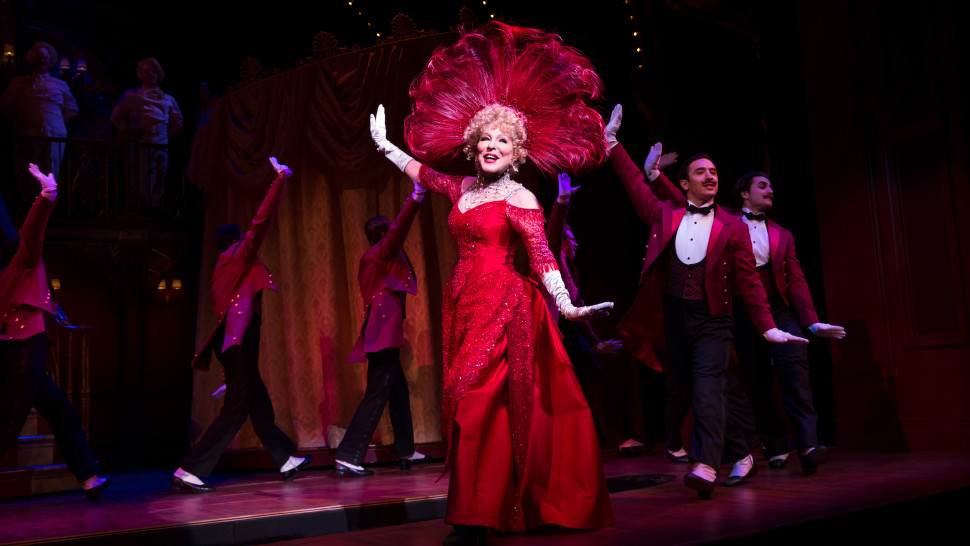 The Divine Miss M seems to be recovering nicely from losing Jewish Celeb Madness.
Was there ever any question that Bette Midler in Hello, Dolly! would be anything other than an Experience? And since I saw it one day before opening night, wouldn't it be silly for me, a humble Standing Room Only patron, to join the parade of rave reviews and bandy about words like "legend" and "star charisma?" For months, the words "Bette Midler. Hello, Dolly! What more do you need to know? Oh yeah: Telecharge" haunted my waking hours. That damn black screen advertisement showed up every time I watched something on YouTube. But eventually, I managed to see it (chairs are overrated).
Bette Midler was really good, guys.
Bette aside for a moment, Hello, Dolly! is a 1960's Broadway musical so of course its creative team (Michael Stewart and Jerry Herman) is Jewish. One would assume that Dolly, the meddler of Yonkers, widow of one Ephraim Levi, brought to screen by Barbra Streisand, is patently Jewish, too.
But she's not (necessarily)! As Jesse Green points out, there's a long list of Dolly actresses who were not Jewish themselves and did not portray her as Jewish. In that same article, Tovah Feldshuh and Carol Channing discuss their differing portrayals of Dolly Levi. Whereas the non-Jewish Carol Channing plays Dolly as Jewish, Tovah Feldshuh plays Dolly as a 12-sibling, Irish potato famine emigré who "learned some things about Judaism, but she's as Christian as she was 20 years ago." After all, Feldshuh points out, Dolly's maiden name is Gallagher.
Channing disagrees: "See, from my own personal experience, I've found that you turn Jewish when you're married to a Jew."
Feldshuh also makes repeated references to how she could "not afford" to play Dolly as Jewish. Channing doesn't understand what she means; after all, Of course, saying that Gallagher is an Irish surname would have been a sufficient explanation.
But I could wager a guess: Feldshuh might be suggesting that playing Dolly as Jewish and being Jewish herself would be too much of a risk, something about which Channing does not have to worry. She may be worried she would be "too Jewish?"— That she would alienate an audience by injecting too much Judaism in a not-explicitly-Jewish play.
However, whatever it may mean, Midler can sure afford to both play Dolly as Jewish and be Jewish herself. With the sheer force of her charisma, Midler could take a hatchet to the set and a blowtorch to the Shubert and still get thunderous applause.
As for the rest of the show: it was delightful, old-timey musical fun, with much the same spirit as last season's She Loves Me, but even grander. Speaking of She Loves Me, Gavin Creel passed on his weird mustache from that production to David Hyde Pierce, who is hilarious in Dolly as the stern Mr. Vandergelder. Creel plays the 33-year old virgin Cornelius, and he and Taylor Trensch as Barnaby make a delightful pair. (Side note: wouldn't Nicholas Barasch be a great Barnaby? Wouldn't he?)
Kate Baldwin is a feisty Irene Molloy, and Beanie Feldstein is adorable as  Minnie Faye. I just found out that she's Jonah Hill's sister but I won't let that affect my judgment. The sets are beautiful, and the stunning reveal of Harmonia Gardens elicited gasps. There is also a moving train car and a dancing horse. What more do you need to know?
The bare black-screen commercials are right, but at this point, good luck getting tickets through Telecharge. For what it's worth, standing behind the back row of the orchestra is not a bad view.
Photo by Julieta Cervantes, via Playbill.