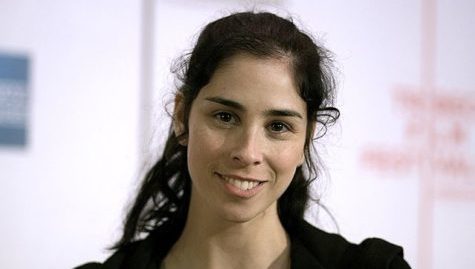 Can you believe it's been seven years since the end of The Sarah Silverman Program? Well, your mourning period can officially end, because Sarah has another project in the works.
I Love You, America is going to be a half-hour comedy on Hulu (apparently after fierce competition to claim it), in partnership with Funny or Die. There's no premiere date yet, though we know there are going to be at least ten episodes.
The concept seems a bit experimental; it's explicitly experimental, which makes sense, given a lot of Silverman's recent activism, both during the presidential campaign and on social media since.
The show is called I Love You, America because Silverman is going to be doing what Clinton-voters have been discussing since the election— were they stuck too much inside a bubble? So the comedian is on a mission to connect with Americans from different backgrounds (and statistically, you know, from you). The vehicle might be comedy, but the goal seems sincere, what show producers are calling "setting out to expose the fact that we are all the same."
Silverman also has a stand-up special premiering on Netflix in May. Even though she had a life-threatening medical incident less than a year ago, Silverman is back in full swing.
Finally, you absolutely need to see her tweet about this new show and the Jewish press:
Oh, Jerusalem Post, you adorable sons of guns, that's ok – show prob wont b ur cup o tea anyway it's about self reflection connection & ❤️ pic.twitter.com/PtwnBcQWEF

— Sarah Silverman (@SarahKSilverman) March 29, 2017
Ouch. Well, Jewcy will watch you show, Sarah!
Image via Wikimedia