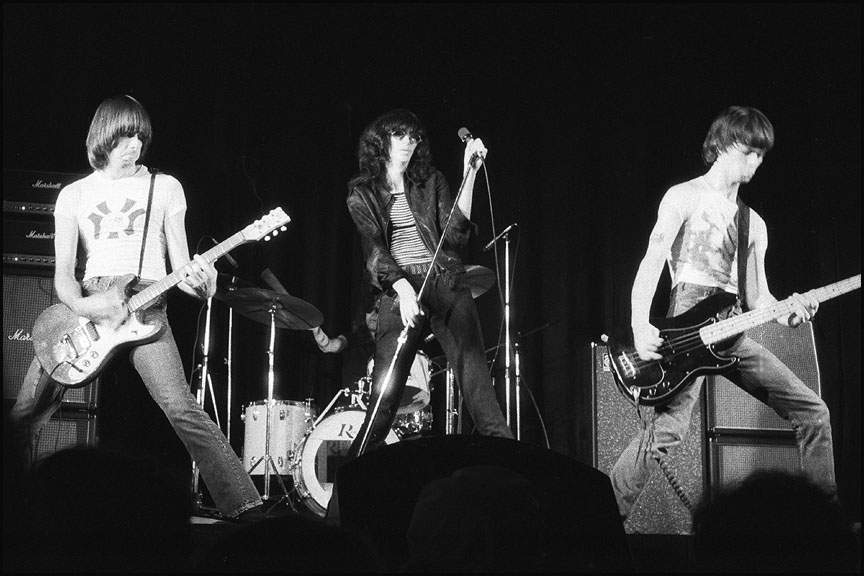 We need to talk about sexy Jewish punks.  Why don't we talk about them more?
After all, this year marks the fortieth anniversary of the Ramones releasing their debut, eponymous, groundbreaking album. But of persisting American-Jewish stereotypes, one of the least-prevalent is that of the grimy, ragamuffin kid causing trouble around town.
Well, let's call it an archetype; there are others based on fact; we remember the Bugsy Siegels, so-called "Tough Jews," bad men who did bad things, like, ya know, murder. But too-often we forget the, well, punks, teenage boys in leather jackets who smoked cigarettes that you would never take home to mom but fooled around with under the bleachers whilst skipping class.
(I never experienced anything remotely like this, but with the Ramones it was fun, and easy, to pretend.)
But for Pete's Sake, who do you think was hitching a ride to Rockaway Beach? It's fairly common knowledge that two of the original Ramones were Jewish (Tommy was even the son of Holocaust survivors), but their grungy rock personas weren't created out of thin air. They were an ethnic minority, kids or grand-kids of immigrants, living in New York City and causing trouble.
Jews didn't stream out of the tenements and onto manicured lawns; there was often in-between. The Ramones' Forest Hills neighborhood of their youth, for example, was heterogeneous, and even for their more well-to-do peers, it was still somewhat urban.
In "Only the Good Die Young," Billy Joel is the scruffy Jewish kid from the wrong side of the tracks seducing the nice Catholic girl. But he's really convinced people that he's Italian (I hear it all-too-often), because of his time hanging with blue-collar crowds growing up on Long Island. (Remember, the Ramones had the Italian persona, too, with that stage name.)
While this reality isn't extinct today (blue-collar or lower-class Jews are a thing, people), maybe we started to drift away from it as one wave after another rose socioeconomically. After the Ramones, we got the Beastie Boys, and while they were scruffy and petulant, too, they were a bit more winking, and they tended to hail from more privileged families than the Ramones.
Pouring through Jewcy's old "Jews Who Rock Wiki," it's really amazing how many punk or rock bands we've helped forge.  So why are these groups seen as anomalies, as "Hey, did you know at least one Jew participated in rock and roll?"
"Punk is Jewish," Steven Lee Beeber says in The Heebie-Jeebies at CBGB's: A Secret History of Jewish Punk, "Not Judaic. Jewish, the reflection of a culture that's three millennia old now. It reeks of humor and irony and preoccupations with Nazism. It's all about outsiders who are 'one of us' in the shtetl of New York."
So why does Jewish sex appeal today have to be of the quiet, nerdy variety, or the goofy, dorky sort? Andy Samberg's musical career comes from the humorous juxtaposition of an awkward weirdo-persona making the music associated with being suave or tough. Lou Reed was suave enough on his own, thank you very much.
Listen, there's nothing wrong with loving a Motel Kamzoil, but don't forget that Perchik is there, too, and he's bringing the revolution.
So it's forty years since the Ramones. And for someone born only five years before they broke up, they're undeniably retro. But my crush on these old-timey (to me) hooligans is part of my New York Jewish identity. I barely went out to anywhere but school, synagogue, and USY when I was a teenager. But it's fun to pretend that the bad boys next door (a mixed group of Jewish and not) would sneak me out of the house for a different, equally authentic Jewish experience.
(Except for Johnny. Forget that Nazi-obsessed weirdo.)
Image via Wikimedia