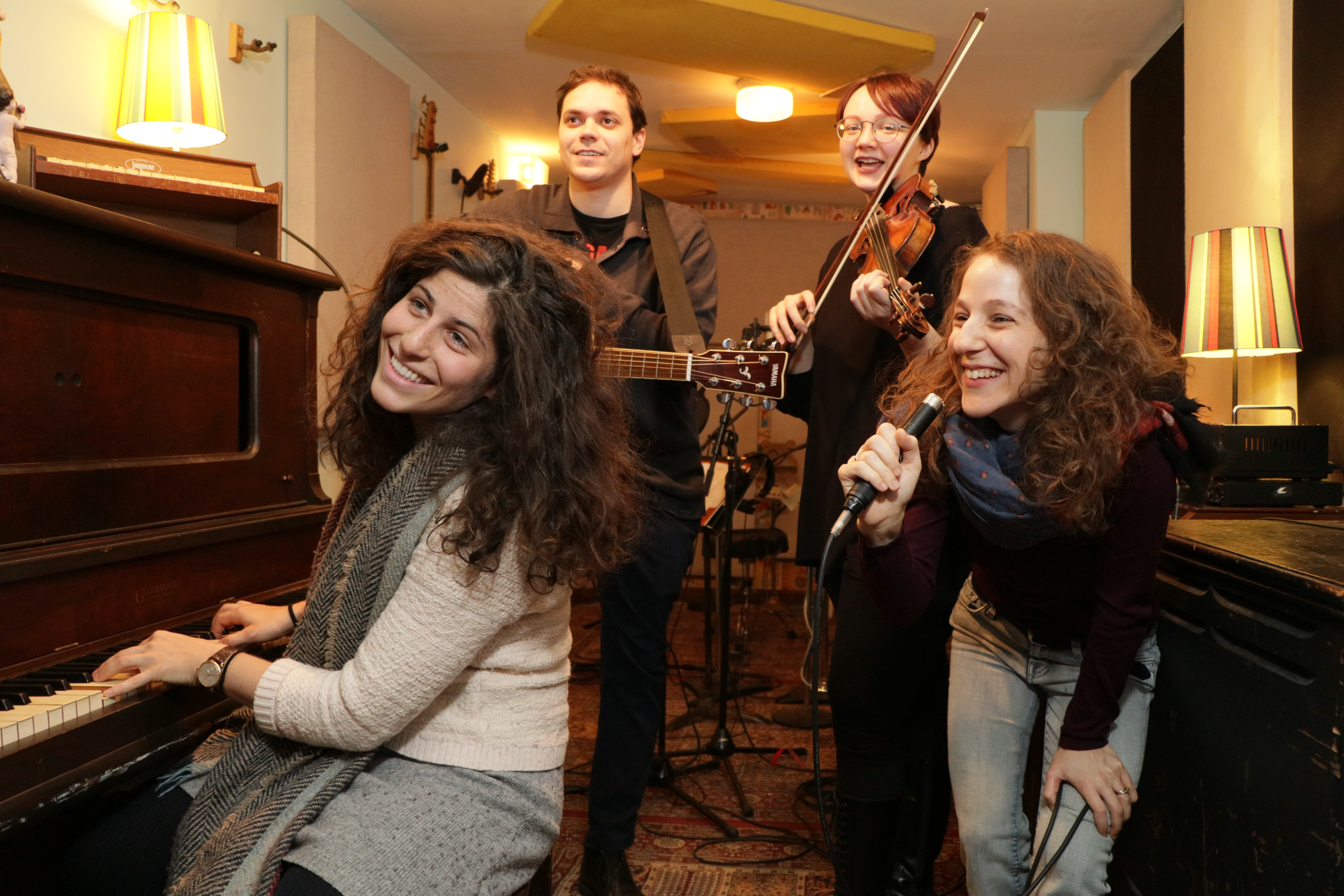 After Donald Trump won the election, Kristen Plylar-Moore felt demoralized and fearful of what was to come. For months, she had been writing songs to cope with that fear—until she had gathered enough material for an entire live show. The music project was called Revival. "I wanted to give people a sense of hope, even despite what we were facing," she recalled. 
Now, those songs about healing, spirituality and moral issues may become one studio album. Or so Kristen and her folk-rock band are hoping.
The musicians of Revival have created an Indiegogo campaign for their friends and fans to support their project, and they're already well on their way to their goal of $6,700.
"Support spiritual folk-rock music for love and justice!" reads the campaign slogan.
It all began in the fall of 2015, when composer Plylar-Moore was feeling overwhelmed by Trump's presidential campaign. "The political rhetoric was becoming intense, particularly towards minority groups and immigrants," she said. Kristen was born in San Antonio, Texas, where she was raised Catholic. Later in life, she was drawn to Judaism. As a kid, she had always considered spirituality and music as ways to advocate for social justice. So she gathered a group of people—her wife Julia Ostrov (who also does Jewish prayer-leading professionally), a soprano, Lea Kalisch, alto, and three other instrumentalists, and created Revival.
https://vimeo.com/253382414
Some of the songs are rooted in Hebrew biblical texts, such as the track "Tent Revival," which was inspired by some passages from the book of Isaiah: "It's time to revive, raise your tent to the sky/ Drive your stakes deep, draw your ropes wide/ Let the people in, it's time."
Other songs, "celebrate the divine in all of us," said Kristen. One song is based on the story of Susanna, from the apocryphal Book of Daniel. Susanna is a Jewish woman who is falsely accused of promiscuity; at the end of the story, the truth emerges. "It's an empowering song for women, it's particularly resonating in these times."
The lyrics are "morally conscious," with themes ranging from immigration to LGBTQ empowerment, feminism and climate change, and help envision the world that the members of the ensemble dream of living in. The ultimate goal, Kristen explained, is rooted in the Jewish concept of tikkun olam— repairing the world.
"It's necessary, but it can be hard and despairing," she said. "There is so much we're going up against… Music plays an important role in revitalizing ourselves."
So far, they've performed the show in what they call "progressive spiritual spaces" in New York. These include small theaters, recreation centers and synagogues, such as Congregation Beit Simchat Torah and the 14 Street Y.
When asked about the risk of targeting a narrow, alike-thinking audience, Kristen said she believes music is "ought to be accessible" to people with different political views. "Apart from some extreme elements… I think most people are not that far apart. None of the songs put down other people. They express the ideas that we should be good to each other and that there is room for all of us."
Kristen, who as a Texas native knows plenty of conservative people, believes that if they heard her music, they would have a positive response. "It's not about politics. It's about values."
Foreground, left to right: Lea Kalisch, Julia Ostrov. Background, left to right: Ugene Romashov, Samantha Gillogly. By Harold Levine