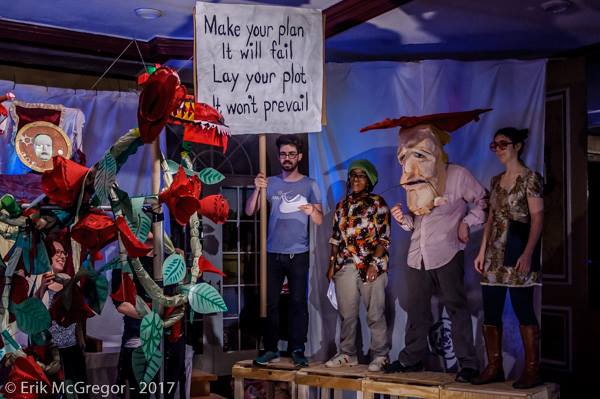 If you can't wait until Jewcy's Purim Pun-A-Palooza to get in to the holiday spirit, this weekend you can start getting your Purim freak on with the freakiest of celebrations— the JFREJ Purim Spiel.
A step back: JFREJ is Jews for Racial and Economic Justice, and most of the year they organize political and community actions— think marches, training, protests. A Purim spiel is the Jewish tradition of a comic play that retells the holiday story, often with music, satire, irreverence. And when you combine the two? You get this year's performance: JEWS WITH THORNS: A Purimshpil & Masqurade Ball.
The spiel is the baby of JFREJ's partner: the Afselokhis Spectacle Committee— a collective of local artists, visual, musical, theatrical, you name it (all paid for their work), as well as several political action groups, Jewish and not. (Yiddish performance artist Jenny Romaine is generally at the helm, and her partner in crime was the late, great, Adrienne Cooper.)
The project began in 2002, and past productions have included Giant Puppet Purim Ball Against the Death Penalty, Rehearsal for the Downfall of Shoeshine: An Immigrant Justice Purim Spectacular!, Roti and Homentaschn: The Palace Workers Revolt! A Purim Carnival Spectacular, Your Homentaschen Are Killing Me! A Purim Ball for the body, its resilience, its fragility, and its bounce!… you get the general idea.
And what actually happens in these plays? They are definitely better experienced than described, but let's just say that Purim is about turning society on its head, and JFREJ got the memo. Imagine running with that, with an unapologetically political bite. Last year, Vashti was a deposed queer leader of her people. The year before, Esther went by ze/hir pronouns and literally donned white-face to subsume hir racial identity and blend in with privileged palace life. All this while maybe a local band plays, or a spoken-word artist pauses the narrative to deliver a poem. The sets are made of all sorts of found-objects and simple supplies. Glitter is probably involved.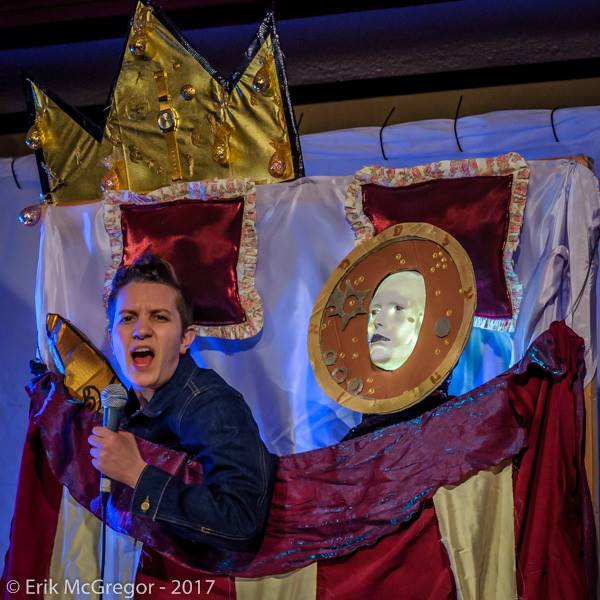 The story follows the general trajectory of Purim; or at least the stock characters are there. Haman represents institutionalized evil (though who knows what form he takes any given year), and some other characters (though maybe not the ones you would expect) resist. While the play changes greatly year to year, there will be some constants. There will be puppets. There will be music. There will be radical politics, and don't expect to be comforted just because you're the member of any particular oppressed group. In short, it will be Brechtian AF. Lather, rinse, go to the after-party.
The after-party is a spectacle in and of itself. It's decidedly adult; you're just as likely to see someone wearing leather as dressed as a superhero. You're also just as likely to run into queer gentile acquaintances as traditional Jewish friends. It's definitely a open free space for experimentation of expression. If you have a costume idea not quite tznius enough for the Megillah reading next weekend, try it out here. If you just want to rock jeans and a t-shirt, go anyway, with an open mind.
If you want the quieter, chiller evening, sans party, check out the spiel's dress rehearsal tonight (doors 7:30, show at 8). You'll still get the full joy of the performance, but for better or worse, without the energy of a bunch of leftists crammed into a space together. If you want to go all-out (and you should), attend the event this Saturday night, March 4th, doors at 7:45, show at 8:30. If you have kids, consider the Sunday family Purim carnival, from 12 to 4 p.m. The location for all of these is East Midwood Jewish Center, 1625 Ocean Avenue in Brooklyn.
Be there, or be part of what the spiel has called the "white Christian hetero-patriarchy."
Photos of this year's play in rehearsal by Erik R. McGregor.