Jews around the world will soon light menorahs, spin dreidels, and eat latkes. Why not rock out at the same time? Here are eight Jewish punk songs for the eight nights of Chanukah, and be sure to listen in order!
Yidcore: Punk Rock Chanukah Song
Adam Sandler took Jewish holiday music to the next level with "The Chanukah Song," but Yidcore one-upped Sandler with this parody—and circumcised him in the (arguably NSFW) music video. Yidcore proudly recalled the many prominent Jews in punk rock. Yidcore declared, "Joey Ramone ate matzoh at the seder/Just like Richard Hell and most of the Dictators." Sure the Maccabees are important, but this is an important history lesson too.
Golem: Freydele
Golem is a klezmer-rock band with a punk edge. The first few times I heard "Freydele" live, I was blown away that Golem had come up with such a catchy, poppy, dance-y song. Just like most songs that meet that description, there's some rapping in Yiddish. The lyrics discuss a maydele, named Freydele, who plays with her dreydele.
Shira: Hanukkah Song
Although Shiragirl was a punk rock band, as a solo artist Shira focused more on dance music, while still incorporating punk-inspired distorted guitar. "Hanukkah Song" mentions the oil that lasted for eight nights, latkes, chocolate gelt, and doughnuts. The lyrics include a tutorial on how to play dreidel. As far as Chanukah songs go, it's all encompassing in discussing both the historical and celebratory aspects of the holiday.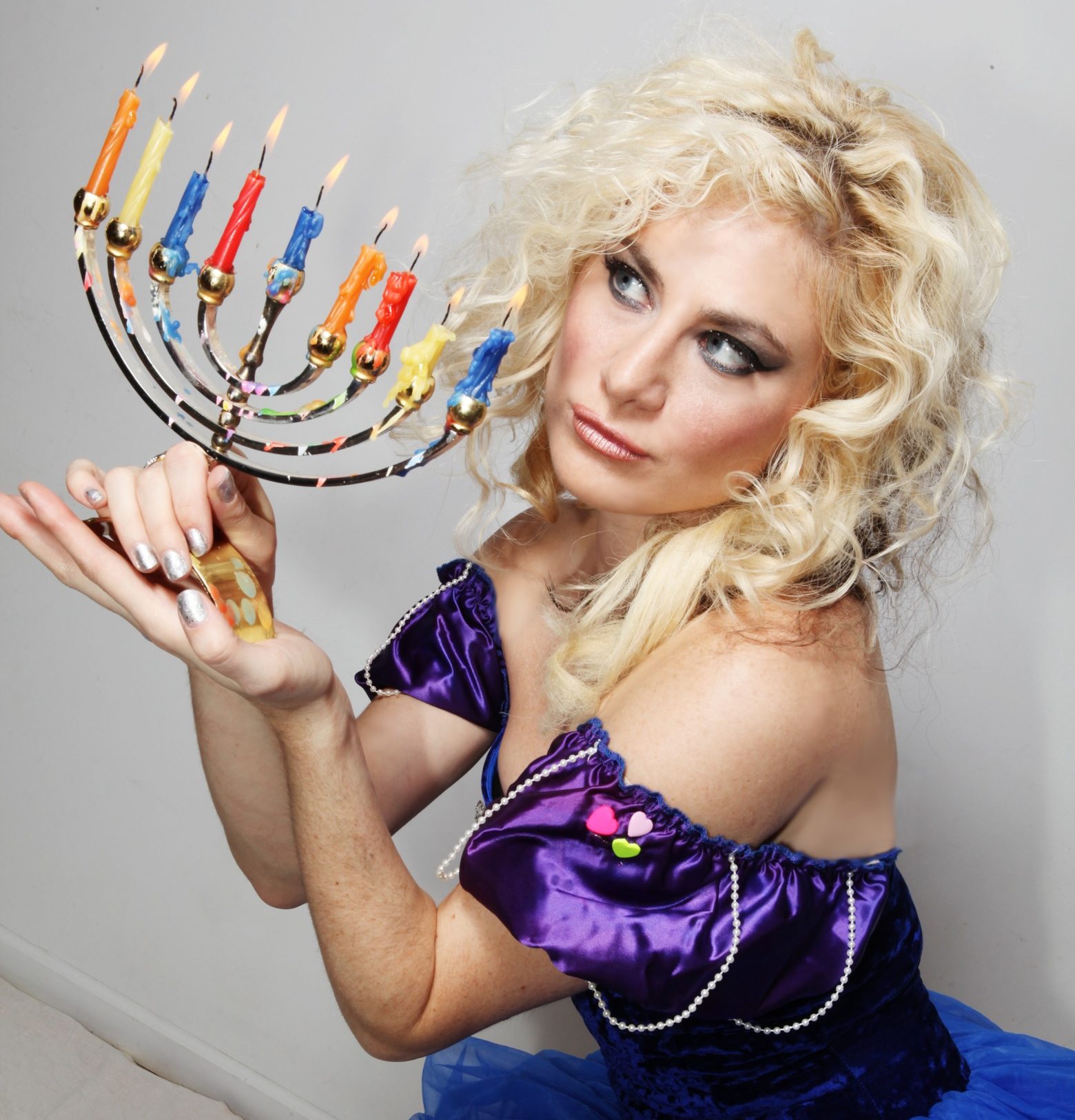 Schmekel: I'll Be Your Maccabee
Schmekel frequently relied on Jewish holidays as a familiar, resonant vehicle to discuss the transgender Jewish experience, (Remember all their High Holy Day songs?). Singer/guitarist Lucian Kahn explained that "I'll Be Your Maccabee" was about "a young, Jewish, trans guy who goes to a Hanukkah party" and tries to seduce "a very handsome, Christian, non-trans guy." The song includes a keyboard interlude of the more traditional Hanukkah ditty "Maoz Tzur."
The Schleps: Maoz Tzur
If you're looking for a full version of "Maoz Tzur" (Rock of Ages), The Schleps recorded a 37-second "koshercore" rendition. For Hanukkah 2008, JDub Records (z"l) featured the song on their blog and "predict[ed] that koshercore will finally take off in 2009 (maybe)." Koshercore did not hit the big time in 2009 or, as of press time, ever, but Jews are good at waiting.
Gefilte Fuck: Dreidel Song
Gefilte Fuck's "Dreidel Song" is a medley of "I Have a Little Dreidel" and "Hanukkah, O Hanukkah." Front man Howard Hallis recalled that he and the band's guitarist thought it would be "really funny to take some of these old songs" and "make them punk rock style, because there are some really lovely melodies there that can be bastardized and put into the punk rock format."
Electric Menorah: Charmonica for Chanuka
Brett Singer played guitar in a hardcore band under the stage name Bozo Foreskin. He had the idea of "Bozo Foreskin years later exploring his Jewish roots," so he formed the one-man band Electric Menorah. Electric Menorah released the EP Chanucore, which consisted of three songs uploaded to MySpace. After a Passocore detour, Electric Menorah returned with "Charmonica for Chanuka." Singer began the song by chanting "Shin! Hey! Gimmel! Nun!" before saying, "Shin sucks. Gimme Gimmel!"
Gangsta Rabbi: My Last Chanukah
Finish up your Chanukah with some end-of-life music. Steve "Gangsta Rabbi" Lieberman is battling cancer and finds it difficult to keep making music, but he hasn't given up. He's working on his 30th album (68th if you count his 38 cassette recordings), The King of Jewish Punk. He included "My Last Chanukah" on 2014's Cancer Ward, but it wasn't his last Festival of Lights. In a July interview, the Gangsta Rabbi had a unique take on his health situation. He wondered, "Has the God of Israel written a scorching rocker for me to play in Heaven—but not until I get there?"
You can learn more about all eight artists in my book, Oy Oy Oy Gevalt! Jews and Punk.
Photo of Shira: Andrina Farago, Hair/Makeup: Paul Mojica