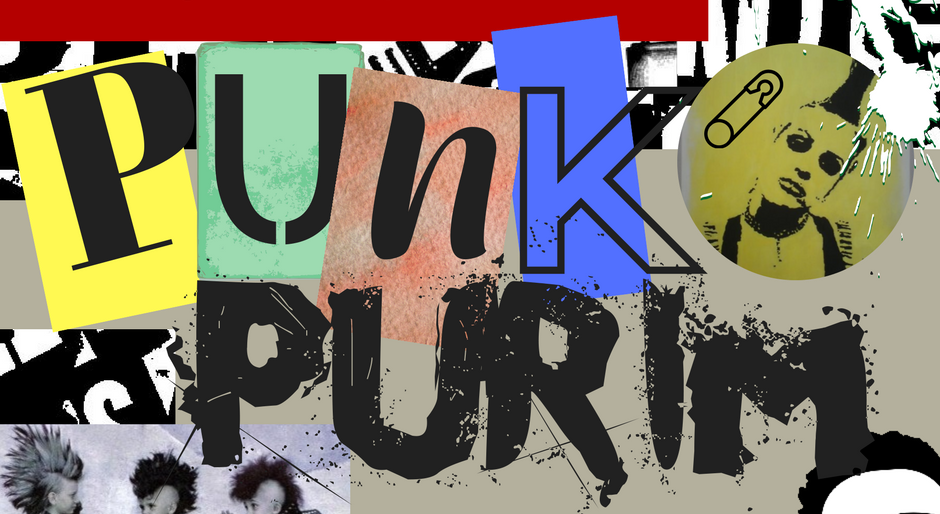 Unlike some Jewish holidays (we're looking at you, Tisha B'Av!), Purim is meant to be fun and celebratory. People dress up in costumes and wave around groggers (noisemakers). The Talmud encourages Jews to drink so much that they can't tell the difference between Haman and Mordechai.
Here's a Purim punk playlist for making a racket and drinking too much. If you truly embrace the spirit of Purim, you'll break your leg while partying, hook up with Haman, and be too hung over to go to morning minyan.
Schmekel: Homotaschen
"Homotaschen" does more than recount a wild Purim escapade involving sex with Haman. It takes the model of typical Purim celebration—drinking to the point of confusion—and applies that spirit to the lyrics. Lucian Kahn, singer/guitarist of the transgender Jewish punk band Schmekel, explained:
All throughout the song, there are things that are slightly wrong or upside-down or on their head. … It says that they're at the court of King Antiochus, who's actually the king in the Hanukkah story. There's just a confused conglomeration of views on Israel/Palestine, where everyone's confused, and then the narrator decides to just go sleep with the biggest enemy imaginable. Like, "We're going to avoid this moral debate and, just, like, go have sex with Haman!" Haman turns out to be also pretty gender-ambiguous, where you get "he" and "she" pronouns for Haman at different points in the song. … During the song, you're supposed to be really confused about what everyone's identity is and what's happening and why.
The Groggers: Not Going to Shacharis
While the Groggers don't have any songs about Purim, they are included here because they took their name from the Purim noisemakers. "We're making noise. We're loud and obnoxious," explained front man L.E. Doug Staiman. The Jewish pop-punk band has made many hilarious videos, including this catchy ditty about refusing to go to shacharis (the morning prayer service). Parents, a doctor, a rabbi, a priest, and a yeshiva cheerleader all fail to get Staiman out of bed. Despite his efforts to the contrary, Staiman winds up being the 10th man for minyan. Maybe this song will inspire you to stay in bed and skip the morning megillah reading.
Yidcore: Shalosh Pinot
Yidcore had songs for most holidays, and that includes Purim—just barely. Lasting about 6 seconds, "Shalosh Pinot" is Yidcore's shortest song. Why beat around the bush? At breakneck speed, it might be hard to decipher the Hebrew lyrics about Haman's three-corner hat. They declare that the hat has three corners, three corners the hat has, and if it didn't it wouldn't be Haman's hat. It's a fun song for kids to sing, albeit not a profound one.
Aaron Alexander: Kleyzmish Moshpit
Hasidic New Wave drummer Aaron Alexander kicked off his solo album, Midrash Mish Mosh, with "Kleyzmish Moshpit." Alexander had backgrounds in both punk rock and the Jewish music world and said he "wanted to reflect" their commonalities. Having seen "people in a mosh pit" at a punk show and "guys break their legs dancing on Purim at the Chabad house," he thought the "intense dancing" and energy were "similar." Play it loud!
For more information about these artists and other Jewish punk bands, check out Michael Croland's book, Oy Oy Oy Gevalt Jews and Punk.
Photo courtesy of Chabad of Cambridge.