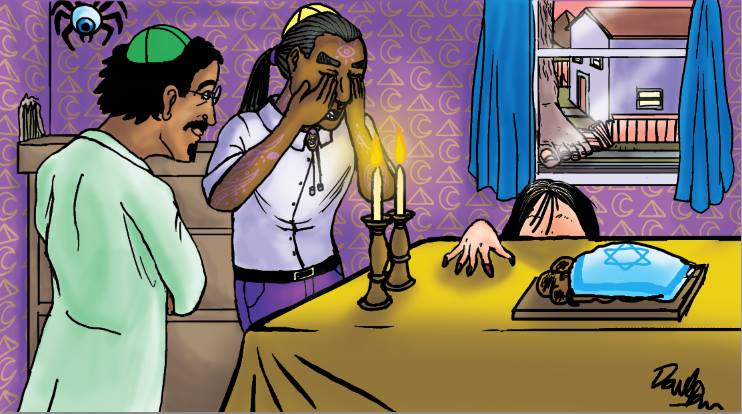 The world's greatest podcaster is Jewish!
No, not Ira Glass; that's obviously old news. This is the premier fictional radio host: Cecil Gerswhin-Palmer from Welcome to Night Vale.
Welcome to Night Vale is one of the most popular podcasts out today, with devoted audiences all over the world and in online communities reminiscent of fans of cult TV shows. Descriptions of the program usually try to rely on vague pop cultural comparisons, from Stephen King to Garrison Keillor, because there's actually nothing like it.
What Night Vale is, simply is this: A fictional local radio news broadcast, in a small, town in the American southwest, where horrors, conspiracies, and unholy rites are a natural part of a pleasant, close-knit community.
Take, for instance, when a glowing cloud rained animal carcasses on the town, controlled the minds of its residences, and then, ultimately enrolled its child in the local public school and joined the PTA. The tone is humor, mixed with horror, with surprisingly a lot of heart, and at its heart is Cecil Gershwin-Palmer (portrayed by Cecil Baldwin).
In many episodes, Cecil is the only speaker, and his personal life is as important to the story as, say, the standings of the local Little League team (their coach is a ghost). The show has also received accolades for its remarkable diversity, as well as its hesitancy to describe characters as having a definitive appearance or race, Cecil especially.
Night Vale is also one of very few podcasts that has successfully become franchise; for example, its first companion novel debuted in October, and there are more books on the way. The show also tours with its cast internationally, reading scripts in front of a live audience with new content that is eventually sold online as premium supplements to the otherwise free program.
That's where Cecil's Jewishness comes in. Night Vale is currently between legs of its latest tour, "Ghost Stories."
According to attendees of "Ghost Stories," the most spoiler-free description possible of the reveal is that the show includes Cecil attending the unveiling of an immediate family member.
To confirm the news, Night Vale co-creator Joseph Fink took to Twitter: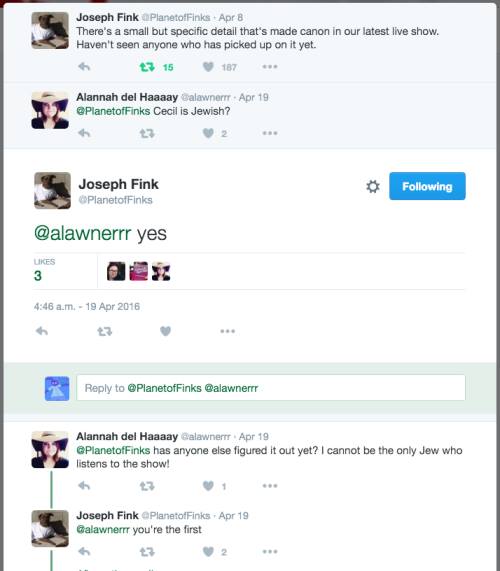 For close Jewish listeners of Night Vale, this statement canonizes hints dropped in the series before. In one particularly creepy episode, Cecil finds a cassette tape he recorded when he was younger, in which he describes his mother has avoiding him and covering all the mirrors of their home. As the episode progresses, it becomes unclear whether or not Cecil actually died (and came back in some way to be our protagonist; Night Vale has its own horror logic). In light of the news of Cecil's identity, this was probably no coincidence that his mother was performing another Jewish mourning ritual.
Going forward in Night Vale, how will this affect the series? The town mostly worships via bloodstones and Christmas is forbidden, but there is at least one mosque.
The world of Night Vale is wonderfully diverse, so it's a really great moment of representation that Jewish denizens are officially included, to say nothing of the show's star. It's a unique, creative way to include Jewishness in media, vague though it might be for now.
In the meantime, we can only imagine what Shabbat dinners would be like in Cecil's home.
Image Credits: Facebook, and art by David Shear.