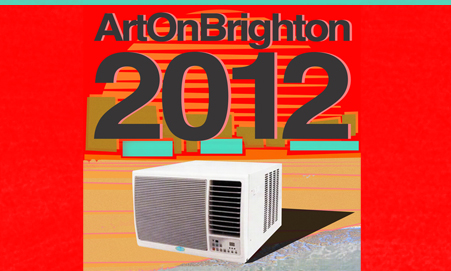 Next Saturday, hundreds of people will gather at an art and music festival at the New York Aquarium and the adjacent beach to celebrate the creative post-Soviet immigrants of Brighton Beach, New York City, and beyond. ArtOnBrighton 2012, the second annual manifestation of its kind in New York's Little Odessa, celebrates the post-Soviet Jewish identity that has been largely unexcavated by its members, partly because of the traumatic goings on that the refugees suffered, and partly because of the absence of a tangible community among post-Soviet Jews. And despite the painful tragedy surrounding roots, the artists of this festival encourage the embracing of reality, giving credit to warriors where credit is due, and looking optimistically at the future of the freshly forming community. After more than 20 years of repatriation, there is much strength to be drawn from the shared cultural history that uniquely sets this tribe apart within the American and American Jewish communities.
Let's look at this a la Estelle Getty. Picture it, Soviet Union, 1980s: You are a parent immigrating from the Soviet Union with your family, maybe already in America if you were lucky enough to make the paper-thin window in the 70s, maybe finally making the trek after waiting several years as refuseniks waiting for clearance to leave while living under severe persecution in a Kafkaesque purgatory, maybe laying low as cooperating citizens of the state until the gates opened during Perestroika. You envision a future without restrictions on your most personal freedoms, a joining of your private and public personas, and most importantly, a tabula rasa for your children. They will not know this hell you escaped, they will know freedom and opportunity that allows the individual being to just breathe already. When your children ask, "What was it like before America?" you answer, "Why do you need to know? You are American now." But what if you were able to heal through profound communal catharsis, acknowledging victimization and transcending it stronger than ever as individuals and as a community?
That's exactly what happened unexpectedly this April when over 250 people congregated for the 130th anniversary of the Hebrew Immigrant Aid Society, which helped hundreds of thousands of Soviet Jews make the courageous escape as refugees. The celebration manifested as a launch party for HIAS @130, a book containing thirty stories and one poem capturing the personal immigration accounts submitted through the organization's myStory online forum that echo the untold experiences of emigres. It was a reunion between strangers, many hearing their own tales of refuge for the first time, but from the mouths of others. It was the first time for many to shed light on the dark past in a community environment. They cried, they laughed, they got to know themselves through others. Indeed, it was apparent that the gold-chained FOB stereotype was a bad fit, not quite describing the entrepreneurial strides and American successes of the demographic's members since the trek.
HEALING THROUGH THE ARTS
Regina Spektor, who headlined that event, and left the former Soviet Union with her family during Perestroika, said in an interview a couple of days ago on NPR's Fresh Air, On Growing Up A 'Soviet Kid', "My mind is so overwhelmed by these giant things and has been since I was a kid that sometimes I just have a hard time not feeling so guilty for how, how easy we have it." Deconstructing the complex identity with many unconscious layers is nearly impossible through prose—though it can be done: Jewcy favorite Alina Simone, who authored You Must Go and Win, a book of essays revealing much about her family's life in Kharkov, Ukraine, also doubles as a songstress, doing her thing next Saturday at the Aquarium.
ArtOnBrighton 2012's Master of Ceremonies, Kira Soltanovich, a compatriot of Jay Leno and Joan Rivers who has been a staple on the comedy scene for over a decade, was born in the former Soviet Union and raised by immigrant parents in San Francisco. "There are about four-trillion Jewish comedians in the world," she estimates roughly, "But guess what? There are only a handful of post-Soviet Jewish comedians. I'm talking born in the USSR and now standing on stage and making people laugh. I can name maybe five. There's something really special about being in such a unique group."
As she remembers of her household,
Even though we were in America I think it was very, very Soviet. Sure, I was only two years old when we arrived in America, so I didn't have much personal Communistic experience to draw from, but that didn't stop my parents from reminding me every day what they had to go through back in Russia. They also constantly reminded me what they had to go through to bid farewell to the motherland and journey over to the States in the mid 1970's. The propaganda was so thick back then, my parents were told they would never be accepted anywhere else outside of Russia, so they might as well just stay there along with all the other Jews that were desperate to leave. I feel like I've carried this history with me throughout my entire childhood. I don't know why, but it really stuck with me and resonates in my stand up as well.
COJECO (The Council of Jewish Emigre Community Organizations), an umbrella nonprofit over thirty-something New York City alliances and the producer of ArtOnBrighton, is dismantling the silence that disjoints the post-Soviet Jewish community: it puts power and resources in the hands of its artists. I, for one, am coming on board at a marketing capacity with the goal of rebranding the post-Soviet Jewish identity after working with the organization as one of about 20 fellows in their Blueprint Fellowship, which funnels UJA and Genesis Foundation funds to creative community and art projects of young innovators that expand understanding of what it means to be us. So who are we?
We are rooted in our past stories, worldly in our interests, recontextualized in the American landscape, hybrid and unlike any breed the former Soviet states and America have seen before, sexy in our playfulness with the je-ne-sais-quoi aura assigned to us by others, and outside-the-box in what we bring to the table in professional, community, and social settings. The resourceful and adaptable nature that our families' immigrant experiences have bred in us might elicit a favorite adjective of RuPaul: we are fierce.
AND IT'S NOT AN EXCLUSIVE CLUB
One of ArtOnBrighton 2012's acts, the fire-breathing, sword-swallowing Lady Aye, says of her family, which originally made their way to the States during waves in the late 1800s up until just after WWII, "Our connection to our Ukrainian past is interestingly tenuous, but ever present. My grandparents dropped their names as they left and didn't look back with any nostalgia, but it was also a part of who they were. It made a definite impression, so I think my generation is curious and chases down those origins."
Headlining performer Y-Love is also not a post-Soviet Jew, yet his experience as a gay, black hip-hop artist who converted to Orthodox Judaism has many relatable points. Like in my essay for Tablet on what post-Soviet Jewish child immigrants could learn from Kanye West, Y-Love's multifaceted voice holds a few lessons of its own. In Erika Davis' interview with Yitz for Jewcy in May, he envisioned an ideal Jewish community thusly: "Everyone would respect each other's traditions, beliefs, and orientations. Only when we recognize that people deserve to exist on their own terms will we get there." But what does it take to embrace a complex identity that the larger community is to accept? I posed this question to Yitz over the phone, and as he sees it, "We are all finite beings trying to connect to an infinite." He feels there is no such thing as the American Jew, rejecting the theory of a melting pot in describing any multicultural community. And while he's normalized in the Hasidic community in many ways, he also naturally distinguishes himself through his own experience as a Jew of Color, which in turn enhances the greater community. It is this pursuit of personal potential spiritually, socially, and creatively that is each individual's right and responsibility.
And for outsiders to be confronted by the real thing does critical work in diminishing false stereotypes that are rarely as efficiently dismantled outside of the arts. Says Kira, "I'm amazed at how little people know about the old Soviet culture. There are pockets of this country that think Soviets are Boris & Natasha from the Bullwinkle cartoon series. No joke! I like being about to get up on stage and make fun of immigrants and also do some educating about what it was really like to wait in line for food."
Indeed, the artists have it, and their sharing brings catharsis and healing. In Jeff Chang's Can't Stop, Won't Stop: A History of the Hip-Hop Generation, he orients the birth of hip-hop in the 1970s as something that tackled social malaise in the community in ways government programs could not and would not touch. When slumlords set fires to buildings to make a buck over and over while politicians argued that it was the residents in poverty who were to blame for their own victimization, ignoring that the Bronx was burning due to systematic neglect did nothing to extinguish the fires. Ignoring that we are post-Soviet Jews with a shared tumultuous past is to tacitly remain stagnant in the victim role. Owning it and moving on, to use the hip-hop colloquial, is about keeping it real, and as Jeff argues, it's also about keeping it right. America is vibrantly multicultural, and the post-Soviet Jewish identity is an important color we must use on our canvases in painting the American landscape.
ArtOnBrighton 2012 is going down September 8, 2012 at the New York Aquarium with food, beverages, art, music, and comedy, followed by a DJ-spun dance party on the adjacent beach. Get your tickets in advance for $10, $15 at the door.
Editor's note: Today is Margarita's last day at Jewcy. Since starting in June 2010, she has been nothing short of exceptional in her various roles at Tablet Magazine, Nextbook Press, and Jewcy. While we will miss Margarita's inspired vision, urban pop flair, and super-human work ethic, we couldn't be more proud of her as she follows her passions and makes good by her refusenik roots.
Art, as always, by Margarita Korol.