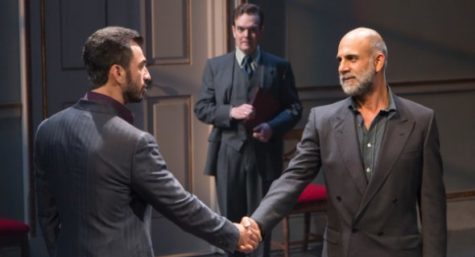 If you're in New York before the end of August, you should absolutely see Oslo, the new off-Broadway play at the Lincoln Center Theater. If you miss your chance, fear not! Lincoln Center has announced the play's Broadway transfer for March 2017.
The J. T. Rogers piece follows the famous 1993 peace accords through the lens of a Norwegian couple (real-life acquaintances of the playwright) that played a key role in the negotiations behind the scenes. It opened earlier this month to rave reviews, including the Times.
Jewish media also favored the play overall (making diplomatic conversation entertaining for three hours is no easy feat), but was wary of the sunny political messaging.
"No inherent criticism of the Accords is permitted, and with this absolute certainty comes a lack of nuance," wrote the Forward, for example, adding that it lacks "historic weight and immediacy."
Well, now you'll have ample opportunity to decide for yourself. The play runs at the Lincoln Center Theater through August 28th, and will begin Broadway previews March 23rd for an April 13th opening.
Image: Michael Aronov, Anthony Azizi (foreground), and Jefferson Mays (background) in Oslo. Photo by T. Charles Erickson.